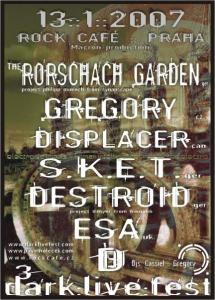 Reads: 7135 times
Artist:
Galleries:
Last topics on forum:
Prague 13.01.2007 Rock Cafe

The third edition of Dark Live Fest took place in the underground of Rock Cafe. The club is located quite near the city center so there were no problems in getting to the place. It has two floors and the lower one, where the concerts took place, had two halls: one for concerts, the other for relaxation and regeneration.
It was, like I said, the third Dark Live Fest and for what we've seen we may only wish that the Festival developed and prospered.

The first project that played that evening was Electronic Substance Abuse (ESA). The project started in 2004 and the aim of J.Blacker – the author – is to combine the opposing music genres and – as he himself claims – to make a dance floor a bit less cosy and more gloomy place:) Inspired by such artists as Converter and Sonar he creates his own version of harsh and yet intelligent music. You may check up his ideas on the album released by Hive Records in 2006 - 'Devotion Discipline and Denial'.
In Prague I was lucky enough to see the said machine in action. The music of ESA is surprising: it's a blend of delicate a bit threatening sounds ("Satan is Real") with the hitting dose of noise, grating sounds and rumbling beats. I must admit that it rarely happens that the festivals open with such good acts – DLF was an exception – as the concert of ESA, aside from those of Displacer and S.K.E.T, was one of the best of the whole event. The pace was fast, changeable; it was like riding a car that stops and changes direction all the time. After such a crazy trip bit of smoothing, fragile tones appeared, but a threat was still present in the background.
Most of the tracks, e.g. "We all know the world is wrong" have a great speed and even danceable quality, and they feature the mixture of sounds that remain rubbing glass with the sand paper (it's not painful though and even if it its it's a sweet pain:) with those well known electro beats that regulate the rhythm – the whole thing is brilliant! The vocal appeared sporadically, it was a kinda contesting, scanning one, but at certain moment a gentle female voice occurred in the jungle of the machine noise and the effect constituted a fine contrast between the violence of sound and subtlety of voice.
J. Blaker gave harsh and dynamic concert. All was hidden in darkness: only the green strobo light was dancing on the faces of the listeners and cut the air. Great show!
Setlist:
1.How pure would your utopia be? 2. Belief Conversion 3. We all know the world is wrong 4. Nerve Pattern 5. Say no to Emo 6. Satan is Real 7. Undernourished Halo 8. Fruits of Self Loathing 9. Randomly selected drawbacks of the human condition.

As next the band Rorschard Garden played – a vocalist and two ladies in charge of the equipment. I must say it was quite a change from noisy, hard-hitting and merciless music to smooth, serene and danceable one. In answer to squeaking, analogue melodies as if from old-fashioned mobiles or space ship laboratory the audience started dancing. RG is a mixture of electro and pop: more optimistic melodious and dynamically running. That's the matter of taste, I personally prefer smashing to patting heads:)
What also came to my mind was that the music of RG is the one of melancholic robots – I was just waiting for R2D2 or C3PO to appear on the stage (especially while listening to 'click click'). Jokes aside – it was a good concert cause the music was good for dancing and rhythmical. Of course, you need to forgive me the assoc with Trio "da da da" when I heard the first tacts of "state protection" (by the way – it was one of the best pieces at he concert).
Setlist:
01 Isolation (The Toy Factory, 2007) 02 Binary Love (Omega Compilation, 2007) 03 Le Jour dernière (Our Japanese Friends, 2005) 04 State Protection (s/t, 2004) 05 Solarize (Motorcircle EP, 2003) 06 Modern (Our Japanese Friends, 2005) 07 The inner Screen (The Toy Factory, 2007) 08 Excuses (s/t, 2004) 09 Metropolis (The Toy Factory, 2007) 10 Catch your Fall (The Toy Factory, 2007) 11 The Suitcase (Our Japanese Friends, 2005) 12 Private Games (Our Japanese Friends, 2005) 13 Society (The Toy Factory, 2007) 14 Click Click (The Toy Factory, 2007) 15 25 Years (s/t, 2004) 16 Holiday Site (The Toy Factory, 2007) 17 Surgeon Song (Our Japanese Friends, 2005)


Sorry to say that, but I didn't manage to see the whole show of Gregory - well, the trip to Prague can be tiring so out of a sudden I got an energetic collapse. Gregory is two-men project and their music consists of dynamically set sounds as if of a music roller coaster with many astonishing samples of totally different kind, like for that matter - jazz. It's also an uncontrollable, fast running machine that produces mundane sounds which either reel or capriciously decelerate to remain in a one route for a while and jump on to another the next moment. The music register changes quite often as if one music line run straight ahead and the accompanying ones were running aside weaving or crossing it. The artistic output of Gregory is to be found on the album "Restart now"
Daniel Myer, who appeared on the stage the next moment, shows no mercy for the mental and physical strengths of his fans so you probably won't be surprised to hear that after that particular concert many people gave up the whole thing being completely worn out. Destroid, as you know, is a company sure to produce extremely catchy, energetic and ravishing pieces with a definite rhythm and good speed. As a matter of fact the "catchiness" of Destroid songs increases with every minute of the concert and it needs to be said straight ahead that the band control the dynamic of the concert in a perfect way. It got a bit crowded by the stage – partly because of the music and partly because Myer distributed zubrovka from the stage (and here's the Polish accent – he mentioned that the Poles really can drink).
The music was a real knock down; I suppose even those most drunk felt something – it was enough to listen to "soul asylum " and "bonewhite light" to make some remember why they had come to Prague in the first place:)
To sum up – I think all the present at the concert enjoyed it – the audience was dancing and the pace was increasing with every passing minute reaching a momentum when Seb Rydell joined the action. So Destroid proved to be great one more time; those absent – you've got a thing to regret:)
setlist:
client. ..,I still continue,broken and abused, contamination, into the deepest dark, judgement throne, bonewhite light, sir william, soul asylum
encore: als waers das letzte mal, revolution
After the impetuous scenic undertaking the Canadian project Displacer – the one to attract me to Prague - started his show. There was no disappointment: what we were offered was a sonic soothing, hypnotic state and enchanting melody. The music of Displacer has a great quality that helps the listener to enter the state of complete switch off and to surrender to the sounds that are put together in a masterly manner. The songs are not some kind of lullabies or "sounds of nature" or other relaxation tapes, God forbid, (though you may treat them like that if you please). It's a rather slow, contemplative industrial that gets an electro tint from time to time. The artist played the concert in a dim light which strengthened the atmosphere of trance and concentration. Perhaps I should write: Michael Morton – the Mesmerizer, so brilliant his concert in Prague was.
Setlist:
1.testtwo 2. communication breakdown 3. high anxiety 4. broken sword 5. natural selection 6. atrophied 7. cage fighter's lullaby 8. flying snow 9. club dread 10. arroyo 11. idling


If anyone had the power to turn our brains and bodies from the trance way to the lands of everlasting happiness, it was definitely S.K.E.T. that was the last to play at the Fest. The very first bars were enough to make the people feel they're not dead yet. It's just that the two stimulating factors unit299_09 and unit298_09 appeared on the stage and made our blood run faster in veins and the energy twitch at the synapses. I first had a contact with S.K.E.T at WGT where they played a great gig. It's a duo from Rostock. Formed in 2004 they play the music which is a result of various experiments with EBM, Electro, Noise, Ska or Neo-Classical. In 2003 they took part in Sonic Seducer band contest and they got a positive response from the audience. In 2006 they performed at WGT. Their recent release of 2006 is "Baikonur".
Generally speaking, S.K.E.T is industrial that develops energetically and features plenty of machine samples, dynamic beats and charismatically introduced juggernaut tones. Rumblings sound hits, briskly running melody (the speed perhaps won't kill you, but it surely will speed up your heartbeat:)
S.K.E.T is also characterized by perfectly combined sounds that make a melody that are extremely invigorating and make every body cell vibrate – that's a very positive feeling. Aside from samples there are practically no vocals, the whole responsibility is in musicians' invention and their equipment. As they claim themselves they don't want to create the borders but cross them and so their music reflects that idea.
And so Dark Live Fest came to an end. I think industrial combined with other music genres is presently unconquerable force as far as creativity is concerned. The free method of creating and the choice of tools used let the artists make unique music that is a free expression of their individual inspirations and interests. The final effect is original, much more surprising and innovatory than of any other music kinds. Generally speaking, during Dark Live Fest we heard the voice of machines and minds – and the voice was really enchanting.
http://www.myspace.com/darklivefest
http://www.darklivefest.com
http://www.electronicsubstanceabuse.com
http://www.myspace.com/electronicsubstanceabuse
http://www.myspace.com/therorschachgarden
http://www.bazooka-joe.com
http://www.myspace.com/gregoryzone
http://www.gregoryzone.net
http://www.myspace.com/displacer
http://www.dsplcr.com
http://www.myspace.com/18253202
http://www.sket-hq.de
The text published under permission of yesternight.pl
Pages:
Other articles:
Newest comments: