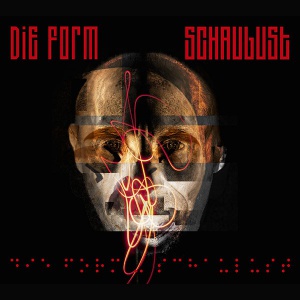 Reads: 2181 times
99%
Galleries:
CDs catalogue:
Varied and rich, when it comes to influences, music from Die Form deserved over the years on many more sophisticated terms than industrial, darkwave and neoclassical. On the one hand very erotic, vibrating with fetish, on the other experimental art electro with gothic atmosphere, complemented with processed vocals of the founder, Philippe Fichot and classical, sacral voice of Éliane. A comprehensive look at the work of the project, from disturbing, breathtaking photography and graphic work to the intriguing music videos and live performances, with all the characteristic uniqueness of the composer, which so far no one dared to copy, allows you fully to understand, how it was necessary to create new terms that will better describe the duo.
"Schaulust", the first material released after five years since the last album "Noir Magnétique", provides two mixes of the title track and two remixes of the composition, which in the original version will be on the upcoming studio work "Rayon X". Deliciously sounds after a long period of separation with blend of, what from the beginning of project was most distinctive, combining it with the freshness brought with entry under the wing of Out Of Line in year 2008.
The band benefits from their tradition of industrial hits, putting in contrast vocals of the duo members on the background of danceable and catchy music, but at the same time surprises with lightness. There is not so much dirt or weight as on recognizable "Bite Of God" (with which the track can be associated), in which merit is from a more complex text, and with the greater importance of singing, affordable production that reminds last album, and at the end with that, almost entirely there is used French language. This is actually one of the advantages of "Schaulust". Native dialect of artists adds more erotic suffocation to cool, though charged with voltage of the nerve electronics (it is commonly known that, irritating skin with ice during love game on a shock basis can amplify sensations - such is in that case). The composition has a somewhat demonic potential - understood in two ways: says about the man's part that tells him to look with a fascination on beautiful, but also frightening acts, on the other hand same, as the pact with the devil, commits to continuous listenings in hunger of sounds, increasing only "Hörlust".
From putting fans in constant devilish deficiency prevents the club like, twice longer version. Greater distinction of bass section, purity of the mix and numerous slowdowns causing tension, acting as a multiple decrease and increase of excitement, absorb all your energy, no matter, if the thing will take place on the dance floor or at home.
Less glamour sounds "From Dreams To Machines" that associates with "Confessions" album. Mechanical, a little dirty mix resembles combination of "Lolita Love" or other pieces of aforementioned record with recent achievements. Frenetic, but primarily autistic.
Regardless of how hit-like seems the title track or how closed in walls of the brain "From Dreams to Machines", none of them is able to break through a sound dawn of "Zoanthropia". Piercing with sadness, "organic", associates with "L'Âme Électrique" and "Inhuman" (also the title indicates that record, which undertakes the relationship man - animal) at the same time. Deeply emotional composition despite a few phrases from Philippe is based on atmospheric, melancholic vocals of Éliane that harmonize with sound of bells and violin (echoes from "Noir Magnétique") when moderate, monotonous beat recedes into the background. Another proof that Die Form are also masters of depressive darkwave.
According to that material "Rayon X" could become next opus magnum of the French. Extend your pupils, prepare your ears - Die Form have returned.
Tracklist:
01. Schaulust (Scopic Pulsion)
02. Schaulust (Extended Remix)
03. From Dreams To Machines (Remix)
04. Zoanthropia (Remix)
Other articles:
Newest comments: