Fallen Angels Party & Black Velvet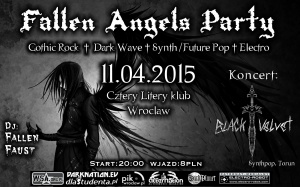 Reads: 1894 times
Wrocław's event
Fallen Angels Party
- in addition to providing enthusiasts of dark independent regular fun on the dance floor - has important role in promotion of local projects. On the 11th April 2015 in the Cztery Litery club, we had therefore opportunity to hear a concert from coming from Toruń, operating since 2009,
Black Velvet
project. It consists of Daniel Soczewiński - responsible for compositions and for vocals - and Marcin "Kozio" Klimek - as a keyboardist. Group ensured audience on that evening with a cascade of hot, inspired by Depeche Mode's music songs.
From the first ear-catching sounds suffocating, erotic atmosphere contained in synthpop beats of "We need each other" encouraged the audience to warm up on the dance floor. It was similarly with "You and me" and "Special games", during which vocalist, who was open to people gathered next to the stage, encouraged to dance and inscribed himself in that rhythmic fashion.
A little darker "Forever Together" more associated with Fallen Angels Party's climate, to which the event's fans already got used to, definitely even more invigorated the show. "Friday Night" or heavier "I Feel Loved" proved that Black Velvet is mainly erotic-romantic machine forcing to compulsive movement to the rhythm of satisfactory synthpop. Which clearly contribute to the band's positive reception, are the guitar riffs played by the leader. Fans of And One or De/Vision could not be disappointed.
It is worth to mention about the surprise for those, who faithfully follow news on Polish dark independent scene. Some of them probably know that appearing in Black Velvet keyboardist leads a solo project -
Electro Fear
which combines dark electro, themes drawn from classic horror movies and synthpop. On that evening, we could also hear the first single -"Heaven" -performed live which is one of the highlights of the entire concert, composition was varied among others with violin parties (although played from the speakers, but giving the show a suitable noble trait).
There was, of course, an encore to delight the audience. Two decent songs - "Angry" and "Unknown Direction" in the style of Camouflage - ended lasting about an hour concert, opening the after party, which was filled with Solitary Experiments, Icon of Coil, Ladytron, Rammstein or even "I feel you" from Schiller.
The only drawbacks were not big audience and sound system - speakers sometimes could not cope, frightening with dying sounds of the membrane. Despite that the music defended itself, so what else could be added?
You can pay attention to the fact that both Black Velvet, as Electro Fear are preparing to release debut albums. I wish them both good luck.
Newest comments: