"I can't make everyone happy" - interview with Krzysztof Rakowski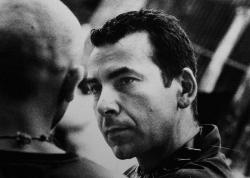 Reads: 10159 times
Galleries:
Last topics on forum:
Krzysiek Rakowski, director of the Castle Party Festival in Bolkow, interviewed by Robert Mertuszka
I CAN'T MAKE EVERYONE HAPPY
Robert Mertuszka: You have already presented all the artists, which are about to perform at this year's festival. What kind of opinions about this choice have you faced? Have you managed to do without controversies?
Krzysiek Rakowski:
Controversies have always been there (laugh). It is the seventeenth edition of the festival and I can't recall the year when choice of the bands wouldn't cause discussions. For some time the music presented at the Castle Party has been various, often very different stylistically. That's why I am surprised at a fact that for instance fans of electronic sounds would like more electronics, followers of guitar style want more guitars, and this music is still not homogeneous. Thus lots of the fans are of ten contradictory, and the festival is what it is. It is our foundation to present multifarious music and controversies are inescapable. I am fully aware of the fact that I can't make everyone happy. One of this year's edition headliners is Behemoth, currently one of the most popular rock bands in our country, and additionally a very good band receiving recognition all over the world. Therefore they are going to play at our castle despite some unintelligible, to me, comments concerning this decision. I am really glad, that we managed to convince Adam Darski and Co. to put up a gig. Of course for years pure electronic bands have been playing at the festival, too. For example And One, another star of this year's Castle Party, a bow towards adherents of that kind of music. Nevertheless, I must admit that the more controversies the band evokes and the more one is discussed, the better for the festival itself…(laugh). There's something about the people, that they like to divide up, even musically. For some of them it is simply a vital issue to classify others according to their musical preferrences and of course they find a way to manifest that even through the Internet. But we have reconciled ourselves to it long ago. If we didn't have our fingers on the pulse and continuously broadened festival's formula, then it wouldn't draw so many different and special people. We don't want to stick to one particular style, yet naturally there are genres of music which are simply not interesting to us.
R.M.: Is the artists line-up is like you've wished to have in 2010? Is everyone there, or is there anyone whom you didn't manage to contract, and they were taken into consideration?
K.R.:
It's never the way that I'm able to invite everyone I'd like to. The foundation of the Festival is to reach for music often described as niche, that is, drawing not too numerous audience. Knowing our possibilities, we arrange a plan of action to be financially attainable first of all. But we always manage to collect interesting and, I hope, good bands. We function without any strategic sponsor, so we can't count on financial support from the municipality or province, but, as the latest years have shown, we make out. Each year we talk to different bands, but often their requirements are beyond our financial power. I don't want to give certain names, because in this way I would give hope to those, who want to see these projects. I know by experience that if I mention any performer, it is treated as if I announced it in the festival line-up.
R.M.: In what way are the decisions being made regarding the order of particular artists shows?
K.R.:
These issues we mainly establish with managers of individual bands. It is necessary to always remeber how many albums were released and in what stage of career a certain band is. Cassandra Complex for example, haven't released a new album for 10 years, they almost don't give concerts, even though some time ago they were occupying a very high rank in musical hierarchy of the represented genre. Nowadays Behemoth or And One are stars at festivals around the world, that's why they'll play at the end. Clan Of Xymox in turn, is a living legend, a well known and popular band in Poland, so it is natural then, that they will perform as one of the latter. The bands themselves look after their place in a festival ladder, however in case of The Eden House we've slightly helped the band, placing them after Alec Empire. Generally, establishing the sequence is not an easy thing to do, but we already have many years' experience in this matter. One should always be objective and not make one's way towards emotions, although, as I've said already, in case of one band we've taken liberty of exception to the rule.
R.M.: A kind of nervousness, of course in case of some people, was caused by increase of tickets prices. Could you explain this issue?
K.R.:
Well, yes, but as you know, it is possible to buy the tickets at cost of last year's price in advance sale conducted by Eventim. Only at the castle in the exact day of concerts the tickets will cost more. Thus anyone, who wants to pay the last years' price, can easily do it now. It is a normal practice put by all organizers, that the tickets bought in place are more expensive, and in advance sale they're cheaper, since every organizer needs money beforehands, so lower price encourages to buy the ticket earlier.
R.M.: What surprises/innovations in the festival's formula are there waiting for the audience in nearly five months?
K.R.:
After a year-long break, we will play in a Bolkow Church again. It isn't a standard in our country, and it is a perfect venue for presenting some artists, especially from a circle of music which characterizes our festival. For the first time a few concerts will take place in the cinema, while so far there were only djs playing there.
R.M.: Have you ever thought about enriching festival's formula through, for example, theatrical actions, plastic arts, perhaps performances?
K.R.:
I've been thinking about it for a long time. But a hard problem to deal with is lack of space at the castle. The concept of diversifying the formula through non-musical actions has to be worked out in details and it surely cannot be done without the support of Bolkow's authorities. The castle, at which the concerts are held, is not capable to provide appropriate conditions to present other artistic forms.
R.M.: Nearly the end. Is there an artist, who for sure, regardless of reasons, will never play at CP and contrary, who should have done it and still you can't bring them in?
K.R.:
There are no personal reasons why some musician won't play, because it is not my private farm, but the music festival for everyone. The reasons can be purely musical or financial. Nothing more. Either we don't like the music or we don't have enough funds to invite a particular artist, which I've mentioned before. However I invariably dream about Siouxie, who unfortunately almost doesn't give shows at all and still very expensive Fields of the Nephilim. I would be very glad, and not only myself I guess, if they ever played for us (laugh).
R.M.: This year at Przeglad Piosenki Aktorskiej (Stage Songs Review) in Wroclaw there was Peter Murphy's show announced, but it hasn't come to effect. Have you considered inviting this artist to to Bolkow?
K.R.:
Of course, we don't forget about the ex-vocalist of Bauhaus, but he's a very expensive artist. If we have sufficient funds to be up to this performer's expectations, we will certainly strive for him. Usually, big festivals are organized in cities, which financially support the organizers to a high degree. The city, which is clear, always make profit of such events, additionally it has a good promotion, that's for instance the case of PPA. And Bolkow has no money, but they have a castle (laugh).
R.M.: To conclude. Is Castle Party already a real European, fully professional festival of dark independent music, or is it still a field which needs reinforcement to gain this status?
K.R.:
The organization looks similar, yet I know, that we have less people employed in organization. However, it slowly changes. Surely, if we had more funds, then certainly many details could be worked out. But we should underline that our festival is different from those organized in the West and we want it to be like this. It takes place all around the town, with great participation of Bolkow's dwellers, what gives us possibility to enlarge usable area (laugh). The castle, as you know, is not very big indeed. Help of the residents gives us a lot and lets us continuously uplift the level of festival organization.
R.M. Thank you for the talk.
Interviewed by: Robert Mertuszka
Other articles:
Newest comments:
Janda



Writen at: 2010-04-24 13:05:36

W tym roku Behemot, Doda za rok .

Dobermann



Writen at: 2010-04-19 11:08:25

Zapewne znaczna część ludzi nie będzie w stanie się pogodzić z faktem, że Behemoth jest główną gwiazdą, a FOTN jest na nasze warunki za drogi skoro koncerty jakie się odbyły w warszawie były całkowicie wyprzedane...