IdiotHead - Free Market Music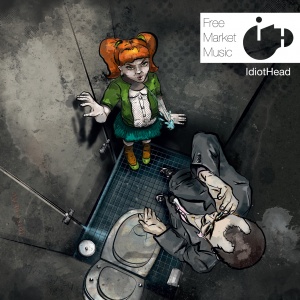 Reads: 2342 times
79%
Galleries:
Last topics on forum:
It's long been since a music proposition made me experience so much ambivalent feelings as IdiotHead with their "Free Market Music". At first hearing, it seems that it's a few very well-designed tracks... But is it right? Soon we shall see.
How does album's creators' intelligence manifests itself? The first big plus for the fact that it can be heard. And that's not as common, trust me... Proof number one: rhythmic solutions - in the first two tracks (
"Mucus", "Free Market Music"
), it seems that we hear a small transfer, some syncopate... . none of this, a simple four, we sway a head, tap a foot. But so subtle that at the beginning it appears to be much more complicated. Nice!
The third proposition,
"Delayed Molting"
- a song for which you can have quite mixed feelings. On one hand, good, very good energy - and this clever rhythm (almost veiled "three" in verse - cool!), but then again, hmm... I'll say this: the singer sings really fine, gets the sounds, has a nice timbre to the ear (sometimes reminds a bit of Maynard Keenan and Brandon Boyd at the good old days), but there is one thing that pierces ears so hard that it's a shame. I want to point out in advance that it's not the fault of the musicians:) But just in this song the vocals (understood as a layer) sounds as if it's recorded in a completely different studio and hastily glued to the track - you can hear it especially in the chorus. Sure, I'm niggling, maybe it's just the most out of the recording studio, and not everyone can hear it - but that damages the effect, because the album as a whole is really good.
Same with variety of tracks - on one hand, it seems that the creators are trying to spice up the content of the disc, but on the other hand, it turns out that they don't go beyond a fixed pattern. They try many things, looking for their way, and it seems that they can't see that they've already found it... Some of the songs seem "overdone," as if trying to necessarily squeeze every good idea into each piece (
"Karen Pommeroy", "Fucking Orthodox Pieces of Shit"
). Either way, aware of it or not - the energy is still good. A big plus for the use of the piano in the mentioned songs. I'd love to see the band in action, live. After all, the album lacks a little "breather", a ballad, getting down in pace - the creators have taken care of quite a nice set of lyrics, the vocals are really skillful... For the full satisfaction something slower, climatic is missing. Okay, there are inserts as in said
"Delayed molting"
, which further enhance the climatic verse-chorus sound, but one whole song might not be a bad idea. Taking into account the rhythmic play, I wouldn't be surprised if they offered a 5/4 waltz (theme used extremely rarely, which is a pity).
Another position -
"Idiothead Defined"
. A little playing with rhythm, some overlapping vocals, some screaming... which is already pretty familiar. But do we have to expect change? It's a music track that the band had taken, and they strongly emphasize it... well, in this case, if only with the title;) Listeners who sympathize with the genre should be satisfied.
"Free Market Music"
was served to us three times. As the original is one of the best positions on the disc, remixes couldn't be worse. Every track brings something new - and very good!
Final in eighth position - psychedelic accordion and playing with electro. Thank you! Smile while listening to music is the best that the author may give to the listener.
In summary: good energy, great vocals, wise lyrics, small minus for too many good ideas forced into the lines of a single song. With a clear conscience I give a strong academic four, with a definite upward trend. I won't join the group of fans yet, but the supporters - for sure:)
Tracklist:

01. Mucus
02. Free Market Music
03. Delayed Molting
04. Karen Pommeroy
05. Fucking Orthodox Pieces of Shit
06. Idiothead Defined
07. Free Market Music (Iggy Gruszecki remix)
08. Free Market Music (Bipolar Bears remix)
Newest comments:
holysixtynine



Writen at: 2013-09-16 09:11:08

Wokal w utworze "Delayed Molting" rzeczywiście został wykonany i nagrany w innym studio gościnnie przez Grégoire Fray'a (na codzień wokalista, gitarzysta i główny kompozytor belgijskiego

Thot

), stąd wrażenie "inności" w stosunku do reszty.