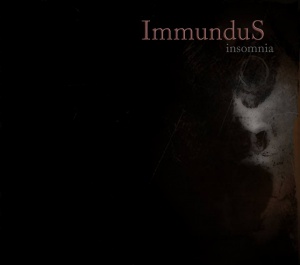 Reads: 1618 times
70%
You can say that dreams in comparison to reality are a kind of dissonance. "Insomnia", the fifth album of Norwegian project Immundus, by using widely sound inconsistency, puts listener not only into sleepless, tiring nights, as to growing out of the nightmare visions. Simultaneously it evokes the impression that even pillow filled with nails turns out to be a very enjoyable experience - as satisfying as is communion with compositions included on the album.
I think that Bruno Duarte knew exactly, what he intends to achieve with this recording and not even for a moment he abandoned established convention and conception. Hence, no sound is lost among disturbing drones, it does not disappear among the various layers (quite clear despite the project's name). What is more, it is dark ambient in a rather condensed, concrete form - despite characteristic for the genre blurring of sound space - which causes concrete associations: sometimes Lovercraft-like climates ("The Ancient Nightcrawler"), sometimes scenes from horror B class movies ("Welcome The Butcher") with typical for them effects. You cannot accuse "Insomnia" for secondariness. Considering all cinematic character of music - this soundtrack to a non-existent movie (movies) - Immundus differentiate at some extent composing measures, making the album carrier of a distinctive style.
Some of these gloomy tracks are really heavy. They do not unpleasantly drain of breath as French terror of Silcharde, but they can extinguish it, placing in the ear like an incubus on the chest. It is asphyxial ambient. Strongly affect "Dead Of Night", "They Harvest In Nights Of Autumn" and "Music For Dead People", which can cause less sensitive people shivers of fear.
But there are moments of respite on the album. Repetitions are important part of that album, but their strength reveals fully in the "Chilling In The Deep", composition that surprises with its lightness - although it is a simple trick, sudden sequential breaking of rising tension (as in a compulsive attack of short-term amnesia) causes that this lightness is unbearable, as if we were waiting for a threat we cannot realize despite attempts until the end.
These moments of respite are partly also those, in which piano is used not only to increase anxiety, but gains more sophisticated features. This combined with resounding violin allows to think of Immundus as a ldistant cousin of iNsCissorS. We are talking about tracks I consider as the most successful and being a good omen, in case the project will decide to go in direction of neoclassical - like "A Distant Call" devoted almost completely to melancholy. However, just in "The Reaper Plays The Violin" keyboard and violin are serving primarily vivid menace.
To this category also belongs the title composition, representative of the whole material. Determined number one, could be a theme to a high class horror drawing from gothic stylistics. Polished, quite extensive, constantly providing new chills caused by the synthetic layers.
This album is definitely a successful project. A substitute for those, who suffer from a deficit of supernaturalism in dreamed dreams or who do not dream at all - unless they expect fairies and colorful unicorns.
Tracklist:
01. The Ancient Nightcrawler
02. Tormenting Swell
03. Dead Of Night
04. They Harvest In Nights Of Autumn
05. Chilling In The Deep
06. A Distant Call
07. The Reaper Plays The Violin
08. Music For Dead People
09. Welcome The Butcher
10. Insomnia
Other articles:
Newest comments: