In the grip of artistic powerlessness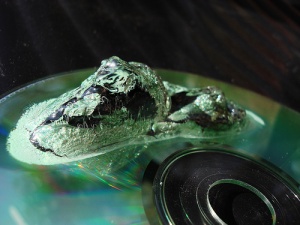 Reads: 3653 times
CDs catalogue:
Last topics on forum:
Shark is a fish so peculiar that it must swim in order to live. It is unable to pump water through the gills, so the flow has to be performed automatically when the shark swims. It does not have a swim bladder, therefore a prolonged lack of movement leads to abrupt sinking to the bottom. In other words – when a shark stops swimming, death is inevitable. Exactly the same rules govern the 'stage sharks', who have to guarantee the continuity of subsequent recordings in order to exist. So why, in spite of continuous technological progress in the field of recording, new albums are released much less frequently than we all desire?

It would seem that the problem comes down to the 'creative block' which most of the artists tend to suffer from recurrently at least once a year, but history shows that it is not a rule. In times of the greatest splendor of British rock on the turn of 60's and 70's the almighty Beatles were readily able to record even two albums a year, most of which still maintain cult status among music fans. Even more artistically fruitful were their American colleagues from "Blue Oyster Cult" who, within the first sixteen years of operation (1972-1988), released a total of 11 full-length albums. The same can be stated about other veterans of rock including Led Zeppelin, The Doors, Black Sabbath and Iron Maiden, who in their early years honored the fans with an album almost every year. However, the absolute record-breaker in terms of productivity is Bob Dylan, who in the first half of 1960 was creating almost constantly and after one and a half year break recorded the total of 113 fully-fledged tracks (which is the material for about 7-8 albums). Another phenomenon is also Aphex Twin, who creates new recordings with such a frequency that it is difficult to keep up. Under these circumstances, the only remaining question is: why nowadays artists are characterized by such a creative debility, whereas their older colleagues during several years have recorded and published more than a today's average band is capable of releasing during an entire career? The answers can be sought at two levels, which are so contradictory that they require separate descriptions.

As for artists who are young, talented, full of passion and joy of creation, but still seeking their place in the music world, the matter is mercilessly prosaic – as usually, everything boils down to money. Paradoxically, as an incredible technological advancement which facilitated talented musicians to compose at home with a cup of coffee, the music industry plunges more and more into the turmoil of legal procedures. Unfortunately, there are very few artists who just after releasing their debut album can boast on getting a high rank on Billboard chart, assuring themselves at least the ground on which they can base the existence of their formation. Thus, the vast majority of young musicians must struggle with anonymity, constantly rising costs of artistic activity, obligations to the label, in a word – with a notoriously emptying wallet.

Releasing a coveted album is theoretically not a problem – the total cost of the physical production in the amount of, let's say, 1000 copies together with pressing, box case and cover (costs of designing not included, assuming that the material is ready to release) is about $3,000 - $4,000, depending on the press/printing house. It is a price which, though high, is acceptable – of course if you consider a musician who can boast on at least one album in his artistic output, plays gigs moderately often and gives interviews at least in local media. Unfortunately, it has to be borne in mind that making music is not just only an artistic aspect, but also – and perhaps above all – raises a number of business and legal issues. Therefore, if we wish to release the album under a legally registered label (which is a must if we'd like to sell and distribute it), things take a much more complicated character. Apart from all the treadmill of struggling for existence in the listeners' awareness, there are constantly piling up problems with copyright laws which typically are taken over almost entirely by the record label. In other words – the beginnings of artistic activity entail many sacrifices and require such funds that even if the debut album achieves moderate success and the musician gains popularity at the local level, it cannot be guaranteed that he won't sink into the abyss of regulations, licenses, permits and that he will be able to reasonably invest in the recording which, although created on his own, now belongs to someone else.


On the other hand, totally converse is the case of recognized artists of well-established position in the music world. I believe that each of us is able to recall at least one band which started from scratch, achieved spectacular commercial success gaining millions of fans around the world, was in the limelight for quite a few years and suddenly ….disappeared. Of course, not entirely – the band reappears from time to time in the form of a 'the best of' compilation, as a guest of popular talk show or simply as a spectacular entry in the obituary. Sometimes, between performing the aforementioned activities, they 'commit' a full-length album which causes widespread surprise and, not exceptionally, disgust by presented artistic quality. A question that comes to mind seems to be logical: why a band which probably achieved everything possible in its category and has no financial problems (unless due to the constant demand for good lawyers) voluntarily condemns itself to artistic oblivion? Unfortunately, there appears a musical Uroboros which constantly devours itself and gets reborn again and again. This action, though amounting to a paradox, is actually the only justification for its existence.

It would seem that the bands which are temporarily inactive strive for maintaining continuity at least by the activity of their individual members. Indeed, the amount of free time at their disposal combined with the prestige of their past achievements allows to make great things. So, maybe they are realizing solo projects? Developing a new material by the sweat of their brow? Or at least participate in the activities of other artists? Regrettably, in most cases the answer would be negative. Musicians are reluctant to engage in side projects because it could do harm to their primary bands, and there would be nothing sad in it if the albums presented after prolonged break were milestones of genre just as it was in the past. The hopes usually turn out to be held completely in vain, and once the new album is inserted into a CD player it becomes obvious that we are dealing only with the shadow of the band's former glory, often amounting to autoplagiarism. In addition, the music industry is ruled by ruthless laws and generally each subsequent album significantly diminishes the sales of previous one. And if the new release gets poor reviews, the status of the band may be severely undermined. This in turn means a drop in attendance at concerts and decreased sales of various fillers, compilations and gadgets, which is something that no self-respecting legend can afford.

One might say that the cases described above are barely two extremes, i.e. diseases of childhood and senile age that are present during the period of artistic activity. After all, there are plenty of artists who do not disappoint, always surprising fans by regular releasing of high quality music. Of course, it is an undisputable truth and trying to undermine it would be highly unfair. However, we may only speculate how much music euphoria we missed due to external or ideological reasons, and how many great releases drowned in the flood of corporate regulations or have never seen the daylight because of the artists' jadedness. It only remains to wish all the young musicians to have the same opportunities as their older colleagues, and when that wish comes true, the music world will be undoubtedly enriched by the flow of new, fantastic items.

Pages:
Newest comments:
Wendy Troy



Writen at: 2011-03-05 16:16:27

Podoba mi się sposób porównania praw rządzących światem wytwórni do rekinów. Dużo tłumaczy zwykłemu laikowi, który o podstaw chciałby się zagłębić w tę tematykę.