Interview with Leszek Rakowski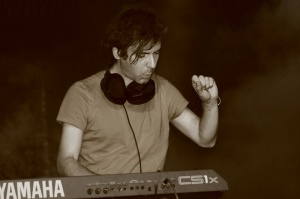 Reads: 7609 times
Artist:
Galleries:
CDs catalogue:
Last topics on forum:
Leszek Rakowski – the founder of the band Bruno Wątpliwy, later Fading Colours. Current music producer recalls his first appointment with Roony Moorings from Clan Of Xymox and tries to predict the future of the band.

This Is How It Began
Robert Mertuszka: Let's reminisce. How was it with you and the music of Clan Of Xymox? It's been exactly 25 years from the moment of releasing their debut's album.

Leszek Rakowski:
Yes, I know. I assume that in late 80' many people, for whom cold wave and 4AD record label's music was close, listen to Clan Of Xymox. For me everything has started thanks to Tomasz Beksiński who broadcasted their music for the first time in his radio audition. As far as I remember, COX played the music which was very familiar to me, particular blend of electronic music and rock – it had perfectly appeal to my sensitivity and music taste. Beautiful melodies and remarkable lyrics additionally completed the entirety. Roony Moorings with his band, as you remember, played for the first time in Poland in recent political system. It was probably May, 1988 on the festival Marchewka in Warsaw. They were a living legend almost from the beginning and it didn't change until now. When they came to Poland for the second time I knew Roony personally, I explained to him what changes have occurred in our country since their last visit. It was funny that, he couldn't understand what was going on in our country. Let me recall a funny situation – when Roony arrived in Okęcie (Warsaw) he was surprised that cheering crowds of fans weren't waiting for him. I had to clarify that times when in Poland access to the live music was restrained were far behind us. At that time more and more bands visited us and the music market expanded, many bands were existing and actively performing. From today's perspective I think he didn't understand me entirely (laughter). We haven't talked about it ever again.
R.M.: Do you remember when did your first meeting take place?

L.R.:
I cannot recall myself the exact date. It was a long time ago, for sure (laughter). However, I remember that from the beginning I was under the impression he was a normal guy, without prima donnish whims. We went to the pub in the Castle Square in Warsaw, we spent together an excellent evening. If you expected me to admit that I felt some kind of nervousness and excitement while meeting musician on whose records I've almost grown up I have to reveal that if I felt any of these it was only at the beginning. Later, it was just a nice conversation. Now, I have the impression that Roony has a particular kind of behaviour which is blurring the border between a music celebrity and a listener. He treats his interlocutors as equals with a great sense of humour. This is how it began. Presently, when we know each other for over 10 years, our rapport has changed.

R.M.: What do you mean?

L.R.:
From years our relations were not only on friendly but also on professional terms. We both are musicians who produce music so perforce the spectrum has enlarged. Roony is matter-of-fact person – professional – in every sense of the word. When I had a chance to prepare for them a remix of the song There's No Tomorrow, which was on single promoting the album Farewell, he sent me the basic tracks of which the record consist of. I suggested my solutions and it was actually all over. As a curiosity let me remind you that, the work covering that remix took place in period when Clan of Xymox performed at the ninth edition of Castle Party Festival in Bolków. We were in the consulting stages. I introduced the basic version to Roony but I forgot to mention that there is a slight shift of the drums with reference to the entirety. He immediately noticed that – he amazingly feels the music. I really like to work with him because in the first place he gives a free hand and secondly he is willing to discuss and search for optimal solutions.
R.M.: When I asked Roony about hypothetical end of the band he replied that the end will come with his death. What is your opinion about the future of Clan Of Xymox?

L.R.:
It's a very important question. This band is indeed his whole life and there's no place for other things. In my opinion, Roony is currently in a peculiar situation. Truth to tell, it's a very difficult position. He should answer himself a question concerning the direction which his band (lasting over 25 years) should follow. The first-rate presence of mind is needed. The times are changing and the public demands as well. They want more diverse music, according to the spirit of epoch. Roony, as the evidence serves the last album, is a traditionalist. He uses new elements in small doses. Despite the fact, that he makes the most of technological developments, in every respect he still remains in 80'. I realize that, for the old and faithful fans it isn't a bad solution however he won't win new fans keeping up to his music habits. Without a doubt, Roony would make a better use of his potential if he hadn't do everything by himself. I will even hazard a guess that, he should share with somebody the activity of composing. He still has excellent ideas except that he is the only one who verifies himself. I think that if he let somebody to work on music, Clan Of Xymox will benefit on it.
R.M.: Thanks for conversation.

Other articles:
Newest comments: