Interview with Schnittmuskel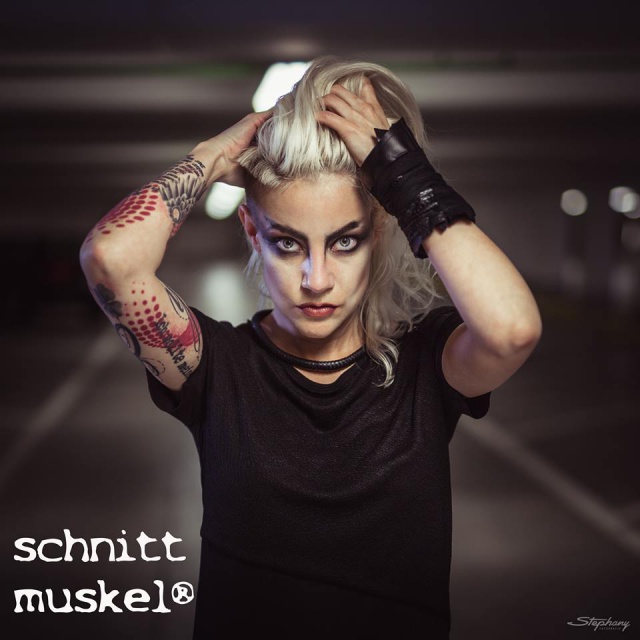 Reads: 4078 times
We present You exclusive interview with Denise Müller, founder and designer of Schnittmuskel – alternative clothing brand. Denise comes from Switzerland and we have seen her designs during fashion show at M'era Luna festival. Her outstanding collection impressed not only us but also gathered large audience at the fashion show hangar. We have asked Denise about her work, interests and life of a designer. Enjoy!
Denise, You create the new wave of fashion in gothic and alternative scene. How do You feel with that description?
Hey guys! I prefer term "clothing" instead of "fashion". Fashion is something that change with seasons and popculture influences and I try to create something that is unique and lasts long. I try not to go along with the latest trends. My idea of clothing design is to create shelter and the statement for the person that wears my stuff. The purpose of my designs is to put on my customers second skin that makes them stand out of the crowd and feel comfortable.
How would You describe Your style?
Schnittmuskel is full of dark, post-apocalyptic, futuristic and irregular designs. I use the word "asynchrone" because my designs are mostly assymetrical and each piece is unique. I honestly give all my heart to those creations and I try not to limit myself at all. When it comes to materials I use, I do not work with fabrics only. I use ropes, gasmasks, steel elements and various other items even for jewellery or dresses. My clothes fit the post-apocalyptic vision I have in my mind and I try to use extraordinary materials that would be available in the wasteland. Very often I am visiting home improvement stores to get inspired and to find new materials I can experiment with.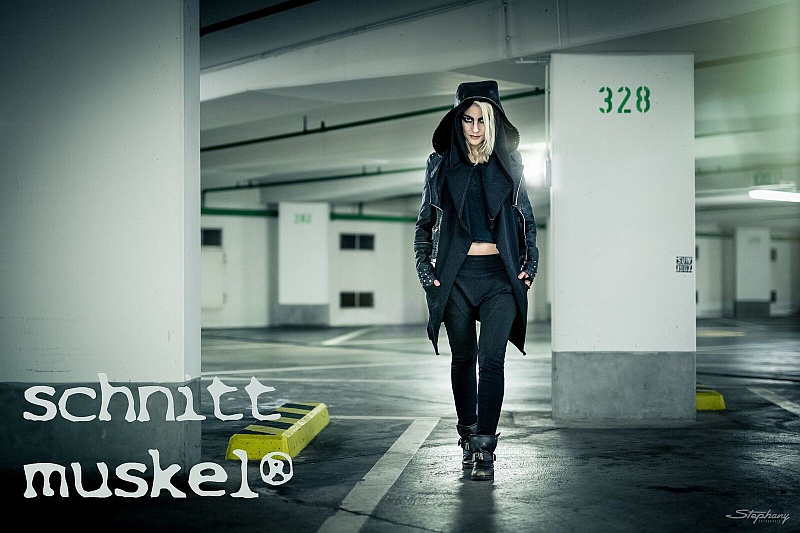 What inspires You the most?
My big source of inspiration are my favourite books and movies. At the back of my head I have the Dark Tower series by Steven King like also the movie "Priest" that have inspired me in the past. Currently, I am into Metro 2033 book series so I believe my future designs might be influenced by this series as well.
How did Your designer career start?
My mom used to have sewing machine so I started my first designs for my dolls as a little girl. The breaking moment in design was in a year 2000 when I started education at the school for SFX make-up artists in Cologne. Besides that I have learned make-up and special effects techniques, this was the time when I started playing with hairstyles and started creating headdresses and costumes. Creative environment and extremely inspiring crowd in school gave me a big push to clothing design. I have learned how to make patterns and improved my sewing skills. Then I started to create something that can be worn daily, something that I personally would love to wear! I made clothes on smaller scale but I had more and more orders so finally I created my own online store and became full time clothing designer – which is my favourite job on earth!
We heard Your works have been exhibited in the H.R. Giger museum. Could You tell us something about it?
Besides making clothing, I also make personalized custom designs in my atelier. One of those designs are wings. Some of them look natural with feathers and other are more surrealistic. It was one of those wing pairs that were exhibited in H.R Giger musem together with the photography of Annie Bertram. I believe our dark style had perfect fit for that place but also it was a big honor for us to be recognized there.
I have had occasion to meet H.R Giger personally and I must admit he was one of the most interesting people I have ever met. I think his art is outstanding and visionary. It was amazing when he came to see my creations, was interested in it and asked me a lot of questions. Giger is also Swiss like I am so I have fallowed his career since the time world heard about him. Switzerland is a traditional place and Giger's disturbing works full of darkness and often erotic were breaking many boundaries. Probably, that was the reason why he was more known and appreciated abroad.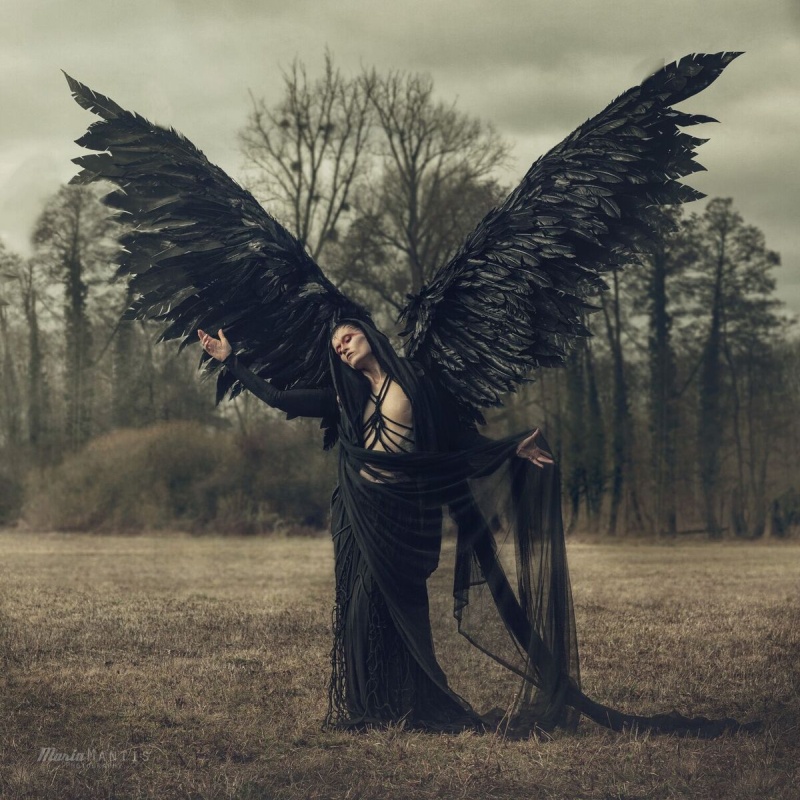 What do You like the most about Your work?
It won't sound original but I love creating something new but also I like to be my own boss. Because of that, I can decide how everything is going to be from the top to the bottom and I can create in the middle of the night if I want to. Managing clothing brand by yourself is difficult but I have opportunity to be creative and play with fabrics. Additionally I collaborate with photographers as a stylist and make-up artist. I have a lot of opportunity to be creative in various projects. This all makes me a free person but also fulfilled human.
What was Your favourite project You have worked on?
One of my favourite and challenging project was making the clothing for the band Eisfabrik. They have seen my works at WGT and they asked me if I can make stage clothing for them. The challenge of that was to create stage gear..in white! My clothes are dominated by black shades so I had to completely renew my inventory and get white fabrics to achieve my goal. Projects like that are very encouraging for challenges that will come in future.
Before the interview You have mentioned You like to skydive. Is the love for adrenaline or a time for "reset"?
Haha! It is my healthy addiction! I love skydiving and I try to do it at least once a year. I love the adrenaline it gives and this activity resets me fully. During those seconds in the free fall You can look at the world from a different perspective. Everything is far away and You can focus on Yourself and Your own thoughts. I suggest skydiving to everybody who never did it.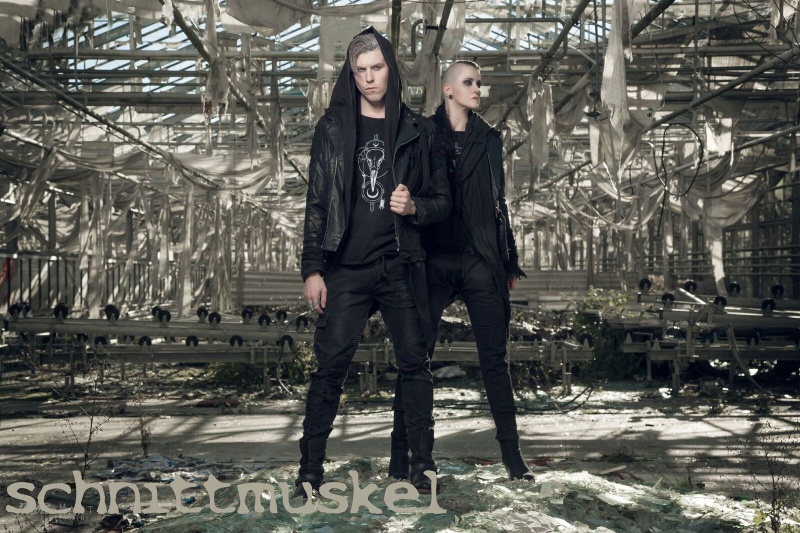 You are experienced with making stage gear for bands. Is there any band that You would like to dress up?
My little dream is to design for Paradise Lost because they are one of my favourite bands. Furthermore, I think creating for Rammstein could be interesting and a big challenge. I know that I could go all out with creativity without any boundaries. It is not like I have any boundaries in design now but if You know how crazy and awesome Rammstein stage gear is, You know what I am talking about. Despite those, I would like to dress up everybody that likes my style no matter the interests or origin. If somebody feels that Schnittmuskel is something for them – I will be more than happy to put my hand.. and needle to it.
What are Your future plans?
I am focused on doing more and more collections. Schnittmuskel is growing, evolving and I experiment with avant-garde styles. Also, I started to create more and more jewellery. Because I attend festivals and various alternative events, I meet a lot of talented people that influence my work so always I have something new to make in my mind.
Last words for Alternation audience?
It was very nice to talk to You and tell You something about my work. I hope alternative people but not only them, will like my clothing and style.
Thank You for the interview, greetings to all readers and Alternation crew!
Online store:
http://schnittmuskel.de
Costumes and wings:
https://www.arthemismaskenbild.com
Facebook:
https://www.facebook.com/Schnittmuskel-692016450826535
Instagram:
https://www.instagram.com/schnittmuskel
Newest comments: