Interview with Kamikaze Kings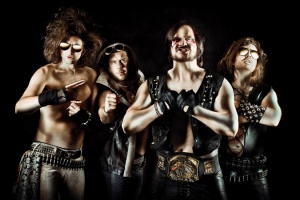 Reads: 3714 times
1. Your album "The Law" is going to be released in August. Can you give an interpretation of the title? What does 'The Law' refer to?

Elmo Kamikaze: The title refers to the fact that Rock music is the law. Think about it! It is the only genre which has the most faithfull supporters and bands such as Judas Priest, Motörhead and Iron Maiden have been in the music business for decades without selling out or slowing down. We feel a great responsibility to worship Rock 'n' Roll as we understand this genre and style of music. While writing and recording we came to the conclusion that this collection of songs is like a bible, like a manifest. So we soon realised that there is only one true title for this album and that is "The Law"!

2. How would you describe your album? What can we expect from it?

E.K: Expect a soon to be classic! Listen and learn! We will entertain the hell out of you all. We got really heavy stuff, 80s vibes, Blues, Rock 'n' Roll and Glam all gathered here on "The Law". It is a great album and stands for the life we live and share with you.

3. Can you say something about the process of creating the album? Where did you get the ideas from? Was it difficult for you?

E.K: We began writing the songs two years ago. We constantly worked on ideas and collected material and riffs and jammed a lot. We established a very thorough work routine. I hate these bands who need a couple of beers, weed and who need to be in a special mood to get things going. We just got together to write songs and so we did. No bullshit! This is what I told myself and I sat my sorry ass down to write the lyrics. It is hard work to expose yourself and be honest and vulnerable. It is also hard to entertain when most people consider sadness is the most artistic value! I like to have fun. And I am grateful for being a rocker. This period of my life was on the one hand very hard, but on the other very rewarding. I was completely broke while recording the vocals and it was the time when I got sober. Writing "Bible Black" helped me a lot to survive and get through all the shit I had to deal with back then.

4. You have chosen the track "Boys 'n' Men" as a single. Why do you think it's the best representative of your album?

E.K: It is great entertainment, has a positive message and it is also a great live song. The audience sings with me a lot and they always shout the chorus as loud as they can every time we play the song. So this is what we are all about: entertainment, great sing-alongs, Rock 'n' Roll and the belief to stand your ground no matter what. Check out the video and you will understand what the message of the song is and what it means.

5. And the single "Saturday Night Hero". It is written on your webpage that many fans asked to release the song as a single. So why this one?

E.K: The fans really love the song and some of them do the signature dance of this song every time they see me. Also a great live track and a real party smasher. A fan request is always welcome, so we decided to release this track as a single. And what a great party tune it is!


6. There's going to be 14 tracks on your album. Is there any particularly special one among them, your favourite?

E.K: I love them all. Really! Picking one is hard! "Hard times" is one of my favourites. I like to sing the lyrics. It is about getting over heartache and laughing at life. I also love "Boneshaker Boogie, a party song about dancing the night away. You see, there is a song for every up and down you might go through in a day or a week or in a whole life. These songs were written by our lives and we give back what we learnt from it.

7. Can you say something about the band's image? Any inspirations?

E.K: I am inspired by strong personalities in my family. Other than that I cannot say that someone influenced me in a strong sense. I am a trooper. I like to fight and can be very aggressive, but charming and I like to glam it up. Life is so dull and grey sometimes, let's put on make-up, leather and wear high hair, darling, and watch the world's decay as we sip pink champagne and smoke elegant cigarettes…and if someone tries to bother us we rip his face off and send it to his mother. So much for the image.

8. What your fans may expect from you during concerts?

E.K: Our best! We love to play concerts. It is great to rock out and see people enjoying what we do. I bang my head off and always have a collection of bruises after every concert. We have dancers with us on stage sometimes and love to have the audience singing with me. We give it our best shot no matter where no matter when and we always play as long as possible.

9. And the other way round, what do you expect from concerts and from your fans?

E.K: Total dedication, of course. We are kings. So worship us or die in pain and shame! We bring to you the best Rock 'n' Roll Extravaganza! So honour us by going nuts and screaming your lungs bloody.

10. How would you encourage your potential fans to come to your concerts and listen to your music? How would you promote yourself and your new album?

E.K: We are the answer to all of your questions. We are the new hope for Metalheads from all around the world. We are the cure and we are the plague. You cannot get rid of us. Watch our videos and then tell me that you don't want me. I will quench your thirst for Metal Rock and I will make you beg for more. So get down on your knees and wait for the release of "The Law" at the 31st of August!

Thank You!

Pages:
Newest comments: