Job Karma - Society Suicide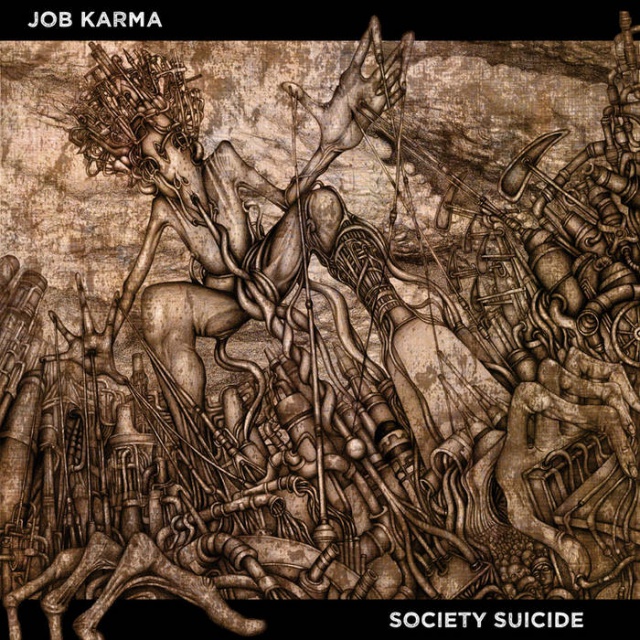 Reads: 4263 times
90%
Artist:
Galleries:
CDs catalogue:
Last topics on forum:
After release of album in 2010, the band Job Karma decided to take a long break. Work on the new material began in November 2012 and came to an end in February 2014. And so, on May 11 of 2014, we got released on CD and on vinyl a new album "SOCIETY SUICIDE" (both versions have a different graphic design). The postindustrial-ambient team from Wroclaw has once again referred to the negative achievements of modern civilization. This does not mean repetition and duplication of previous material. On the contrary, we are dealing here with a progress and this record is the proof. There two very important pillars on which artist must build his/her work.
The first one is high quality of the created art, the second is the message to the listeners which should be timeless and universal. In my opinion these two are the pillars of this position.
"SOCIETY SUICIDE" is undoubtedly built on solid foundations. The album contains nine tracks which three of them are instrumentals only, i.e. "Tress", "OUT" and "GREED". All tracks provides huge wealth of sounds with climate vocals (except mentioned Three). It is truly a richness not a cacophony of sounds. Songs are composed with deliberation and form logical whole. The rhythmic fragments are often supported by sound of drums, civilization, guitar solos and even harmonica in "CYCLE".
It's hard not to notice the band fascination of early Depeche Mode - here I recommend, dark and simply excellent "OIL". To date, DM equally refers interesting, although in other climate "EARTH" in which sounds distant echoes of Joy Division. X-mal Deutschland was also a undoubtedly inspiration for artists that can be clearly heard in "BLACKOUT". This trance and catchy track should satisfy fan of lighter music. "SOCIETY SUICIDE" will take us for walk through the sins of civilization for three quarters of an hour. Our civilization. Rich north which extract natural resources without restrain on the one hand and human labor on the other. The complexity of songs is very serious, it is difficult to describe it, you need to listen to it and live it.
Therefore, let me take a closer look into "TREES" that in my opinion is excellent. Although, it's without vocals, for me it is not a pure instrumental track.
No need for words here.
The voice of chainsaw, singing birds, dripping water. Raising rate of drums.
Let not hooting owls and croaking frog misled you. Civilization will reach them. Falling tree that passes in short time metamorphosis which is interesting addition to the mood. A tree falls to rise as a wood, raw material for insatiable human appetite. These sounds better reflects the image than the most sophisticated words. It just gets to the point in the emotional sphere.
I will mention also about closing track, "DEATH DAY". The of the journey that is full of dark sounds. Raise the concern and it reminds me of the movie "The Serpent and the Rainbow" (1988, Directed by Wes Craven).
"SOCIETY SUCIDE" can be listened in two-dimensions. Perfect album while driving or the perfect one to listen and contemplate. Definitely I recommend the second option. Great montage completes this release.
It certain that the message of this record is not very optimistic and it wasn't meant to be.
The mythical and anonymous civilization should not be blamed
Man is the one to blame, it's always a man.
Maybe you ?
The listener of this album...
Following guest has been a great support for musicians from Wroclaw
Thom Fuhrmann - lyrics, vocals: track 1 (vocalist and guitarist of SAVAGE REPUBLIC)
Matt Howden - lyrics, vocals: track 3 (SIEBEN, SOL INVICTUS, Hawthorne and 7JK)
Anna Frett - vocals: track 5
Monika Kubacka - lyrics, vocals: track 7 (EVA)
Henry Feliczak R.I.P. - harmonica: track 8
Anna Nacher - lyrics, vocals: track 9 (KARPATY MAGICZNE)
Marek Styczyński - daxophone: track 9 (KARPATY MAGICZNE)
Tracklist
1. Oil
2. Trees
3. Earth
4. Out
5. Change
6. Greed
7. Blackout
8. Cycle
9. Death Dzień
Other articles:
Newest comments: