Artist:
Galleries:
Archive: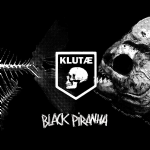 Claus Larsen (Leaether Strip, Am Tierpark, Sequential Access, Klutæ) is back in full force with his electro punk side alter ego Klutæ with a new shiny album titled "Black Piranha".
It's been 6 years since the very successful "Electro Punks Unite" album from 2011 so it's time to get the Electro power going again with some fresh new Old-school electro/EBM punk.
Available from 27 October 2017 by Emmo Records.
Tracklist:
Side A:
1 The Wire & The Cuffs
2 Submission
3 Insect King
4 Bombs
Side B:
5 Panic is Bliss
6 Romania
7 Wake Up The Punks
8 Belly-Up
Side C:
9 To Be
10 We Breed
11 O.H.C.Y.S.P
12 Fucking Parasite
Side D:
13 Gaytruckerlovemeatbellyrubnonstop
14 Breathe My Dust
15 Draped despairs
16 The hurt has begun
Newest comments: