Kommando XY - Welcome to Gestrikland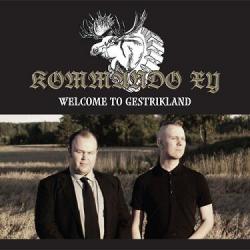 Reads: 3669 times
39%
Last topics on forum:
With their debut album 'Welcome to Gestrikland', Kommando XY absolutely stands in the tradition of great Swedish EBM bands such as Pouppee Fabrikk, Spetsnaz or Scapa Flow. 'Gestrikland' is the name of a region in Eastern Sweden. It is home to the two members of Kommando XY as well as their source of musical inspiration. From such a muse, one could expect some subtle folk music. Nothing is further from the truth. 'Welcome to Gestrikland' is a harsh oldschool EBM, programmed by Gustav Jansson (Sturm Cafe), and accompanied by the roaring voice of Joke Mohlund. Swedish EBM is beggining yet another ruthless, electro-noise march. All tracks last about 2 minutes and are fast and full of power, like machine gun bullets. 'Bet, Kindlein, bet! Morgen kommt der Schwed!' And how it all began? Two dudes decided to fight everyday routine and boredom, and left their hometown of Gävle. In 2005 Joke and his friend, Jonatan, moved to Poland, where they started a band called Sturm Cafe. Back then Gustav had a lot of time to spend on other projects. Some time after Jocke's arrival, he was invited to sing as a guest vocalist in 'Schweiss Bier und Stahl' (Suicide Commando). This was the perfect opportunity to show off his amazing vocal abilities. Shortly after Joke and Gustav decided to team up and form Kommando XY. As they say, it was suppose to be their way of expressing patriotism. Finally, it's worth noting, that "Welcome to Gestrikland" is a rare opportunity to listen to swedish lyrics combined with EBM.
Tracklist:
01. Gestrikland
02. Genesis Does (What Nintendon't)
03. Gruvarbetare
04. Varför?
05. Vargavinter
06. Kvinnor
07. Parkfesten
08. Älgjakt
09. Brynäs IF
10. Vargen
Newest comments:
oldebm



Writen at: 2010-10-14 15:07:40

Dlaczego taka niska ocena albumu? jest bardzo fajny,świetnie się go słucha,