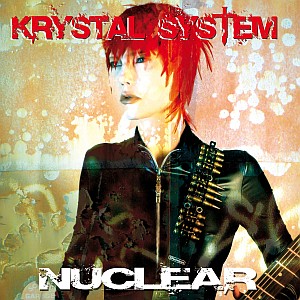 Reads: 2926 times
100%
Artist:
Galleries:
CDs catalogue:
The first delicate, blissful motive of the first track lasts seconds only to transmute itself into cannonade of sounds ready to give you a dancing knockout. And that is only the foretaste of that this album contains. Krystal System comes back after two years with Nuclear - the album promoted with a special video clip on the band's official YouTube channel. This album is a post-apocalyptic vision of the band – a revolution is on the doorstep of the musical scene. It is like a huge atomic bomb which destroys everything on its way in order to rise a new order on the ashes. The outspreading radioactive waves cause unusual effects and the ambivalent material struggles to possess the minds and hearts of the potential listeners.
When compared to the previous album the new production brings more ruthless sounds supported by hard, smashing beats. The difference is also visible on the textual layer – it is more nihilistic. The uncompromising mixture of industrial and electro, heated to the maximum with metal instrumentarium and guitar riffs emphasizes the successive changes in the progressive signs of chaos. The fast tempo of the selected tracks does not allow for a breathing moment. Nuclear is more coherent than the previous album and each track fits with the rest, a dazzling inventiveness of the band's members. What is left is to hope that these fascinating tracks will accompany us right to the dead end.
The interesting beginning of the album and even more absorbing content along with audibly developed vocal parts results in an album which cannot be treated indifferently. The bar was raised to its maximum and as a results it may be difficult for the next album to subdue Nuclear. One is known for sure – it will not be easy.
Tracklist:

01. Fiction
02. Un état d'hypnose
03. World is calling
04. So long
05. Automatic Ideology
06. Rat track
07. Nuclear Winter
08. Iron Song
09. Requiem
10. Nowhere
11. Around the World
12. Le Chaos
13. Sanctuary
14.Bonus track: Le chaos (radio edit)
Other articles:
Newest comments: