Deine Lakaien - Live in Potsdam (DVD)
Other CDs: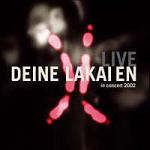 Deine Lakaien
Add date: 2003-11-03
Label:
Columbia / Sony
Tracklist:
01. Colour-ize
02. Generators
03. Kiss The Future
04. In The Chains Of (practical Constraint)
05. Where You Are
06. Return
07. Wunderbar
08. The Mirror Men
09. Love Me To The End
10. Silence In Your Eyes
11. Manastir Baroue
12. Kiss
13. Don't Wake Me Up
14. Overpaid
15. Cupids Disease
16. Rain Dance
17. Dark Star
18. May Be
19. Reincarnation / Life Is (a Sexually Transmitted Disease)
20. Sometimes
21. Bandinterview
Picture Format
Pal
Region Code
0 (all Regions)
Technical Information
Nb :- Pal = European Tv Format, Ntsc = Usa Tv Format. Please Check The Compatibility Of Your Dvd Player With The Relevant Tv Format, As Well As Its Region Compatibility, Before Ordering Your Dvd. If You Have Any Doubts Then Please Email Us.