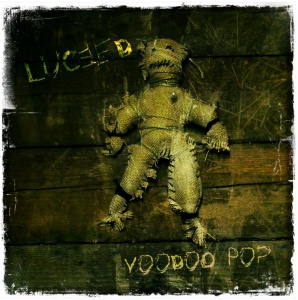 Reads: 2123 times
46%
Seven deadly sins, number-God-knows-which: intemperance in eating and drinking. In the childhood I was examined by obese priest from knowledge of the catholic catechism. His image appeared in my memory, when I was listening for the first time Luceed band's album. They are also guilty of intemperance, but in feeding listener with everything, they have to offer. They feed using force, according to the principle: "As long as you do not eat chop and do not consume potatoes, until you drink a full glass of compote, you will not leave the table." This, unfortunately, does not go for good to them. And have you, children, already washed your hands?
There are indications, indeed, on the basis of which you can conclude, this album could be much better. Some sort of creativity in words' game from the title ("popp" is doll in Luxembourgish) disappears in ambitious, but in principle risky idea, to combine post-punk with alternative rock and pop. From this conglomerate is mainly formed extremely melodic pop-rock with a large dose of metal borrowings, which leaves a lot to be desired.
Main advantage of this music are lines of the guitars. Attractive, to some extent virtuosic, which suggests pleasant solos present on the album (delightful in "Circus Made"), are evidence of talent or experience (or of both these things) from their author. His actions should determine backbone of the band's music (dorsal strings!), surprising is the fact they so easily allowed to waste this potential, by dissolving in a kitschy, simple electronics drilling uncomfortably ears and not wanting for the world to go silent. This is so clear in "King and Mason" changed to an annoying football ditty (with time even riffs surrender to keyboards), which is difficult to bear, in "Clowns & Ruins" and "Vagabounds A.D." (that shows also weakness in composing bland choruses and writing lyrics that despite the efforts, generally do not make any impression). However, sometimes it is better: in "Circus Made" that aspect of "Voodoo Pop" rewards a little made ​​havoc, by building an appropriate voltage that does not hurt so much in vivid, shoegaze "Skull & Stones".
Vocal is... tolerable. Deceit in touching "Black6Myth" (if it is worth to mention, it is only because of few string notes in dialogue with heavy guitar) reminds that singing lessons would be appropriate. This is the second thing that surprises – how in so well produced material you can afford such a failure? But there are also better moments – McCoy's mannerism from time to time adds color to the music, from time to time we are facing grim and determined voice, which reveals in among others "Revelation 23".
Next to mistakes are also good points. Borrowing from "Mourning Sun" of Fields of the Nephilim, but in a very accessible release, certainly deserves attention in "El-Xyr". It is similarly with bringing associations of The Beauty of Gemina "Twilight X" and much calmer "Praise". Sympathy brings to mind pleasant, sharp "Revelation 23," which leads to assumption that at least part of the group may have a warmer attitude to Iron Maiden. However, Luceed, have something to offer.
Special mention requires the best in the record "Koh-i-noor, part I". Disturbing, filled with influences from oriental music reminiscents album "In Requiem" of Paradise Lost. Synthesizers, guitars, vocals, percussions' rhythm - everything here weaves charm of the desert and seduces with Arab's warmth. Low, dark vocals finally sound strong, causing goose bumps. Spare lyrics and clear structure of the composition, lack of unnecessary electronic, dubious ornaments - to such thinking as in "Koh-i-noor" group should aim. Without it they create a labyrinth, but instead of drawing into the listener, they get lost in it.
Concentrated mainly on massive requirements "Voodoo Pop" will certainly gain followers, recruiting from fans of not requiring rock and stomping feet. Another supermarket in the neighborhood. In large part eclecticism in a bad taste. Another act of cafeteria's terror. Perhaps in time, however, they will abandon bad habits and start to serve lobster, it seems they know the recipe. But that is question for the future. I remember, cafeteria's ladies tend to be stubborn.
Tracklist:
01. El-Xyr
02. Clowns & Ruins
03. Circus Made
04. Vagabounds A.D.
05. Black6Myth
06. Skull & Stones
07. Koh-i-noor, part I
08. Fallen
09. King and Mason
10. Twilight X
11. Praise
12. Aeternus Amor
13. Revelation 23
Newest comments: