Marilyn Manson ex-guitarist new project.
Artist:

Galleries:

Last topics on forum:

Archive: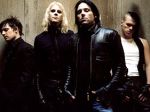 Marilyn Manson's former guitarist John 5 has revealed details of his new band, Loser. J 5 will release his next project's debut album, 'Just Like You', on June 5.
Marking a move away from dark metal, the guitarist has explained the sound of Loser saying: "I like to play metal, but sometimes it's like doing the same thing over and over. It's good to have a little bit more variety, like eating different foods. And even if they're surprised, I hope people will like the band and recognise that hey, it's not metal, but these are really good songs."
Tracks set to appear on the LP include "Disposable Sunshine", "Without You (Inside Out)" and "Nobody Knows". Loser's line-up is completed by singer Joe Grah (ex-Jibe), bassist Charles Lee and drummer Glendon Crane.
Newest comments: