New Order - Live At Finsbury Park (DVD)
Other CDs: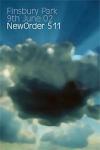 New Order
Add date: 2002-12-09
Label:
WEA
Tracklist:
-
Picture Format
Pal
Region Code
2
Technical Information
Screen Format : 16:9 Widescreen
Sound : Dolby Digital 5.1 Surround Sound / Dts
Running Time : 105 Minutes
Nnb :- Pal = European Tv Format, Ntsc = Usa Tv Format. Please Check The Compatibility Of Your Dvd Player With The Relevant Tv Format, As Well As Its Region Compatibility, Before Ordering Your Dvd. If You Have Any Doubts Then Please Email Us.