NiceLand - alternative melancholy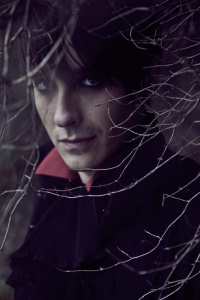 Reads: 3298 times
NiceLand
is an indie rock musical project with a leader in a person of charismatic
Michal Motyčka
. The artist was born on the 2nd of January 1983 in Bruntál city outlying not more than several dozen kilometers form the Polish boarder.
The idea for the artistic nickname was taken from Icelandic movie directed by Fridrik Thor Fridriksson entitled "Niceland".
First encounter of Motyčka with music was in his childhood, when together with his brother also a music freak went on camp where he was singing songs at the bonfire.
At the age of 16 as a Christmas gift he received his first acoustic guitar and that is how everything started.
At the beginning he was writing and composing only for himself and his work were deeply hidden in the drawer.
The breakthrough had its place in 2007 when at the age of 24 Michal unexpectedly won contest called Coca-Cola Popstar. In the high final not experienced young man with guitar came out in front of outstanding jury without any stage fright. He defeated many professionally prepared bands such.
The prices in the countess were musical contract with Sony Music, participation in popular international music festivals and a collective concert tour with few respected bands from Czech.
With the growing interest, project which was only based on acoustic guitar did not last long.
Search for a qualified musicians to form a band started. After a couple of months Michal was joined by bassist Adam Voneš and drummer Marek Klasna. In such make up the band went to Germany for a prestigious festival High Field, where they performed alongside with bands such as Fall Out Boy or Kaiser Chiefs.
After they came back to Czech Adam Voneš and Marek Klasna quit the band. They were replaced by Marcus Tran and Lukas Boho. Such temporary make up was created for the sake of acoustic tournée during which NiceLand was performing alongside with popular group Kryštof.
At the same time work on the debut album started.
The record company, knowing how big are the expectations connected to this album, decided to cooperate with a respected producer Yarda Helešice. In the studio except of Motyčka were working Helešice and Jiří Stirin ml. From forty prepared songs nineteen were selected.
Finally, on the disc there were thirteen songs.
Thereby a fruitful time in the band's career started. Musicans were working both, in the studio and performing on the stage. In the period of six week the band played about 30 concerts in many cities in Czech Republic.
Debut album entitled "Little Black Book" saw the light of the day on the 7th of April 2008.
Official single which was promoting the album was song
"Come on"
to which the first video clip of NiceLand was created. It was directed by well thought of director Risto Sokolwiski
http://www.youtube.com/watch?v=e7z6-ZnvHDQ
The song was played uninterruptedly in many radio stations for the period of three weeks being one of hundred most frequently played songs of the year.
By the desk of the musical portal musicserver.cz the song was recognized as the best song of 2008.
Unfortunately, all successes did not have an impact on crystallization of the constant composition of the band. It was a huge problem because next concerts were planned.
At that difficult time a new band TheBliss which consisted of three people Tomas Koula (electric guitar), Pavel Tomek (bass guitar)and Michal Budinský drums helped.
In such a way cooperation which fructify in performances at different smaller and bigger festivals started.
During the tour bassist Pavel Tomek was replaced by Přemysl Černík and in such slightly changed composition summer tour was finished.
The second single of Niceland which appeared in January 2009 was the most popular song form the album "Little Black Book"-
"Lost in Encryption"
. Couple of months later this incredibly terrific song was noticed by authors of Macedonian and Czech movie entitled "Ocas jestersky". They decided to use the song as a part of the soundtrack. Video clip to this song which contains fragments of the movie was directed and produced by the members of the band.
http://www.youtube.com/watch?v=HgHsKugj5-s
Debut album embeded in a nostalgic mood got many positive reviews from musical critics, fans and collegues from business. They all agreed that the band set itself a high standard
and Michal Motyčka was hailed as a huge vocal and authorial talent, who is cunningly balancing between different sounds and styles.
Only in the first half of 2009 the band played more than 50 concerts which included performances at the biggest and most important Czech festivals such as Colours of Ostrava, Planet Festival, Mezi Ploty or České Hrady. In the band's schedule also could be found international events such as for instance German festival Pfingst open air.
Amazing debut album, interesting video clips and impressive amount of concerts granted that the band received series of nominations for prestigious music awards. Finally, Niceland was acclaimed as discovery of year 2008 in plebiscites: musical television Očko, magazine: report Žebřík and portal musicserver.cz.
In the spring of 2010 the band closed themselves in a Prague recording studio belonging to guitarist Tomas Koula and was persistently working on the second album. This time the album was produced by Amak Golden, the former member of band Sunshine. Co-producers were Kay Buriánek, front man of Sunshine and Martin Přikryl, guitarist from The Prostitutes. These eminent names related to Czech indie stage guaranteed next amazing album of NiceLand.
The second album entitled "God has her ways" emerged on the 11th of October 2010 and was let out from money given by members of the band with support from record company Championship Music.
The second album was different from the first one. This time thirteen songs were held in indie rock climate with a clear element of electronic music what in connection with Motyčka's original vocal created intriguing entirety.
In two songs members of Czech Philharmonic Orchestra performed as guests. In the song "Laugh all your want" Andy Čermák, front man of Sunflower Caravan, was a guest. Moreover, he is also co-author of the text.
The first single promoting the music cd was song entitled
"I won't give in"
which in musical plebiscit Žebřík 2010 took the second place in the category of the song of the year. The videoclip to this song came into being in 2011. It was filmed in Los Angeles and it was again directed by American Niko Sonnberger.
http://www.youtube.com/watch?v=uDtD0sgHSNk
As the second single song
"Sleep at night"
was chosen. It is characterized by dynamic melody and chorus in which strong guitar sound can be heard.
Explicit Video clip was directed by original artist Niko Sonnberger who is a friend of Motyčka.
http://www.youtube.com/watch?v=wwruStK4Duc
For a few weeks Video clip was present in many music charts.
On the charitable mixtape "Art.for life" studio version of song "Where the light comes from" created by NiceLand could be found. The income from selling of the CD was devoted to the fight with AIDS.
Year 2012 brought many essential changes. Two members of the group, guitarist Tomas Koula and drummer Michal Budinský, decided to leave the band and start working on different projects.
On the 29th of February the band played the goodbye concert - the last in foregoing make up. The event took place in Hard Rock Café in Prague. Concert was accompanied by amazing atmosphere. During the event fans were presented with the video clip to the song "I won't give in".
In year 2013 Michal was mainly performing as a solo artist and occasionally playing concerts with pally musicians. During such concerts songs form the second album could be heard.
NiceLand, is for sure, one of the moist interesting musical projects of recent years. Together with Sunshine it represents the quintessence of great Czech indie rock sound.
Michal Motyčka, thanks to his expressive image and outstanding voice, stays in memory of the listeners for a long time.
Newest comments: