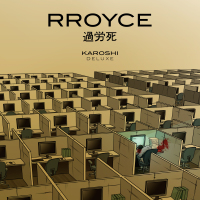 Electropop band Rroyce returns with their second album "Karoshi". Karoshi is a japanese term for death by a sacrifice job. The idea for the album title was born during the production progress of the album while the band members often had to find a middle way in between the love for the music, being private family men and their own dayly job routine.
"Karoshi" is also an album which has some strong social messages. The album cover was designed by Irene Berbee. The Deluxe version of "Karoshi" features massive six (!) bonus tracks starting with some acoustic version of "The Dying of your Pride" and "The Principle of Grace" which give you goose bumps while listening, followed by four massive remixes from well known bands such as Eisfabrik, Rotersand, Beborn Beton or Neuroticfish who gave the songs their very own brand.
Available from 27 October 2017 by Infacted Recordings.
Tracklist:
1.The Principle Of Grace
2. Who Needs
3. (It Smells Like) War
4. The Dying Of Your Pride
5. Siamese Dreaming
6. Pyroclastic Flow
7. Running With The Sheep
8. One Two Three Four
9. I Like It, When You Lie
10. You Don ́t Belong Here
11. Who Needs (Beborn Beton Remix)
12. Pyroclastic Flow (Neuroticfish Remix)
13. Siamese Dreaming (Rotersand Remix)
14. (It Smells Like) War (Eisfabrik Remix)
15. The Dying Of Your Pride (Akustik Version)
16. The Principle Of Grace (Akustik Version)
Newest comments: