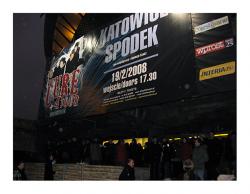 Reads: 3616 times
Galleries:
Last topics on forum:
Spodek Hall, Katowice, Poland 19/02/2008

3 HOURS!!!
THEY PLAYED FOR 3 HOURS STRAIGHT!
3 AMAZING HOURS!!!
THE CURE ROCKS!!!!!

Actually, they played for 2 hours straight (from 20 pm to 22 pm). But just right after that, there was an encore which lasted… an hour and 10-15 minutes. Oh my … 3 hours of amazing music! I still can't believe it. Here I am, at home, aching all over, sipping my blackberry juice and grinning like a fool. I was there. I really was.

I was this close from not being there tho. I am sick like… really sick. My last weekend was spent in bed, sleeping mostly, which is very unlikely to me. So… I wasn't quite sure if I would go to see The Cure at all. But I went. Still feeling and looking like shit, I went, first to work and then to the concert. I'll probably end up with pneumonia after this week. Ah, what a hell, you live only once.

A lot of people came to see them. Various people, young and old, from Poland and from other countries as well; some were wearing black and make-up (the infamous red lips and black eyes). Yep, I wanted to dress up for that occasion but I didn't. Didn't feel like it. Didn't feel like any dress, any make-up… I just hid myself in black hoodie, black jeans and red fingernails. I felt quite comfy there, I must say.

The support band started playing at 19 pm. And what a support it was! The best support I have ever heard (ok, ok perhaps the second best). That support played only for 30-40 minutes or so but… I'll say it again – what a half an hour it was! They are called "65daysofstatic" and are from Sheffield, United Kingdom. Three guitarists and one drummer. How can I describe that support's sound? Lots of guitars, percussion, keyboard and electro. All in all, a nice combination. Oh and there was no singer; no vocal. Boys were just playing. And it sounded amazing, energetic, passionate even.

And at 20 pm … the King of Darkness (or Satan, as some were calling out to him right before the gig started: "Satan! Satan! Come out! Come out!" ) entered the stage (actually, that entrance of his felt like… like an entrance of an actor onto the theater's stage. Grant and yet very humble). Robert Smith. I was standing so close I could just touch him. I couldn't believe he was right there before me… Robert Smith. In his black shirt and cargo pants. With his face painted entirely white, lips painted red and eyes painted black. And with his mop of black disheveled hair. Was that face of his a face of a beast? Yes and no. In that moment, it was a face of someone larger than that place; larger than life…

I'm not sure how many songs they played. Many. Lots of songs were from their older albums. And I loved that! I do remember tho that they played "Fascination Street", "Pictures of You" and "To Wish Impossible Things". Come to think of, they did play many songs from "Disintegration" (my fave album of theirs). Anyway, during "Fascination Street", people (me included) went literally mad. At some point there was so little space, we're so freaking squeezed, that I could hardly move, hardly breathe even. That squeezing, along with pushing, shoving and throwing mosh pits every two steps – lasted throughout the whole concert. There were moments when it was getting really dangerous but… generally, I didn't mind and even pushed here or there myself. "Pictures of You" was gorgeous. There was an amazing lighting and during the "Pictures of You", right where you hear that "sparkling" sound – just right then, hundreds (yep, am exaggerating) of little lights started flashing, twinkling alike little starts. It looked so cool. And as for "To Wish Impossible Things" from "Wish" album, well… nothing special about it. It just made me cry. A little. That beautiful it was.

Returning to Robert Smith, he has this great charisma. He doesn't have to do much, really. All he needs to do is smile that little characteristic smile of his, glance up, raise an eyebrow… That's all he needs to do to attract attention and admiration; to make a connection, a connection that lasts. That's all he needs to do to have the crowd at his feet, literally. And his voice… He sounds exactly the same as on those records or… No, he actually sounds better live. How the heck does he do that?

Of course, he uses all those theatric, exaggerated gestures as well. But those only make that spectacle called The Cure Live more amazing.

One of the very best shows of my life.
Newest comments: