Tikahiri - Merahi Kerekere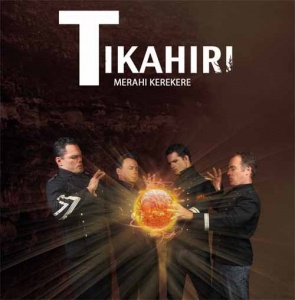 Reads: 4544 times
90%
Ordinary European listener rarely links French Polynesia with alternative rock, especially rooted in gothic rock. Yet, in the middle of Pacific Ocean was created a project that could with no shame fight against many aces of climatic playing coming from Europe and, what is more, could win the battle without any problems.
Band Tikahiri was created in year 2003, when two brothers - Aroma and Mano Salmon (earlier connected with trash scene and active tatoo artists), coming from New Zeland, met Stéphan Rossoni and Simon Pillard, playing drums and cello. For few years they've been creating in this team music which can be describe as the freshest and the most intriguing piece of musical pie that I've found for a long time. It delights us with exotic taste and note of familiar sounds in uncommon connection.
"Merahi kerekere", released in 2009, is their second album after fully acoustic debut "Tamaki Hope'a". It brings turn into more electronic playing with keeping band's unique style, described by themselves as
Acoustic Underground
or
Gothic Paumotu
. While listening to the material on the album it is impossible to avoid the impression that the musicians aren't lack of hot blood. Finally that's what its name means in Tuamotu -
blood
.
Music presented on "Merahi kerekere" is erotic in every dimension - passionate, moving, almost palpable. Specific intensification of the signals, senses inversion, both according to the impressions coming from sounds feeling, those resulting from surrender to the rhytm section's opiatic effect or finally from reading lyrics - sometimes ilustratively sexual.
Big part of this whole erotic shell belongs to the band's main advantage, for sure determinant of their originality - rarely seen in such a combination cello, that suprises with diversity of sounds. High or low, delicate and soft or strong and expressive - always extensive and full of emotions didn't become flatted by production, pushed aside or just commonplaced. This uncommon solution where almost brought to life cello is leading, instead of guitar, the main part of tracks melody in rock-virtuosic way fits perfectly to the creation of composition's warm climate. It slowly surrounds listener, flows around him and waves tenaciously, subjecting him to its addictive character in collaboration with accoustic guitar and rest of the instruments.
First, representative for wholeness song,
Kareho Koe
is exceptional. It almost let you feel warm, night air. The video presented to it shows visually atmosphere of the whole composition. Delicate light of the lanterns seems to be carried by the vivid cello's sounds. Composition doesn't neglect any of the aspects. It is a kind of synthesis of all band's pros - from melody led without mistakes by cello and acoustic guitar, which are accompanied at one point by electric guitar, to inebriant rhytm created by bass guitar and drums - everything suits to itself like a puzzle. There is no place for defficiency or scheme. Also, in
Kareho Koe
is hidden potential that won't let you forget about it for a long time.
While listening to
Beautiful Lady
through the body goes familiar shiver. All because of the specific, bass guitar using similar ideas to Bauhaus at crucial
Bela Lugosi's Dead
. However, it is strong, rock song that you couldn't resist - excellent riffs, electric guitar's fluent crosses from rhytm function to leading and disturbing inclusion of vibrating cello giving the moment of rest between parts of crazy rhytm. For similar reasons, attention is paid to
Tupapaku
- interesting sounds emphasis on a few lighter notes at the background of low, dark overdrive.
From the acoustic songs (like imploring
In Love
) kept in the much slower motion, the title one is the most subtle and emotionally richest as well. "First violin" plays here the guitar constructing melancholy. Rest of the instruments accompany it in the background, except of cello that is gaining importance - its dynamic changes, playing on the emotions, after reaching the high point is muted and thus for little moment making a place for guitar.
Characterised by sexual directness
You make my life
and
Penetration
is sexually liberated tribute to the pure desire. While the first composition gives the place to unbridled erotism and its continual rhytm shows permanent associations with the friction moves, the second one surrounds listener with softer play like velvet linens.
Acoustic
Take me away
and
Beyond the reach
finishing the album are stylistically different than rest of the compostions. Significant connections to alternative rock stage are heard, also in the manner of a singer. Of course, fiddlestick still moves across the strings with feeling.
Take me away
is not a searching for lanterns anymore, but banishing doubts that always follow the ones seeking assurances for love. At the end, Tikahiri presents to the listener slow, atmospheric ballad, toned, balanced, without unnecessary overloading - it stays in the perfect opposition to opening
Kareho Koe
.
Presented tracks usually don't last more than four minutes, so band members don't have too many opportunities to show all technical skills, but this was never a purpose of the musicians from dark stage. A definite plus is avoiding simple scheme: verse-chorus, individual parts of the composition affecting each other and became modified, for that reason there are unpredictable. Characteristic sound of vocal is also worth mention (both brothers provide voice on the album). Suitable atmospheric, but with Elvis like dynamic, perfectly fits the music, and I assure that the passion hidden inside can warm-up the blood.
The band skillfully juggles from acoustic ballads to disturbing guitar sounds drawing on the tradition of eighties rock. "Merahi kerekere" connects climate of debut with stronger impact, that was supposed to be use by the band in future, weaves its story about passion and love with subtle connection to death, avoiding pathetic tone at the same time.
This kind of music I describe as
amoroso
.
Tracklist
:
01. Kareho Koe
02. Falling In Love
03. A Tauahi Mai
04. Beautiful Lady
05. Merahi Kerekere
06. Tupapaku
07. In Love
08. You Make My Life
09. Penetration
10. Take Me Away
11. Beyond the Reach
Other articles:
Newest comments: