Trentemøller and First Hate in Gdańsk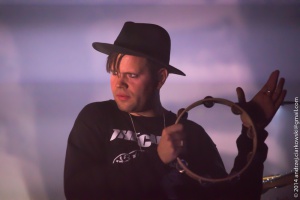 Reads: 1807 times
Galleries:
On Friday, October 3rd, Danish DJ, multi-instrumentalist and electronic music producer Trentemøller played at club B90. He was accompanied by live band of five people. Varied tracks combining club and rock sounds sounded great live. From the start audience had enyojed themselves.

The role of a support act on this evening was played by duo First Hate. They began their concert punctually at 20:00. Joakim Nørgaard and Anton Falck Gansted came from Copenhagen. Their music brings to mind synth pop, new romantic and early Depeche Mode. During half-hour show First Hate played among others "Strange Weather", "In my Dreams" and "Girls in the Club".





Trentemøller also known as Businessman, P.O.Q and Run Jeremy debuted in 1997, but his first longplay "The Last Resort" was released in 2003. First album is dominated by varied electronic sounds, but on the next "Into The Great Wide Yonder" rock music appears. Strong guitars are also on the last LP "Lost" (released in 2013). Vocals were recorded among others by Jonny Pierce from The Drums and Sune Rose Wagner from The Raveonettes. Trentemøller also gained recognition thanks to his great remixes (for The Knife or Röyksopp). Danish producer played in Poland few times before (twice at the Audioriver festival in Płock).

Trentemøller with live band began their concert at 21:00. The first track was "Still On Fire" ("Lost"). Musicians were enthusiastically greeted by the audience. At the beggining stage was filled with white smoke and only black outlines of artists silhouettes could be seen. Later in the evening intriguing lanterns appeared on stage. Nevertheless, the most important role pleyed the music. Interesting compositions sounded great live. Stylistic diversity also made a great impression. Trip hop, house, film music or alternative rock are just some of the genres which appeared during the show. Trentemøller and the live band played in greater part the songs from the last album "Lost": among others "Come Undone", "Candy Tongue" and "Trails".





The band accompanying Trentemøller consists of renown musicians. Thanks to them tracks known from the albums gained fresh sound. Sometimes on the stage there were as many as three guitars so rock sound played a major role. As usual thanks to excellent sound system in the B90 club you could fully associate with music. Lead singer was great Marie Fisker, who recorded vocal for the song "Candy Tongue". Musicians didn't contact with the audience, they only encouraged to have fun with gestures. The audience started to dance right at the beginning of the concert. The last track was "Moan". After enthusiastic applause Trentemøller and live band appeared on stage again and played "Even Though You're With Another Girl" and "Gravity". The evening was finished by spontaneous and rock'n'roll "Silver Surfer, Ghostrider Go!!!".
SETLIST
Intro
Still On Fire
Shades Of Marble
Past The Beggining Of The End
Come Undone
Candy Tongue
River of Life
Vamp
Miss You
Take Me Into Your Skin
Trails
Never Stop Running
Moan
ENCORE
Even Though You're With Another Girl
Gravity
Silver Surfer, Ghostrider Go!!!
Newest comments: