Various Artists - Amphi Festival 2017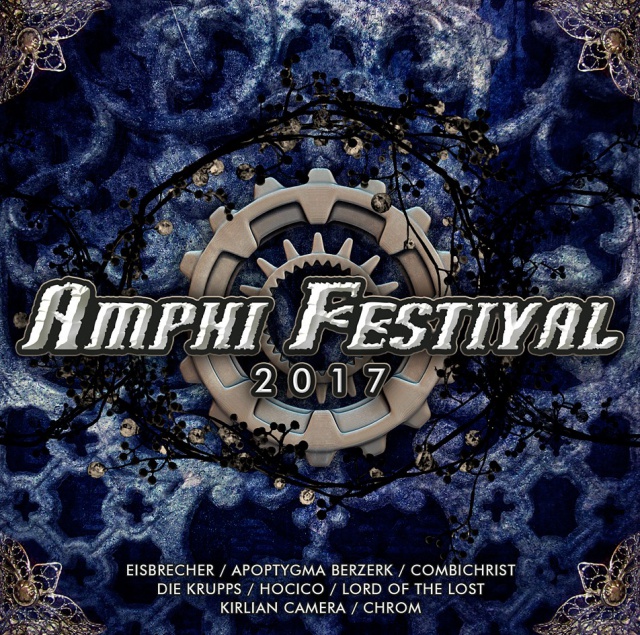 Out Of Line Music is presenting the official CD release for Amphi Festival 2017. This year's festival yet again features a classy array of popular Gothic- and Electro-scene-related acts and the "Amphi Festival 2017"- compilation features a versatile selection of the best performing bands that includes everything from big names, via cult acts, to promising new faces.
With Eisbrecher, Combichrist, Hocico, Apoptygma Berzerk, Letzte Instanz, Die Krupps, Stahlmann, Rummelsnuff, CHROM, Kirlian Camera, Ordo Rosarius Equilibrio, Massive Ego and many more, all featured with current hits or classic tunes, the compilation features an excellent overview of this year's line-up.
Available from 21 July 2017 by Out Of Line.
Tracklist:
01. Eisbrecher "Böse Mädchen"
02. Combichrist "Skullcrusher"
03. Die Krupps "Kaltes Herz"
04. Hocico "Bienvenido A La Maldad"
05. Massive Ego "Kate's In A State"
06. Apoptygma Berzerk "The Genesis 6 Experiment" (Radio Edit)
07. Legend "Sister"
08. Kite "Jonny Boy"
09. Ordo Rosarius Equilibrio "Vision Libertine (The Magnificence Of Nihilism)"
10. Kirlian Camera "Words"
11. Rummelsnuff "Helmut"
12. Orange Sector "Mein Kreuz"
13. Henric de la Cour "Chasing Dark"
14. Chrom "Down Below"
15. Frozen Plasma "Crash"
16. Stahlmann "Nichts Spricht Wahre Liebe Frei"
17. Lord Of The Lost "Drag Me To Hell"
18. The Other "Dreaming Of The Devil"
19. Letzte Instanz "Wir Sind Eins"
Newest comments: