Vigilante - Life is a Battlefield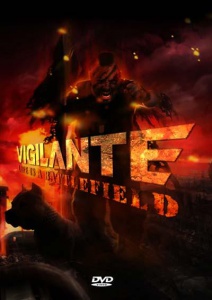 Reads: 1969 times
60%
Artist:
Galleries:
CDs catalogue:
Last topics on forum:
Until release of live DVD/CD Ivan Muñoz as Vigilante had on his account two studio albums and a Spanish language EP "Juicio Final". If life, and thus performances on stage, are actually the battlefield, it is worth to consider, what maneuvers resulted in international success of the Chilean act on metal/industrial stage, and how the struggle goes with listener - or whether they make peace with one another.
Wait... peace? This word is not in place. However, despite hugely unmatched strength of occupier at the microphone (although in small number), it is also not the war. Vigilante causes rebellion and engages the entire audience that surrender agreeably under its new leader. In the performance's setlist we can find 5 titles from "War of Ideas", two from debut and the same from the EP, all live distinguish with vigorous weight and energetic strength, heightened in comparing to album versions. Association to Ministry is most accurate, but mix of metal with harsh ebm (which dominates in the electronic layer) presented by Vigilante has its own individuality causing that, it is easy to recognize it among similar creations.
Material on CD was produced in a way that it is hard to find a fault. As a result, not much from the thunder music is suppressed by technique. From the first sounds, alarming military's sirens intros, you can feel the excitement and anxiety. Growing tension is relieved, when general Muñoz encourages with screaming to enter the training ground. "Fire" is a good indication, of what will happen in the next hour. Wall of electronic beats, deep, low distortion of guitars and sharp, commanding vocal – cannons are fired. As befits commander, the leader engages highly in interaction with his troops, and they, blinded by his charisma, follow him into the fire of music's gunshots. That is how should operate aspiring to a high rank position on the industrial's world stage soldier. For who, we should add, ladies wait in a queue (if there is any that will not be conquered by a soldier using language of Iberia?).
One of the finer points of concert is "Fair Fight" communicating more atmosphere built by disturbing sounds (synthetic "vocals" by Rammstein), and yet more dance knack. Free of beat fragments allow you to gather strength, which is useful to any private - but the voltage does not go away, after all, fight is still penetrating air.
Fast, deadly pace rarely slows down, which is proved by subsequent tracks. There is also place for more melody. It turns out good for Vigilante, as it is evidenced by turning just this way "In the name of God" with melodic guitar and keyboards. Surprisingly falls out... piano in the "Answers", but the illusion of tenderness and delicacy quickly collapses under the weight of beats and riffs, but still favors in style of violins make it an ambivalent composition that is most interesting on the album.
Pure rage is manifested in "Hardcore", but it does not appear however, that it is worth more attention. In "El derecho de Vivir en Paz" we can find a sample of pure singing and more pompous sound than in the rest of the material, basically there is no darkness – which is not surprising, considering the fact it is not Ivan's composition. There is just only one track left - and general Muñoz ends the intense maneuvers of the company.
CD offers three unreleased until now bonuses. Emergency bustle, inexhaustible energy, EBM-claw clutch and well-chosen collaboration of two voices (featuring Claus Larsen from Leaether Strip) made "Prison Break" hit of the band. "The New Resistance" is more balanced visage, where heavy parts are intertwined with melodic, slower ones (containing clean vocals in the background), but it is still a metal-industrial command's tent. "Still Alive" remixed by Die Krupps is darker, more spatial and club like, better than the original - perfect proposal for the dance floor.
DVD contains the concert's recording, music videos, extras about the band's history. Something that every fan should acquire.
Since the release of "Life is a Battlefield" few years have passed. While at that time the project could be regarded as seeking its own way, some of compositions as primitive, and expecting something more, if Vigilante was supposed to stay on the scene, over the years has changed not only the project's image - in their music appeared more experiment. At this time, Ivan remains important creator of electronic music in South America.
Tracklist:
01. Intro/Fire (Live)
02. Resistir (One Good Reason Spanish Version)(Live)
03. Fair Fight (Live)
04. Juicio Final (The Other Side Spanish Version)(Live)
05. In the Name of God (Live)
06. Answers (Live)
07. Hardcore (Live)
08. El derecho de Vivir en Paz (Victor Jara Cover)(Live)
09. Freedom (Live)
10. Prison Break (Feat. Claus Larsen)
11. The New Resistance
12. Still Alive (Die Krupps Remix)
Other articles:
Newest comments: