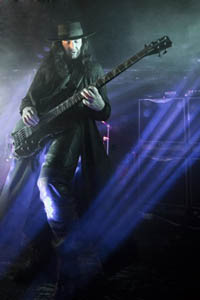 Reads: 3475 times
Galleries:
Last topics on forum:
The night of 20.08.2011 was a date of a exceptional show in London's
Slimelight
Club.
It was special for
NIGHTPORTER
as it was a night of introducing their debut album
'Alarming but Charming'
and also special for
XII -TWELVE -
a project of
John Carter
playing second time in London this year.
Everything was about a joy of music that night and both bands did deliver very interesting sets of songs in a colourful surrounding of lights,lasers and much smoke, supported by dedicated fans and some new followers.
XII -TWELVE -
was conceived September 2009 after
John 'Capachino' Carter
had previously quit Fields Of the Nephilim, where he used to play bass.
Now in
XII
as a leader of the project he sings as well as using his 5 string bass quite stunning.
As far as the band describe themselves as Goth, Metal&Atmospheric their music might be received as an original vision of the members and their energetic leader.
The band is currently focus on the recording of their debut album, which is likely to be titled '
'The Ever Unfolding'
. Carter/Dunne composition of hypnotic character, with awesome guitar riffs - which already caught the ears and hearts of the band's fans - was also played that very night as it already become favourite.
Compared to the first London's appearance the set list was more uncompromised with songs like 'More' and 'Comply' - having even a slight touch of death metal influences.
In that tunes we could have experienced a real power of the drumming by Alex Martin as well.
XII SET LIST:
1.Intro
2.Solitary Insanity
3.Rope
4.Rise of Black Legion
5.Before
6.Ever Unfolding
7.More
8.Comply
For more info about the band XII -TWELVE - please visit:
www.facebook.com/XIIofficial
NIGHTPORTER
was formed in 2009 and is based in Newcastle. They combine the best elements of Alternative Rock, Psychedelia and heavy Post Punk to create a blistering wall of sound of their own. It was on a dark cold Belfast in February 2009 that
NIGHTPORTER
with
Raven Porter
on vocals, first emerged as an idea, the original idea was a band that release tracks, videos and live streamed web performances and using all aspects of modern technology to get their message of post punk fundamentalism out to the world. Back in their native Newcastle upon Tyne, they set about putting their plan into action, performing their material live many times in UK, and now we can have a pleasure of putting our hands on the band debut album
'Alarming but Charming'
, so do not wait to long, support the band and grab it while it is hot!
The album, written, produced and paid for by the band, it's a throwback to the old days of Punk and the beginning of the Independent era. Comprising of 10 original compositions, the album, as described by the band members themselves - is a riot of social commentary and observation over a collage of melodic power and intricate rhythms.
NIGHTPORTER SET LIST:
1.Fallen Angel
2.Golden Chains
3.Set The Controls
4.BloodRite
5.Riders on the Storm
6.Trust Us
7.Victoria
8.The Box
9.Magic Potion
10.The Sickness
For more info about the band NIGHTPORTER please visit:

www.nightporter.net
Other articles:
XII - 2011-06-08 (Live reports)
Newest comments: