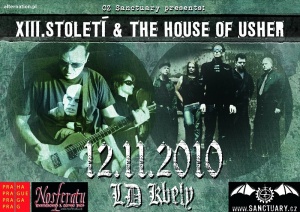 Reads: 4047 times
Artist:
Galleries:
Last topics on forum:
The confessional of Petr Stepan whispers: "Gothic – The Rock King is Alive!"

Kabaret Voltaire was open jointly on September 12th, 2010 by two legends of gothic rock: The House of Usher (Germany) and XIII Stoleti (the music icon from The Czech Republic). In the beautiful interior of the well-arranged and well-equipped club with magical atmosphere gathered over 500 people which was confirmed by co organizer of the performance, native media leader of dark independent scene Sanctuary.cz (click the link for more details http://www.sanctuary.cz/reporty/4680-report-z-koncertu-xiii-stoleti-a-the-house-of-usher). The information about the attendance was one of the best news that evening but the best information ever was the fact that XIII Stoleti presented itself in perfect shape and harmony. Nobody expected such a good even the crystal ball. Neither time was appropriate nor were the basic sidelights accompanying the production of mysterious concert group rituals not to mention the health of aging frontman PETR STEPAN (48 years). Leader of popularly called Thirteen in recent interview for Sanctuary.cz said: "It's very hard to persist constantly on the top. Journeys and gigs are physically exhausting. You have to understand that alongside with my brother we are no longer young and we've gone through a lot. I've undergo two serious operations of throat and vocal ligaments. It took a long time since I recoverd and I wouldn't like to be ill anymore. I said to myself that if it will be possible I would like to play till I finish 50. Then time alone will tell. However, one day everything comes to an end – XIII Stoleti as well (Full version of the interview: http://www.sanctuary.cz/rozhovory/4560-rozhovor-s-petrem-stepanem). Another insecurity associating project's completion is the back up of the publisher who admits to risk launching the original recording. EMI is one of the firmest co-partners who is able to support the band these days. The generation of collectors who buys only original music carriers is vanishing whereas youth is rather comfortable and do not foresee the negative consequences of insatiable downloading from cyberspace. In such a vertiginous constellations we must be satisfied by each finished project. DOGMA, NOCTURNO and ZAPOVEDNICE!

The black curtain wraps the stage. Two screens hanging on the sides are announcing what is going to happen in a moment. The intro, hollowing drums, trans rhythm and "This land Fatherland is our fathers' land in ourselves..." and the time of hypnotizer from the windy heights Vysociny has just begun. Album "Dogma" is still actual, the more one is listening to it, the more passionate bond embraces the listener. The opening track from the latest album "Kabarette Voltaire" sounds crystal-clear freezing when listening to it live, no less excellent is Mesic Lovce. The substance of the concert consisted of Cerne Slzy and Katakomby. Starting from Castle Party 2000 I recall myself polish fans. Ten years ago the group was forced to play this song for three times during one performance. It happened in the main, final set of the festival and it was unprecedented situation when the show lasted over 2,5 hour. "Elizabeth" resounded the last time at 4 o'clock in the morning in the third part of encores and the uproar under the stage just boiled in metal exhilaration. Great addition to kbelsky set was cover of the song "Jolene" originally sang by Dolly Parton and well-known by fantastic rendition made by The Sisters of Mercy. However, this time it was energetically performed by Jana Havlova - the keyboardist. "Justyna", "Nosferatu" and "Karneval" has already enrolled into concert's classics. The end of main set was announced by drummer Pawel Stepan. Essentially, the most thrilling fact has happend in the first part of encores. "Mystery Ana" was predictable but Dylan's song "Knockin' On The Heaven's Door" almost took my breath away. I used to dream about XIII.Stoleti playing something unusual and new. This performance with its' playlist fulfilled my expectations. It is only a shame that this enthusiastic punk paralysed audience. The reception was varied, maybe because of the performers (In this case Jana Havlova alongside with bassist Mirek Paldou Palecki). The battle for another encore ended as a success story. "Bela Lugosi's Dead" and the ballad "Ruze a kriz" were perfect completion and conclusion to the end of wonderful old-school gothic rock mass. On my way home, in my bosom I kept "Zpovednici" (The Confessional) a new book full of poems, lyrics and stories of Petr Stepan.



Setlist:

Fatherland
Kabarette Voltaire
Měsíc lovce
Shelley
Elizabeth
Černé slzy
Katakomby
Jolene
Justina
Nosferatu Is Dead
Karneval
-------------
Mystery Anna
Knockin' On Heaven's Door
-------------
Bela Lugosi's Dead
Růže a kříž

Pages:
Other articles:
Newest comments: