A sign of our time - Gothicat Festival#1 live stream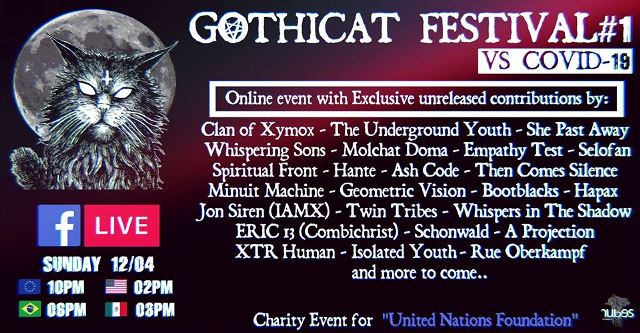 Reads: 3657 times
Galleries:
Last topics on forum:
Our world, the one we know so well, has undergone an amazing transformation. A terrifying transformation.
SARS-CoV-2 coronavirus has wrecked the world of concerts and club events.
However.. when will be born problems. We will find solutions
and so: Gothicat Festival #1 is an online charity event make to fight the Covid-19 virus,
2 hours of unreleased and never seen before live video clips from the best darkwave/goth acts from all around the world.
During the event, we'll collect donation to support the "United Nations Foundation"
https://www.facebook.com/donate/1564752357011737/10158519213260934
André Savetier - The Wave of Things will be the host of the show and Elio Nubes De Filippo(Studio Nubes) the video director.
It's really important to Invite your friends to this festival and share it during the show to reach as many people as possible.
-First confirmed bands:
Ash Code
A Projection
Bootblacks
clan of xymox
Empathy Test
Eric13 (Combichrist)
Hante.
HAPAX
Jon Siren (IAMX)
Geometric Vision
Isolated Youth
Minuit Machine
Molchat Doma
Selofan
SCHONWALD
SPIRITUAL FRONT official page
She Past Away
Then Comes Silence
Twin Tribes
The Underground Youth
Whispering Sons
WHISPERS IN THE SHADOW
XTR HUMAN
Rue Oberkampf
Other articles:
Newest comments: