Wrocław Industrial Festival 2012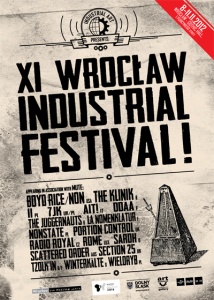 Reads: 7350 times
Artist:
Galleries:
Last topics on forum:
From 8-11 of November the XI Wroclaw Industrial Festival was held - a unique event, which since 2001 attracts fans of industrial music and related niche genres, often difficult in reception.

Alternation staff came to Wroclaw on Friday, on the first of two concert days, after Thursday's clubhouse warm-up where 11, Radio Royal and DJ Paradroid played.

Festival concerts are held annually in the former church of St. Catherine, adapted for a concert hall The building, dating back to the end of the thirteenth century, was formerly inter alia Dominican monastery and old Lutheran church and was almost completely destroyed during World War II. In the 70s it was rebuilt and now serves as a so-called Gothic Hall that hosts cultural events. The climate of church ceilings and brickwork perfectly harmonizes with the raw, industrial music presented at the festival.

Concerts began with a pleasant punctuality. First off was an Australian Scattered Order. Enjoyable crackling of seemingly random sounds, arranged in rhythmic compositions that filled the brick walls. After this interesting project the gentlemen from The Juggernauts appeared on stage in truly cosmic helmets, carrying the audience away for a dance with energetic, strong, EBM setlist.



Next we heard ambient experimental trio Sardh. In short, tedious at times recitation of the inspired singer, disturbing visuals, alien-lizard masks and voice modifiers and everyday objects, such as metal rakes, used as instruments, with very interesting results. Then dried flowers appeared on the scene and behind a foil curtain Tairy Ceron played, the one-man band: AIT!. Musician, tattooed from head to toes, looked very elegant on WIF stage. Classically dressed, in black, he stood quietly behind the console, lighting up one cigarettes after another and presenting his, mostly new, compositions that differ from the earlier achievements of the project. A lot of ambient, mysterious sounds and reciting in a deep, charismatic voice to the smell of incense sticks. After climatic, almost dreamlike performance of AIT! it was time for DDAA band, one-of-a-kind project, the legend of French industrial scene of the 80s. Their music is very experimental - a totally specific convention, "broken" music, vocals, tiring French language, strange visuals - a concert (too) heavy for me, indigestible music, but De gustibus... etc.



Subsequently the audience was swept away for a dance by the British legendary Section 25. A band loved and supported once by Ian Curtis of Joy Division - not without a reason. Great, energetically-electronic presentation of renewed version of the band. Then, for me the highlight of the first day of the festival - Portion Control. Subtle and powerful music with which it's impossible to stand still. Absolutely without reservation or dissatisfaction after the show, I could go on dancing under the stage!

At the end, awaited by many, charismatic Boyd Rice with his codenamed project NON. You can't deny them charisma or image, but I've heard a lot of criticism, and also personally, I wasn't captivated. There were readings, there was literally treating guitar with a drill, there was symbolic artistic convention, but still, the performance turned out to be quite tiresome. As one of the festival participants said: you need to know and understand Boyd. I don't understand him. I still remain under the biggest impressed by Portion Control.



Wroclaw Industrial Festival attracts music lovers in the full sense of the word. Probably no accidental people attended, there was no, characteristic of many festivals, glitz or posing. Despite this it didn't lack interesting styling. German military uniforms inspired outfits, ubiquitous black, classic cuts, metal accessories - pure industrial. There was also a mask: pig head, some purely Gothic costumes and completely casual style - because on WIF the music is the most important. Cross-section of nationalities was considerable - a lot of overheard conversations were in German, French and English, bands from Italy, Belgium, Rome of Luxembourg... Appropriately global level of the festival. The whole gave the impression of perfectly set, with no major delays, with a good layout of the space in the venue, friendly service, reasonable prices in the bar and of food available at the festival - in the slow-food version: homey, vegetarian, delicious. There were stalls with releases, t-shirts, music gadgets. Only cigarette smoke cloud spreading up the staircase connecting the locker room and the Gothic Hall floor could disturb non-smokers. Locker room, however, was cleverly thought-out - clothes packed in plastic bags did not soak through with aforementioned smoke. Sound system was powerful and without any major complaints. In the toilets doors and window panes literally trembled.

Saturday's concert started delayed but the event quickly gathered pace. Nonstate began with a variety of instruments and interesting compositions. Then, known to all, Wieloryb performed with a huge number of fans under the stage and amazing, characteristic of himself, energy and contact with the audience, swept away to dance.



After that outbreak of enthusiasm a bit of calm was offered by 7JK (Job Karma collaboration project with amazing Matt Howden), with beautiful violin parts. Later, into trance journey with inspirations of Mayan culture took us Tzolk'in, creator of project Empusae, Nicolas van Meirhaeghe, and Gwenn Tremorin known from Flint Glass. Ritual, ethnic music combined with electronics resounded. Sequentially French La Nomenclatur performed treating the audience with a dose of "real industrial", ie literally hitting metal sheet. Men recreated battle scene on stage with hitting the sounding tin shield. Ambivalent feelings, but the project is interesting and the musicians are very friendly in private and open to contact with the participants of the festival.




Saturday's crowd was much more numerous than the day before. For sure mainly because of the long-awaited in Poland band Rome, that finally came to our country after successively cancelling earlier concerts. "We're finally here," - Jerome Reuter said with a smile after entering the stage. The show was practically a selection of tracks from various CDs of the band. Some songs sounded in completely different arrangements than on records - including beautiful "Das Feuerordal" sung by the faithful fans under the stage. There was a lot of guitars, marching pace, Jerome's charismatic voice... insufficiency remained. We look forward to a "full-length" concert. Jerome turned out to be an extremely nice guy who willingly talked to and took photos with the fans after the show.



After a nice calming and lulling by Rome we heard mechanical, drilling into the brain sounds of Winterkälte project. After a long time of waiting, out of the smoke, which was more than enough, legendary Belgians from The Klinik emerged, characteristically bandaged, with charisma and great music. Class and craft in every sense of the word, perfect for the culmination of concert part of the festival.



Participation in such a refined project is a great pleasure. Compliments to the organizers. From the first visit to the WIF I brought some new music fascinations, nicely issued festival program and lots of photos. I'm delighted and determined to come back next year. I'm looking forward to next year's line-up!

Pages:
Other articles:
Newest comments: