Wrocław Industrial Festival 2014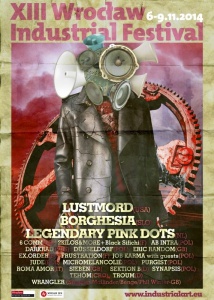 Reads: 4968 times
Artist:
Galleries:
Last topics on forum:
The 13th edition of Wrocław Industrial Festival will be memorable both for participants and organizers, who were surprised by the tournout. All carnets had been sold, only one-day tickets were available, but to get one for Saturday was really hard. There were some novelties, surprises, reflections and interesting meetings. The wide range of festival events was visible everywhere, in line-up as well as fringe events. The projects presented during festival provided wide cross-section of industrial and post-industrial music in lots of its variations: ambient, neofolk, post-punk, noise, industrial, avangarde or melodious, danceable and rhythmical one.
It was a really good idea to expand the area of the festival and to add a stage placed in Old Closter. Thanks to this the audience had more space to explore. Plus for smoking area outside and what's more there were no delays in the programme. Concerts took place in Gothic Room and closter with one hour breaks.
Thursday
The host of the opening day was Eter Club with a very ascetic interior. It was perfect for the event's atmosphere. After entering the main room we could admire "Death Day" installation by Igor Vaganov.
To start very well, an amazing concert was played by Job Karma. Some special guests of the performance given by Maciej Frett and Aureliusz Pisarzewski were Anna Nacher, Matt Howden, Marek Styczyński, Monika Kubacka and Anna Frett. Set list mostly included tracks promoting the latest album of the band "Society Suicide" which along with visualisations made a great impact on the audience. Congratulations for Anna Frett for her stage debut.
A moment of technical break and soon after, for the second time that day, amazing Sieben, in other words Matt Howden. I think you can really call him a wizard. The composition plus performance plus the effort of his own work take the listener to other, hypnotic, full of emotions world. Dominating violin, calm, sometimes melancholic vocal and loopy melodies are Matt's spells. I'm sure that if you haven't seen the live performance of his, you will be surprised how creative he can be using violin. To encourage you I'm not going to say anything else.
Surely as a contrast, to close Thursday warm-up, Wrangler, the British trio played their concert. They create, let's call it, analogue electronic music. They gave up ease and comfort saving the old stuff. They value physical existence of the instrument as well as the fact of its unpredictability and possibilities which digital equipment lack of. Plus vocal with some special effects didn't let the audience to stay still.
Friday
Today's attractions started with a presentation of "Zoetrope" movie with Lustmord music. For 20 minutes we are going to enter the world created by Charles Deaux inspired by Franz Kafka "In the Penal Colony". Dark and heavy music mostly creates the content, directs the way we perceive it. The main character struggles with the nightmare of prison, tortures. After watching, the meeting with Brian Williams was organized.
Thanks to Croatian DJ Mary the audience experienced experimental and new beat warm-up. Before French duet 2 Kilos and More could play they had to struggle with some technical problem, namely projector. However, after 15 minutes, everything was okay again. If you had seen them at Maschinenfest 2012, you would have known that they stick to their level perfectly. Here, they presented interesting blend of hypnotic rhythms, long, single sounds with some hard noise. They were supported by American spoken-words artist Black Sifichi.
The first project on cloister's stage was Robert Skrzyński – Micromelancolie. You could get the impression that the artist let you deep inside his hidden world. Immersed in the darkness in the corner of the stage. The set was minimalistic, created with microsamples and sounds only known to insiders.
It is impossible to stay indifferent towards the next performer, you will be either excited or the other way round. We are talking about Jude now. Undoubtedly most impulsive, intensive and full of emotions concert of this edition. Sharp sound of singing plus guitars and drums and visualisations – parts of war news plus red light resulted in transfixing effect. It's not easy music, musicians deal with violence, totalitarianism and mass culture. It was the hour of heavy, monotonous tracks.
The next artists to see in Gothic Room was British 6 Comm. Characteristic decorations and outfit with a mask of Patrick Leagas perfectly emphasise the band's subject matter. They played mostly tracks from the 80's making the fans happy. Fantastic, melodious, low and calm vocal and tribal industrial folk compositions made the set magnetic. After the concert you could easily meet Patrick to chat or to take a photo.
Before the main star we could see dark ambient project TeHÔM. There were more and more smoke in the room, luckily it wasn't this kind of thick mist but after the concert of The Legendary Pink Dots it was quite close to it. Trying to define what kind of music they play, the whole list appeared: exotic, hypnotizing, psychodelic, industrial, new wave or experimental music. The most charismatic element of the band is its vocalist – Edward Ka-Spela. His lyric voice sounds as if he was reciting mantra or some spells. The lights were blue or pink-red which along with the smoke created interesting atmosphere for the concert. All in all, it was successful, though monotonous. TLPD have some more energetic and diversified tracks but the setlist included only those poetic and dramatic ones. So something was missing here.
Saturday
Saturday concerts started with a performance of DJ Eric Byrne known as the organizer of Tower Transmissions festival. Next, the industrial dialogue with the audience was carried was carried out by Ab Intra and Frustration. German Sektion B was the following project on the stage. Their difficult, minimalist expression, sometimes almost aggressive and a severe vocal express their rebellion against psychosis of contemporary reality. As a total opposition the next project, Troum presented something completely different. They don't use any synthesizers, samplers or other digital equipment. During the concert they used the whole range of instruments, changing them every 2 or 3 tracks. There were guitar, harmonica, bass guitar, violin, some extra voice elements and the instrument which, please forgive me, I have no idea how to call. It gave oneiric effect and led the listener into trance.
Also the next musician's show was full of sounds effects. British artist, Eric Random played compositions which were based on constant rhythmical line with additions of unusual instruments making it a bit ethnic. Original blend with dynamic visualisations.
Borghesia's concert was long awaited by the fans which was proved by growing number of people close to the stage and the tension among them. The Slovaks are literally a volcano of energy and clear message. They emphasised their involvement in fights with every kind of freedom limits. Clear guitars, three vocals, fast pace; this is what got the audience absolutely. They didn't make the audience wait long, after a round of applause they come back on stage. Personally I saw this band for the first time and I was amazed.
For a moment we moved to Italy, thanks to duet Roma Amor. Every festival has its curiosity one of a kind so here it is. Guitar, accordion plus slightly cabaret-like, harsh Euska's vocal bring to mind the atmosphere of Italian melancholy of the 60's. Romanticism, nostalgia for what is already gone remind of street musiacians and cafes. Interesting project, alternative among the alternatives.
Before Lustmord concert the Gothic Room was so full that the people who were still coming in just stood in any free place. As darkness fell, Brian entered the stage and served masterful dark compositions. The only lights were visualisations, not colourful at all and the light from laptop monitor. Perfect atmosphere for dark ambient concert but to focus fully on something like this it would be perfect to sit. Thanks to that there would be no people walking around and making mess. Who knows, maybe someday there will be a Lustmord concert in the theatre or opera house. Apart from that it was a masterstroke.
Sunday
The events of the last day of WIF took place in Liverpool club, which is a perfect venue for this kind of events. The great advantage constituted large screen placed in a way that everybody could watch what is happening on the stage. The last day was full of harsh sounds, incoherently sounding projects with lots of voice and reverbs distortions. After checking that those effects were done on purpose and they are not the result of some technical problem, the listener finds himself in an intriguing situation. The most popular among the audience was Polish project, Düsseldorf. Now, the musicians are sure that coming back on stage was a good idea.
So in this way we come to the end of our industrial experience. I recommend this festival to all fans who are constantly looking for new sounds. You will be surprised. Unique atmosphere, multinational environment, the place of contacting artists, fans, sharing ideas. Just visit Wrocław Industrial Festival!
Other articles:
Newest comments: