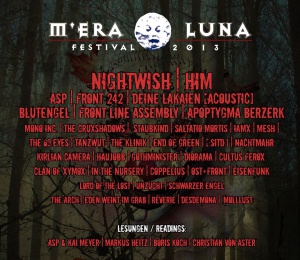 Reads: 12898 times
Artist:
Galleries:
Last topics on forum:
We reached the former air base in German Hildesheim on Friday afternoon, that's the place where 13th edition of M'era Luna festival is taking place. After organizing the stuff with our tents we had a tour around the festival venue in which everybody could find something for them. And as a foretaste of forthcoming shows we went to before show party.

Saturday

Lord of the Lost

The guys from Hamburg-based Lord of the Lost played at the beginning of Saturday line-up but they couldn't complain about being unrewarding starter because despite the early time there were a lot of people in front of the stage. Musicians led by Chris Harms played with a great humour and with lots of energy. Apart from great contact with the audience they drew attention to themselves by well-prepared stylisations. Despite short set list they did their best as if they were main star of the festival. The audience appreciated them with applause and singing along with them. Fantastic concert kept in dark rock atmosphere made special by Lord of the Lost. The only minus of this and every other performance was the height of the stage, I understand all the motives behind this but it could be a little bit lower.



Desdemona

Polish accent on M'era Luna 2013! I had been sure that it would be a great concert but the way it went was unexpected even for Agnieszka and the band. Already before the first track the whole representation of Polish fans was gathered near the stage cheering the band on. Two or three tracks later the whole audience belonged to Desdemona, amazing athosphere and energy. I was impressed how enthusiastically German audience reacted, though there's nothing to be surprised about ;) the band played dynamically, set list included "Bring In All", "In Flames" or "Poison" and charisma and charm of Agnieszka made it perfect. Those who managed to be in time to get from the band a single "Bring In All" were lucky because it was just a while and noting was left.



End of Green

We are still in a gothic rock sound but in a heavier version thanks to End of Green. It is a German band in their lyrics referring to the subjects of pain, depression, death, which is pretty obvious taking into consideration the name of the band itself. Before I had known only one track so I was very curious how they play live. An hour-long concert was successful, nice vocal with hoarseness, melodious guitar, only drum parts were sometimes muffled. I will surely come back to their songs after the festival. The band has one more advantage for me: the guitarist with beautiful long dreadlocks! The rest of the audience also enjoyed the concert, apart from singing along with Michell (ok, mainly the shouted parts) there was an applause and soap bubbles! Someone's fantasy created nice visual effect.
I managed to find a while to go around the commercial zone, well obviously a while is not enough to see everything including gadgets, books, CDs as well as clothes, shoes, cosmetics, jewellery and different kinds of accessories. It's a great chance to enjoy all kinds of treasures or find something unique, which sometimes is not available in on-line stores plus you can try everything on. Truly the German sizes are a little bit different than European ones. Let's go to see fashion show! I was pretty excited but after seeing few propositions I was disappointed, nothing special, I had already seen most of them. Certainly everything was dark and so on but more interesting outfits are possible to find on the festival terrain, that's why I decided to quit. Perhaps that's better because I managed to see the ending of Mesh's concert and listen to "Born to Lie".



Mono Inc.

I was very happy to see them in festival line-up. I was sure it would be a great concert, especially having in mind their performance form Castle Party. Their concerts are always worth seeing. Although Martin is not the best vocalist in the world, he has a great personality, smile and contact with fans who really had fun with them. This time it was even better because they played in their homeland where their creativity is well-known. Setlist was well-prepared, from calm tracks to more energetic, including two covers "The Passenger" by Iggy Pop and "After the war" by Gary Moore. Great concert. I recommend if you don't know the band, especially for drums' fans. When you see Katha Mia in action you will be at least enchanted.




Gothminister

It's a Norwegian mixture of metal, industrial and gothic served in a really original way. Only listening to them during live concert make you experience their music fully. Honestly it can be said that their concert is a total show, there are devils on the stage, gargoyles and other monsters, smoke, red lights, crosses, torches, musicians in stylisations and we can start a show. Typically theatrical elements plus heavy guitars and pyrotechnics result in astonishing effects. Set list included such tracks as "Devil", "Utopia" or "Darkside". Amazing! If somebody doesn't like the music, the show itself is worth seeing.
Next concert, the one by Nachtmar, I decided to skip after two tracks. Perhaps in acoustic version it would be more convincing. Monotonous shouted lyrics similar to military orders. I don't understand why this project is popular.
It's almost the end of day one. However, before the headliner, Him, let's see The Klinik.



The Klinik

It's a project from Belgium founded thirty two years ago by Marc Verhaehgen and soon after joined by Dirk Ivens (also Dive, Sonar, Absolute Body Control). The band's music mostly consists of precise sound, austere tones, sequences of melodies with EBM beats and minimalistic lyrics. I hadn't seen them live before so I was very excited. The total darkness announced the beginning of the concert. The stage image of a duet means bandaged faces and leather clothes with psychedelic visualisations in the background. The only light was white gleams which emphasised the effect of austerity. They started with "Bite now Bite", then "Walking with shadows", "Quiet in the room" and many more, altogether over an hour of playing. Very good show, full of impressions and Iven who couldn't stand in one place. Unfortunately, I had to leave earlier to see one of the festival's headliners.



Him

These men need no introduction so let's move on. I had had mixed feelings before the concert. On the one hand I was curious and I wished they would play my favourite songs, on the other, after negative reviews from Warsaw's Ursynalia I was a little sceptical. However, there's no better way than to see myself. Enormous crowd, huge heartagram in the background and screams announced Ville Valo on the stage. Sound system well-prepared this time, during previous concerts there were some small faults. Vocal was melodious, clear and similar to studio sound, though some tracks were performed with different arrangements which was an asset. My concerns fortunately were inadequate. The band had a great contact with the audience, everybody, apart from the drummer were running around the stage, famous "Join me in death" was sung along with the fans, very successful concert. And I got my favourites "Right here in my arms" and "soul on fire". Delighted and singing the last songs I went to a tent.



Sunday

Fresh morning, slightly clouded sky – perfect weather provided that it's not raining. After some rest it's time for new attractions. The perfect warm-up was short but energetic concert of Unzucht. The band come from Germany, play rock in gothic style and have already released two albums "Todsünde 8" i "Rosenkreuzer". They really do well together and it results in fantastic concerts. The leader is charismatic vocalist Daniel Schulz, who can enchant listeners with his deep, strong voice. It's a pity that they played only six tracks.



Small changes of arrangements on the main stage and next artists, namely Coppelius. The name meant nothing to me, however I was intrigued by decorations and instruments placed on the stage so I decided to stay. Best decision ever! I hadn't seen such band for long, in terms of music it is rock, gothic, hard to define precisely since they use clarinet, cello, double bass and drums and yes, there is no guitar. Melodious but aggressive, sometimes danceable, they create individual mixture of classical sounds with three vocalists simultaneously. The important aspect of the show is the image, all members of the band are dressed up and have make-ups as though they were from the 20's of last century. Top hats, tails and a lot of humour. They are really worth seeing on stage, especially I recommend for steampunk fans.
I stayed near the main stage, soon the veterans of the genre are going to appear.



The 69 Eyes

Pretty nice concert, very enjoyable, thou I admit that a little bit strange because in the daylight, it was so bright and normal. An hour-long concert with nothing to complain about, everything was totally ok with Jyrki running around the stage. Set list of course included tracks loved by the audience such as "Gothic Girl" and "Brandon Lee".




In the Nursery

The project has been active for over thirty years already and is led by brothers Klive and Nigea Humberstone. It mixes electronic and neaoclassical music evoking very romantic and emotional atmosphere. Their music can be heard in many movies and TV productions such as "Gran Torino", "Aviator", "Interview with the vampire". So it was no surprise that a lot of bands enthusiasts came to see the concert. The show itself was nice, relaxing, perfect to close your eyes and float with the sounds. Nice change after the previous concerts.



Next artists on the stage – Clan of Xymox. Good for me that I stayed in one place because the crowd was growing and growing. There's no wonder, Clan is a classic. The concert was nice, everybody enjoyed so everything according to a plan. Apart from all advantages of the show I wasn't fully satisfied, perhaps because it was quite standard, nothing new.



Sunday afternoon brought two surprises, one of them was that instead of IAMX there will be Zeromancer! I've got nothing against Chris Corner, on the contrary, but I was very happy with this change.
Of course I decided to stay right in front of the stage. The concert was brilliant, even better than the one during Castle Party. Alex and the band having in mind that they are playing as a substitute band absolutely did their best. They managed to make the German audience sing and jump. For me one of the best concerts of the festival.



The second surprise was sightseeing of the airport traffic control tower. When we reached the top we could see the beautiful festival panorama. Only with such perspective you could see how big it is, there people everywhere, tents and cars and again people and tents, main stage and more people. And all of this in the light of sunset, how romantic it was... But time to come back on earth.

I went to see Front Line Assembly. It was my first time to see them live. Bill got the applause only because he appeared. They played "Resonance" and "Final Impact" for the beginning. Great condition and contact with the audience, amazing energy and that's it for me. I had to live earlier to see the last concert of M'era Luna 2013.



Nightwish

Great expectations and disappointment. If the concert had been played instrumentally, it could have worked. Unfortunately, the new vocalist Floor Jansen didn't avoid the comparisons to her predecessor Tarja Turunen in which she made rather poorly. In such tracks as 'Nemo" it was heard clearly, though the audience seemed satisfied. Plus for pyrotechnics. Next time in such situation I'll stay with FLA.



Tomorrow long way ahead of us, it's getting cold, so I go to the tent. I will keep the festival in my memory for long. It's well-organized, everybody can find something for themselves. Surely it's worth seeing and having on your festivals list.
Pages:
Other articles:
Newest comments: