1984 + Cabaret Grey + Dogs in trees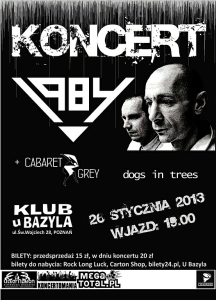 Reads: 3626 times
Artist:
Galleries:
Last topics on forum:
Polska, Poznań, U Bazyla, 26-01-2013
Dogs in trees
After more than an hour of delay, the first band came onto the stage at the almost empty hall. Fortunately, after the organizer's greetings, with the first sounds, a small audience came to the concert.
Two musicians, guitarist and bassist, played and sang to the accompaniment of the backing rhythm and behind them simple visualizations were displayed. The music was very melodic and, as the artists themselves, rather calm.
This pleasant show ended after about 30 minutes.
Cabaret Grey
Unlike the previous group, Cabaret Grey began their performance with full force. They greeted the large audience with a guitar-and-drums introduction that has brought in a very lively atmosphere.
The band played with great energy and it definitely has influenced people gathered under the stage. Contributing to this was also singer's good contact with the audience. Very good mood of musicians has spread on each and every one, and the most warmly welcomed song was, probably known from the radio,
Grey lights
.
By the end the band has arranged a little birthday surprise for a friend, they invited him onto the stage and played one song for him.
The concert has definitely encouraged to get to know the music of Cabaret Grey a little more.
1984
The main act has presented themselves in a similar way as the first band, that is, two musicians were playing to the backing music and visuals were displayed behind them. This time, however, the music was much more energetic and there was significantly more vocals. At first they played quite hypnotically but changed then into a purely rock sounds with punk-ish moments. In the following songs sharply rhythmic electronic parts were more noticeable.
Also during this performance there was the "birthday surprise".
The concert has ended, of course, with the encore, pleaded by the audience.
The crowd, that filled the concert hall to the brim (including benches and tables =)), reacted very lively to the music. To the extent that there was even a mini-moshpit visible in the hind rows. It's a pity that people, one by one, began to leave before the end of the concert.
Other articles:
Newest comments: