A Goth Travel Guide: The Beauty of the North - Stockholm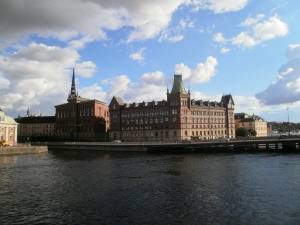 Reads: 10753 times
Galleries:
Last topics on forum:
Welcome to the first part of my goth travel journals from journeys abroad.
I will take you to cities close and distant while letting you know about the most beautiful and unique places there in my oppinion. I will also write about the choice of alternative/goth clothing shops, goth clubs and other things which you may be interested in.
In the journal you're about to read I will take you to one of the most charming cities in Europe –
Stockholm
.
If you want to have an ideal weather for walking around this city I recommend going there in the second half of July. At that time of the year the weather is usually quite stable with temperatures around 20-25°C, that means great conditions for comfortable sigthseeing.
Stockholm has the perfect combination of beautiful historical buildings, a lot of greenery, tolerance for subcultures, unique shops and interesting events to make it an ideal city for your goth holiday.:) You will meet goths, deathrockers, cybers, lolitas and other alternative people here and there around the city.
Sightseeing
Stockholm has so many wonderful places to visit, that I did not even get to see all of them though I've visited the city twice already. If you are interested in visiting some castles – there are two of them in this city:
The Royal Palace(Kungliga Slottet)
and Drottningholm Palace. In Kungliga Slottet you will find the exhibition of arms and royal jewellery – quite an impressive one. Observing the changing of guards may be also interesting. Although in my view
Drottningholm
is even much more worth seeing. This palace is often being compared to Versailles and you can really notice the French inspiration throughout this beautiful building. Apart from French influences, you will also find Scandic motives in the interior, as well as some Chinese ones. There is even a
Chinese Pavilion
in the royal garden, which houses a lovely collection of porcelain and furniture. If you ever go to Stockholm I highly recommend a visit to Drottningholm.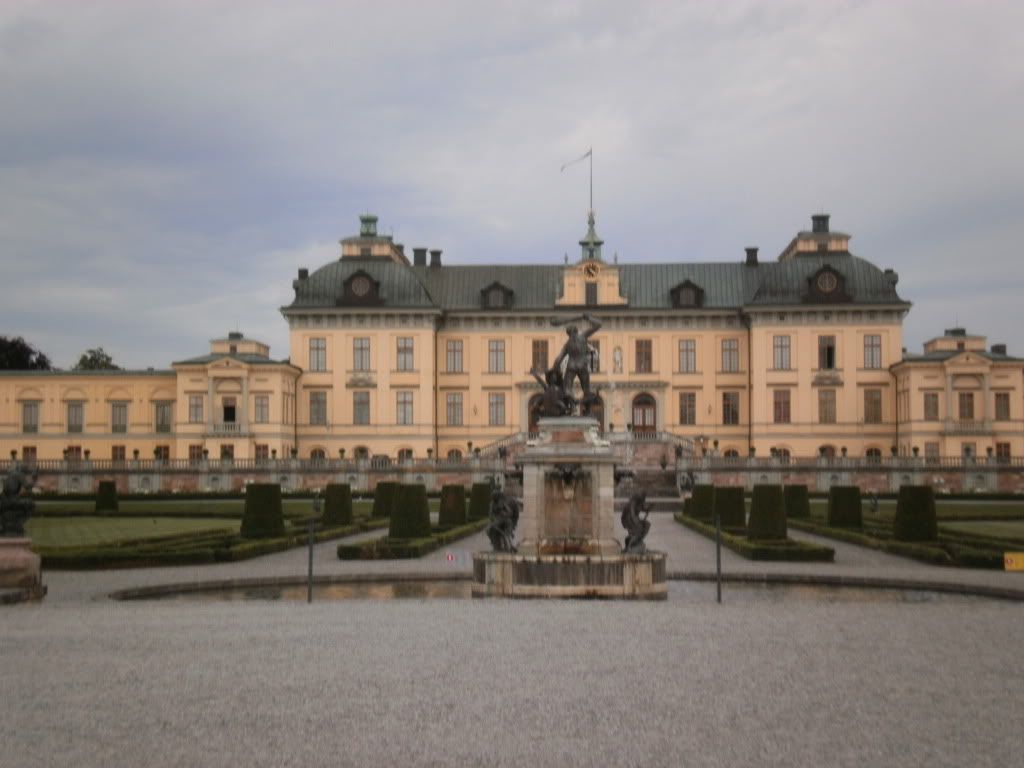 Another place which you should definitely not miss in Stockholm is
Skansen
. It is an open air museum where you can see traditional Swedish houses, all kinds of different crafts – such as pottery, glass-blowing, goldsmith's, as well as different sorts of parks, gardens and farmsteads Besides all this, you can also find here both exotic and Nordic animals. The animals living here have much more freedom than in a regular zoo.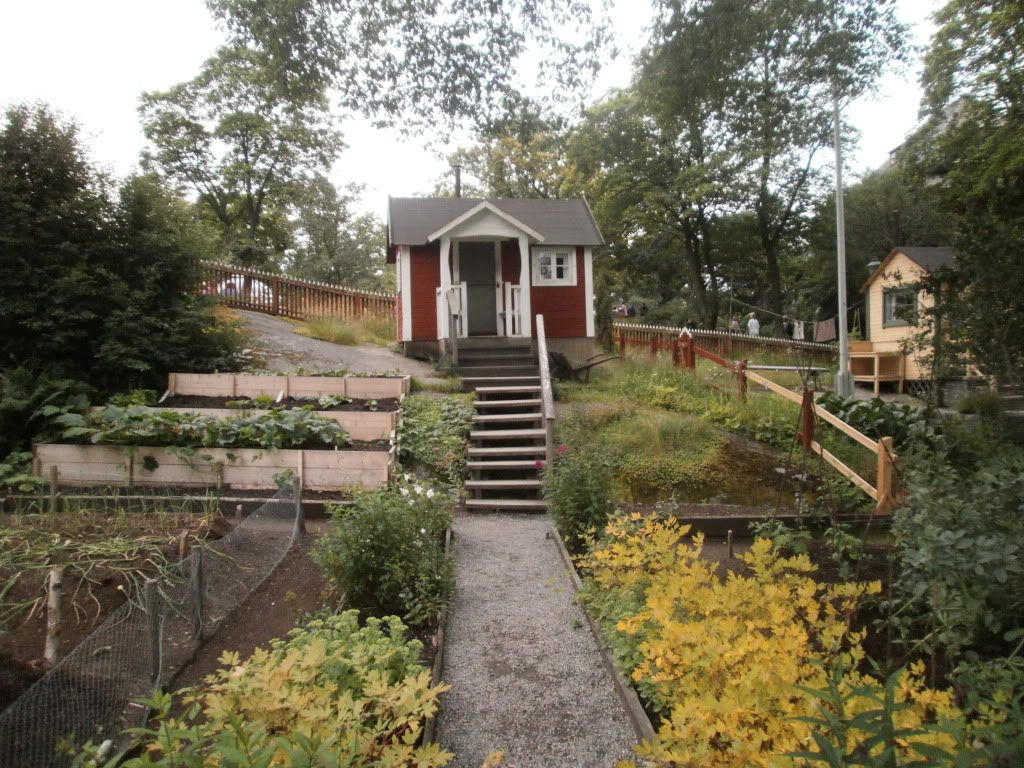 There is a plenty of fascinating museums in Stockholm. One of them is
Vasa Museet,
truly unique museum which houses a ship from the 17th century. Apart from the museum's breathtaking exhibition, there is also an amazing though expensive souvenir shop which all steampunk fans will love. If you are into photography,
Fotografiska Museet
will be interesting to you. The exhibition in this museum is also really impressive. Some other museums worth seeing include
Nordiska Museet (The Nordic Museum)
,
Ostasiatiska Museet (Museum of Far Eastern Antiquities)
and
The Royal Armoury
located in The Royal Palace.
Gamla Stan
, the city centre, breathes with history and it is perfect for a walk at any time of the day. Not only you will find here
Stockholm Cathedral
and
The Royal Palace
but also a plenty of magnificent narrow streets with small antique shops. There is a really nice vegetarian restaurant in the city as well. The atmosphere of the old town of Stockholm will stay with you long after you leave the city.
One of my sightseeing tips in Stockholm is to visit
The City Hall
, where you can take a guided tour inside or just walk around the building with its pleasant surroundings.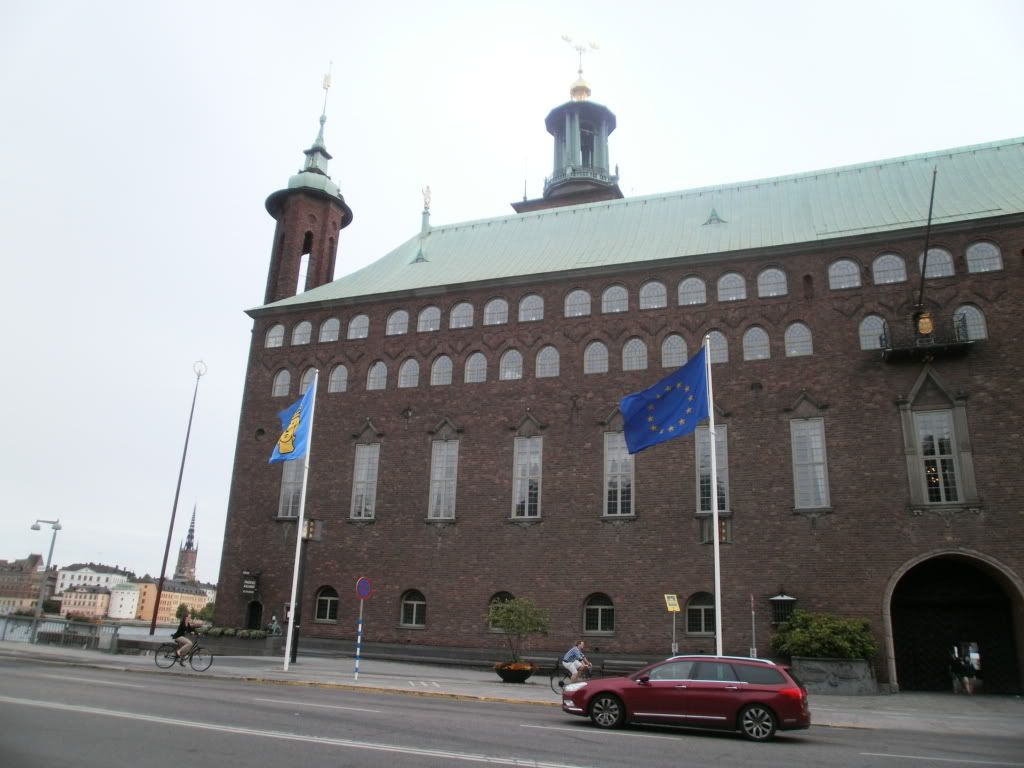 Shopping
When in Stockholm you may begin your alternative shopping tour at
Drottninggatan
. It is the largest shopping street in Stockholm, so it is really crowded, but do not let that discourage you. At Drottninggatan 10, you will find
Rockzone
, mostly rock- and metal-oriented, though they have some nice accesories. Keep walking this street and soon you will find
Rio
, possibly the most wallet-friendly alternative and goth shop in Stockholm. It is a mixture of everything inside this shop and it is good for accessories as well as ladies' clothes.
If you walk further on Drottinggatan, you cannot miss a shop called
C.U.M. Clubwear
with its colourful shopping windows. Just about every party person would find something for themselves in this shop – be it extreme platform shoes, pretty corsets, pvc, glittery clothing or fluffy legwarmers. Moreover, this wonderland of unique clothes has a choice for both ladies and gentlemen. Nearby C.U.M. Clubwear you will stumble across a lovely vintage shop called
Beyond Retro
. You can see an endless ammount of glitter, lace, petticoats and tutu skirts and there is also some men's clothing, such as leather jackets, although I did not really browse through that section of clothes. Another shop not to be left out is the alternative and gothic store
Shock
at Drottningattan 81A. In Shock you will find pretty much everything you may need as for clothing and accessories.
Apart from alternative and goth clothing stores, I also took a look around some Japanese and Chinese shops. If you, like me, cannot resist these small shops with Chinese silk blouses and dresses and kitschy but cute small porcelain figures, here is a tip for you –China Store at Drottninggatan 88. There is a similar shop to this one situated just around the corner at Gamla Brogattan. It is called Xin Xin. Even if you do not feel like shopping in these Asian shops, you may consider some other shops at Gamla Brogattan interesting.
An alternative shoes store named
Sko Uno
is located at Gamla Brogattan 34. This is a good area for shopping, as
Blue Fox
is only a few metres away. It is an alternative store with a decent choice of clothes, accesories, cosmetics and also some shoes.
Mum's Underwear
nearby does not sell only lingerie and corsets, but also tights and platform shoes. It is also worth a look. As for alternative shopping this is the area where most of the shops are.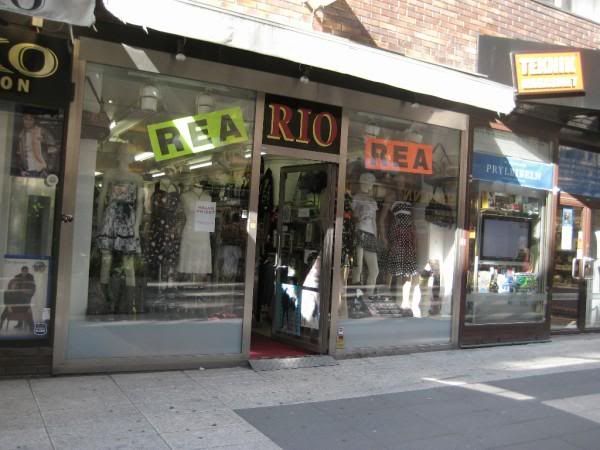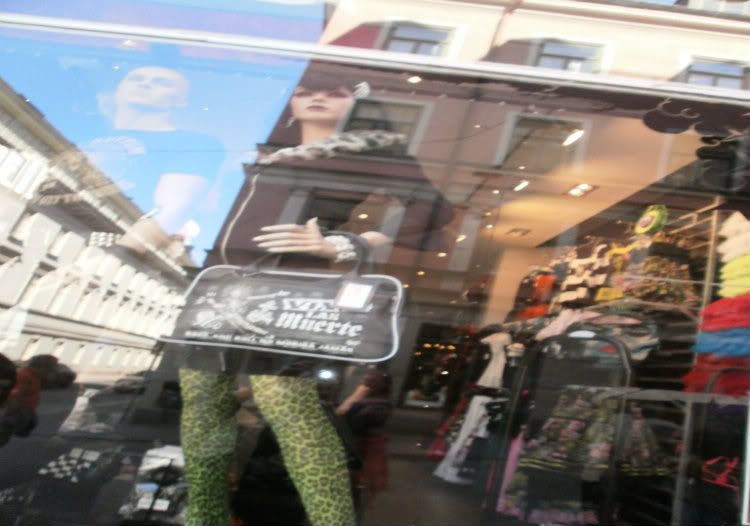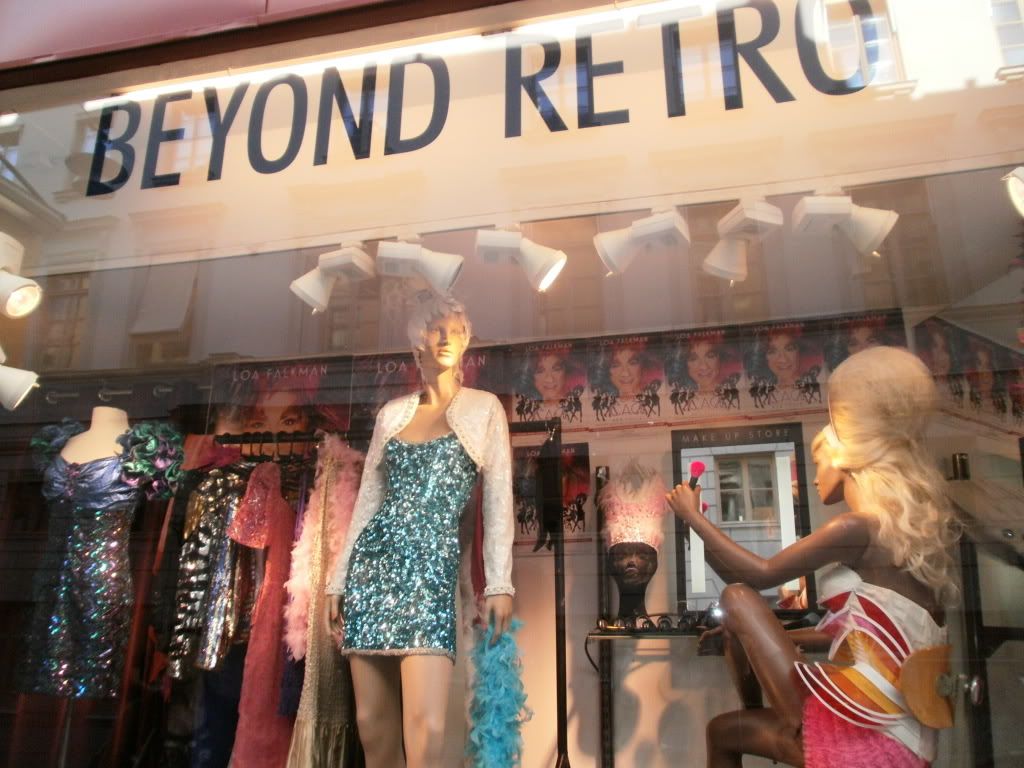 There used to be a few shops in the city centre, Gamla Stan, too, but I found out during my second visit that they have mostly closed down. Only
Rocktown
remained of the original four of them (Poizen, Black Moon, Rocktown and Saturn Return). Poizen still exists but it sells souvenirs for tourists instead of alternative clothes and accessories nowadays.
All in all, most of the alternative/goth stores in Stockholm are situated at Drottninggatan and Gamla Brogattan.
Eating
While visiting cities abroad I always look for restaurants with a good choice of vegetarian eating options. I found out about some vegetarian and vegan restaurants in Stockholm, as well as those not particularly vegetarian but with a large choice of veggie food options.
If you happen to be in Gamla Stan, there is a vegetarian buffet restaurant called
Hermitage
. Most of the food in their buffet is suitable for vegans, the rest is vegetarian. The food is tasty, and not over-prized. This is a place where you can enjoy a good vegetarian meal in the old town.
Another option for vegans and vegetarians is
O'Mamma Mia
. The cuisine is mostly Italian but there are some Mexican meals as well. It is not particularly a vegetarian restaurant, they also have meals with meat, but there is a good choice of meals both for vegetarians and vegans. I tried one of their vegan pizzas and it was delicious.
My Swedish friends recommend a Chinese vegan restaurant in Stockholm called
Lao Wai
. It is a pity they are closed during the summer months, so I did not get a chance to eat there.
A cheap option as for eating in Stockholm is
Kungshallen
– a building which houses 15 restaurants – some of them are fast foods. There's cuisine from all around the world – Indian, Thai, Lebanese, Italian, Greek, Swedish, etc. It's quite crowded and noisy, but it's cheap and the choice of food is also good, you can find there vegetarian options as well.
Last but not least when talking about eating in Sweden, do not forget to try the yummy cinnamon cookies when you are in Sweden. Some very delicious ones are sold for example in Skansen.:)
Clubbing and Events
I did not really get a chance to explore clubbing in Stockholm unfortunately. The first time I have been in Stockholm in the company of my family and I did not have time to explore any clubs. Apparently, while on my second visit on Stockholm, I did not choose the right time for partying, because most of the clubs were closed down for about two weeks at that time. At most times of the year however, you will find some nice events which you can attend.
There is a regular event called
Synth Afterwork
taking place on Fridays. The club
TechNoir
is Stockholm's largest synth/ebm/industrial club. Some other clubs in Stockholm which also organize ebm, industrial and synthpop events are
Club Bodytåget
and
Club Body Shop
. As for other events, there are also fetish parties organised by dekadance.se. I also know there is going to be a
Zombie Walk
at the end of August. On October 12th and 13th
The Stockholm Burlesque Festival
will take place.
In order to be better informed about some more clubs and events in Stockholm, I think I need to visit the city again.
I hope you got to know something new about Stockholm having read this article.
The next time I will take you to another wonderful city abroad.
Thanx for reading!
Pages:
Other articles:
Newest comments: