Alice in Videoland - She's A Machine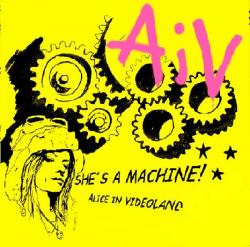 Reads: 4145 times
70%
Artist:
Galleries:
CDs catalogue:
Last topics on forum:
"She's a machine" is a third album in the Carter of the Swedish band. Similarly to previous achievements the group gives listeners modern synth on a high level.
Neither the tracks have a chance to become a club hit nor suit a romantic evening but every one of them is perfect to enliven the atmosphere on a dreamy, autumn day. There is not calm track on that CD; all songs are very energetic but they are too harsh to pass as a dancing piece.
Punk inspiration has always been present in the image and in music of the band (they themselves call it electropunk) but the influence of punk music is more hearable on this album than on previous two. The basics, however, still consists of electronic elements.
Even though all the pieces are melodic in some way, the rhythm of them music is not easy on the ear. A combination of the two makes it interesting and not boring after a few-times listening.
A huge trump card of Alice in Videoland is voice of a singer, Toril Lindqvist. If I had to classify it I would say that Toril sounds like punk Lolita. Rebel, confident but a bit sad girl. She is often being compared to Gwen Stefani but I'd rather associate her with a vocalist of Vive la Fete.
As a whole it came off very positive. It isn't an album that you listen with pious concentration and it doesn't mark out new music trends but it takes a lot of inspiration from what has been already done and it's a pleasure listening to it. I think it also has a chance to fit a taste of people who doesn't like synth much.
Tracklist
1. She's a machine
2. mf
3. We are rebels
4. Numb
5. Who's that boy
6. Candy for my soul
7. Weird desire
8. Today
Other articles:
Newest comments: