Alien Vampires - Harshlizer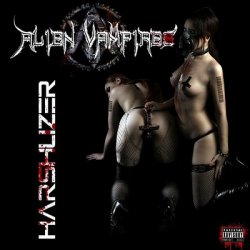 Reads: 3771 times
90%
Artist:
Galleries:
CDs catalogue:
Hardly a year has passed since the release of "Fuck Off And Die" and here returns a controversial Italian-British project, Alian Vampires! It does return in its prime, treating us to 15 new, energetic and eroticism-sated tracks. From its very beginning, the band has been exhibiting a penchant for provocation - not only with very spicy lyrics and agressive music, but also, and perhaps above all, with its fetish-oriented scenic image, pervert photo session and album covers alike. Some may like it, others might despise it. However does one elaborate on this issue, it should be admitted that the band is capable of attracting quite an attention, which actually comprises a perfect way to make people interested in their music. It is worth at least a samll amount of advertance. The album "Harshlizer" proves just right about this statement.
The record commences with a truly energetic "No Way Back". The striking dose of harsh electro will certainly get every fan of the genre dancing. The following "Evil Body Music", "She's on Drugs (More Than Me)" or the title "Harshlizer" will root you to the ground with its mesmerizing beat. A big applause for a cover of "See You in Hell" by Suicide Commando - a track that is obviously well-known within this specific group of listeners. While producing, the duo collaborated with Johan Van Roy himself, whose vocals appeared in the piece. The track gained a sort of fresh vibe and dynamics, it will dazzle you in a new manner.
The second part of the release, apart from another portion of heavy beats and dance floor sweat-pickers (such us "Control the Univers", "Fearless" or "Far Away"), it also shows slightly different side of Alien Vampires. The black metal musical roots of the founder of AV - Nysrok Infernalien - must have exerted an influence on those tracks. Hence, in "Before It's Too Late", "Entity" or "Her Blood Into My Veins" one can hear distorted guitars, which suit the twisted, cyber reality of the duo exquisetly well. This skillful blend of different musical styles gives an original and quaint effect. The pieces may be perceived as slightly 'darker', yet put an end to monotony, rendering the whole more interesting.
Alien Vampires will attack all senses of the listener, manhandle him/her on the dance floor, shock him/her with their image... An immensly good way to stand out from the crowd of similar groups. If that is what you have been searching for, "Harshlizer" will not dissapoint you. AV will take to to the hell pit and back. Who is willing to embark on such a trip?
Tracklisting:


01. No Way Back
02. Evil Bloody Music
03. She's On Drugs (More Than Me)
04. See You In Hell (feat. Johan van Roy)
05. Harshlizer
06. Industrializer
07. Before It's Too Late
08. Lies
09. Control The Universe
10. Fearless
11. Death March
12. Far Away
13. Entity
14. Nothing To Lose
15. Her Blood Into My Veins
Other articles:
Newest comments: