Alter der Ruine - This is why we can't have nice things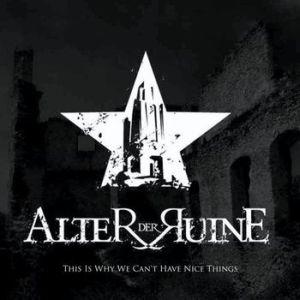 Reads: 2764 times
70%
Artist:
Galleries:
CDs catalogue:
There's this German label Pronoize, thanks to which we know such projects as Noisuf-X, SAM or Xotox. Last year American band Alter der Ruine was taken under its wings and for a good start of their cooperation, a greatest hits package: 'This is why we can't have nice things' has been released. It complies songs from their first three albums (three from the first one, five from second and four from the latest). Limited edition contains mixes on the second CD. So this album is not intended to present AdR's new stuff but to promote their works across Europe. "ProNoize is known for their aggressive sound and Alter der Ruine are not a band to compromise that foundation." 'This is why we can't have nice things' is a great opportunity to check if they're right, briefly acquaint with the band's abilities and once again mark their presence on the stage. We can easily hear how their talents evolved, how they explore the world of noise music. Raw sound from the beginning of their musical path, when aesthetic values were less important and the idea of making noise and driving listeners to the edge simply prevailed. It is clearly stated on the song 'Achtung Bitches!' for instance. My favourite part of the compilation is the time most abundant in dance-floor bomb-shells - year 2007 - "State of the Ruin". The skills had evolved and the band hadn't yet lost their wild and mad verve. 'Elevator Noise' and 'Morning Sobriety' has already passed the test on the Polish dance-floors. The ending is lighter and slower (or not that fast and dynamic as their beginnings) and even dull here and there. For example "Relax and Ride it" really is an easy listening in the context of the whole. The compilation of course is coherently served in rhythmic noise style, just as the guys of Alter der Ruine play: heavy and fast distorted beat music, melodies are occasional or hidden in the background.
And the second CD? The entire party of mixing obviously wanted to say that Alter der Ruine goes over the top with distortion effects. Noisuf-X was the nearest work-ground's style and bestowed with new life in "Coppin' it Sweet". The rest of them has taken the whole noise away. Haujobb's version sounds soft and clear, pleasing to the ear and very characteristic of their style. The same story is with the Assemblage 23's mix, which without restraint turned "State of Ruin" into melodic, catchy song with considerable promise as a hit for club parties. If not take it as a disadvantage, it turned out best of the four mixes.
So if you want to check the condition of the rhythmic noise scene behind the ocean or simply listen to a few cool songs, here's an opportunity to it.
Tracklist:

CD 1

01.Pain Killer
02.When Machines Cry
03.Achtung! Bitches?
04.Elevator Noize
05.KIA
06.Coppin' it Sweet
07.State of the ruin
08.Morning Sobriety
09.Demon missile
10.Loserstreet
11.Relax and Ride It
12.Batsmasher

CD 2

01.Relax and Ride It (Aesthetic Perfection Remix)
02.Coppin'It Sweet (Noisuf-X Remix)
03.State of Ruin (Haujobb Remix)
04.State of Ruin (Assemblage 23 Remix)
Other articles:
Newest comments: