Galleries:
Last topics on forum:
Archive: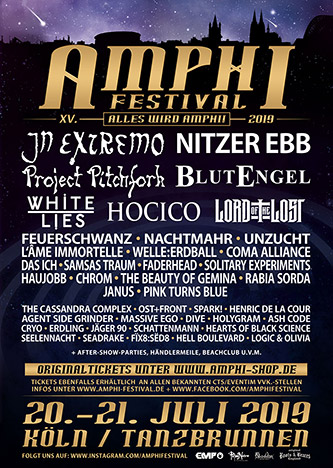 On 20-21st of July in Cologne, Tanzbrunnen there will be the 15th edition of Amphi Festival. The event has a long and rich history and is renowned for fantastic atmosphere, perfect organization and beautifully located venue. The festival takes place for the 15th time now and it will host numerous fantastic bands; it will also feature intersting side program.

The confirmed line-up for 2019 looks as follows:
Saturday 20th of July
Sobota, 20 lipca
AGENT SIDE GRINDER
ASH CODE
BLUTENGEL
CHROM
DIVE
ERDLING
HAUJOBB
HEARTS OF BLACK SCIENCE
HENRIC DE LA COUR
HOCICO
L'ÂME IMMORTELLE
LOGIC & OLIVIA
LORD OF THE LOST
MASSIVE EGO
NITZER EBB
PINK TURNS BLUE
SAMSAS TRAUM
SEELENNACHT
SOLITARY EXPERIMENTS
THE CASSANDRA COMPLEX
UNZUCHT
Sunday, 21st of July
COMA ALLIANCE
CRYO
DAS ICH
FADERHEAD
FEUERSCHWANZ
FïX8:SëD8
HELL BOULEVARD
HOLYGRAM
IN EXTREMO
JäGER 90
JANUS
NACHTMAHR
OST+FRONT
PROJECT PITCHFORK
RABIA SORDA
SCHATTENMANN
SEADRAKE
SPARK!
THE BEAUTY OF GEMINA
WELLE:ERDBALL
WHITE LIES
Additionally, on 19th of July there will be the party "Call the Ship to Port" with the performing bands Mesh, Solar Fake and Diorama.
Also, on 19th of July there will be the official pre-party. The DJs in charge will be:
ADRIAN HATES (DIARY OF DREAMS, COMA ALLIANCE)
DANIEL MYER (HAUJOBB, ARCHITECT, LIEBKNECHT, COVENANT)
ERK AICRAG (HOCICO, RABIA SORDA)
MSTH (ELECTRONICDANCEART)
The list of official pre-parties below:
25.05.2019 DE - Oberhausen, Kulttempel
25.05.2019 DE - Kassel, Panoptikum
25.05.2019 DE - Augsburg, Kantine
29.05.2019 DE - Stadthagen, Heines Deele
29.05.2019 DE - Mülheim a.d. Ruhr, The Inner Circle
31.05.2019 UK - Manchester, Anointed
01.06.2019 DE - Göppingen, Church Noir (Chapel im Stauferpark)
01.06.2019 DE - Essen, Zeche Carl
01.06.2019 MT - Zebbug, The Garage
08.06.2019 DE - Koblenz, Druckluftkammer
14.06.2019 DE - Osnabrück, Hyde Park
14.06.2019 DE - Hamburg, Monkeys
15.06.2019 DE - Ludwigsburg, paradox.
15.06.2019 DE - Herford, X
22.06.2019 DE - Duisburg, Daddy Duisburg
28.06.2019 AT - Wien, Club-U (Schattenwelt)
29.06.2019 DE - Karlsruhe, Nachtwerk
29.06.2019 DE - Hannover, Subkultur
04.07.2019 DE - Oberhausen, Eisenlager
06.07.2019 DE - Siegen, Vortex Surfer
06.07.2019 DE - Leverkusen, Shadow
12.07.2019 DE - Kassel, Goldgrube
13.07.2019 DE - München, Feierwerk
Additional information is available at:
https://www.amphi-festival.de
Newest comments: