Aniaetleprogrammeur – Die Kir(s)che auf dem Kopf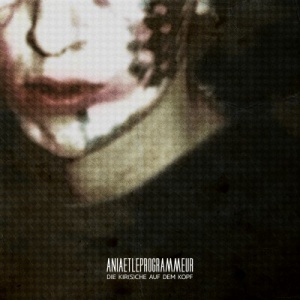 Reads: 2350 times
80%
I-doser, a sound drug, has different names. "Hand of God", "Gate of Hades" can supposedly cause some havoc in a mind of listener. Less demanding like "Orgasm" clearly suggest destiny, but in general words that define them tend to be colorful. When I read twisted titles of compositions that are included on the debut album from
Aniaetleprogrammeur
, it does not make me wonder any more of validity from already given by me term to describe their music as "i-doser rock". Addictive? Of course. Crazy? Indeed. Operating range: antipsychotic - from morphine's down to an ecstatic feeling up. And above all lined with all these sick, noise like squeaks, hums and buzzing known to amateurs of sonic elation. Disease entity: Aniaetleprogrammeur-holism.
It seems the band not only revived no-wave, but also led that genre to perfection. Imagine a demolition's square, where musical anarchists by pneumatic hammer ended with drumsticks, are demolishing all sound governance that exists, with inexhaustible energy trying to break through tenacious, thick wall of guitar's distortion. Although here electronics is fully serving the role of psychedelic machine like, electronic rock, the punk character is essential to put group in a role of making revolution innovators. Chaos came out of order, order in accordance with entropy tends to chaos - first, and second stop to be in "
Die Kir(s)che auf dem Kopf
" distinguishable, with violation of any rules in arranging composition. Structure, with few exceptions, is not clear, but equally intriguing and mixed, which paradoxically required a solid consideration, and certainly courage. That is never missing here.
Filtered vocal treated as an instrument blends with layers of experimental electronics, from core through mantle to crust - all is an integral part of the planet with a strong magnetic field, created by spinning motion. Yes, here everything is spinning, vibrating, changing face, and each change is attracting more and more. Therefore influences from electro ("
Juste toi et moi
") border with psychedelic rhythms (
"J'ai découpé dans un journal
"), obvious digital-hardcore influences from Atari Teenage Riot ("I am not from London") complement tracks based on melody ("
Women
"), electric guitars race with acoustician ("
Pourquoi tu pleures
"). There is a lot of space, vigor, things, which are difficult to classify.
Aggression and rebellion, though dominating, are balanced by such compositions as filled with sadness, introspective "J'ai découpé dans un journal" or suicidal "
C'est super pour moi
". Slow rhythm, unusual for the whole material, supplement guest vocal and acoustic guitar in the first one, creating not very optimistic mood accompanying moments, when you can stare aimlessly out of the window for hours, immersing in memories. There is a lot of nostalgia here, but also dynamics in changes of track's course. While "
C'est super pour moi
" is already more determined, but no less depressing.
There are no limits for Aniaetleprogrammeur. In atmosphere, rebellion, tune, craziness, and every, even the most monumental and challenging composition they make a barter trade with the listener: the more attention is paid to, the greater satisfaction. Artistic success.
Aniaetleprogrammeur, I bet you stalk me.
Tracklist:
01. Ich bin müde
02. Ich habe eine kir(s)che auf dem kopf
03. I am not from London
04. Ohhh
05. Alcool english edit
06. I bet you stalk me
07. J'ai découpé dans un journal
08. Juste toi et moi
09. Alcool french edit
10. C'est super pour moi
11. Pourquoi tu pleures
12. Women
Other articles:
Newest comments: