Binary Park - The Deviated EP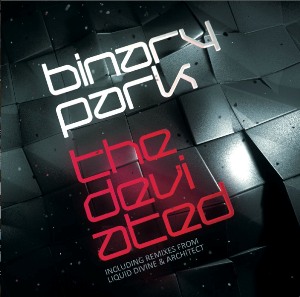 Reads: 2820 times
85%
Artist:
Galleries:
CDs catalogue:
Binary Park returns with a new album. I must admit that gentlemens can not complain about the lack of inspiration and creativity. After fourteen great songs that they released in March this year (under the name of Metropolis Records), they do not lose time and again took up the creation. After only seven months, the German-British trio serves up an amazing material.
Album begins with truly a film "The Hidden Room". Song sounds like the soundtrack to the horror movie or game. Almost immediately, reminds me of "Silent Hill" - a dark town that was macabre alive after the sound of hooter. Trembles.
Further climate change, it gets far more pleasant.
Already a second track, deserves the increased attention. In my opinion, is the strongest part of the whole disc. It has a sensually-predacious magic. Huge parts by tuned down guitars, repeats itself in your head and do not give peace.
Next on the playlist, "She's insane," is a nice composition, but not outstanding. A bit in a climate of Pendulum. And this is for sure complement.
With the title track, I expect great "Boom!", But I am little disappointed. Gentlemen, only speed up the tempo and make thee vocal sound more aggressive in chorus parts. "The Deviated", showed to be too predictable. But it is decidedly danceable and this feature definitely defends him. Perfect for the dancefloor.
With "Not in Love" again mute. I must admit that those songs are probably the best that these men can do. Fantastic mix of emotions - a little bit of anxiety with a predominance of sensuality. Do not be fooled by the title, maybe you will not found love here, but definitely a lot of passion.
"Lick the Blade" by contrast, is a instrumental track and so, unfortunately, cut a bit of value. Because let's face it, singing in a Binary Park is remarkable and gives the music its unique flavor.
"Lucky seven" of the album is "Keep on Falling Down." Quite specific, crooked rhythm makes the whole composition is amazing and incredibly acquiring. Very strong and heavy at the beginning,  softened by magical voice of Huw Jones. As for me, takes the first place, on a par with "Into the Deep".
Next we have three remixes. Honestly, that in most cases, rearranged tracks that already are on cd, just to fill the space. So I used to avoid such wonders. Not this time though.
First one, it is converted title track from their debut album - "Worlds Collide". Relatively steady, but definitely better than the original, mature.
The last two compositions and are the result of modification of my favorite song - "Into the Deep". In the beginning I was not convinced. Any attempt to rework it seemed pointless to me.
But in the end, I am obligated to humble myself before the genius of these men. They are unbelievable. What did they touch, turns into a diamond.
Tracklist:

01. The Hidden Room
02. Into the Deep
03. She's Insane
04. The Deviated
05. Not in Love
06. Lick the Blade
07. Keep on Falling Down
08. Worlds Collide (Impact Mix)
09. Into the Deep (Liquid Divine Remix)
10. Into the Deep (Architect Remix)
Other articles:
Newest comments: