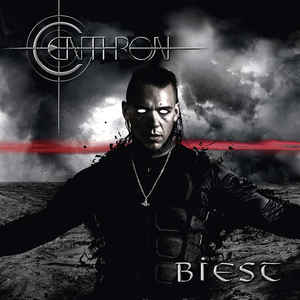 Reads: 3356 times
40%
Artist:
Galleries:
CDs catalogue:
I'm not the type of person who likes tormenting his favorite bands, but sometimes it is necessary - especially if the band recorded five good longplays and after them comes.. This.
Someone may say that I'm just dramatizing - after all songs from "Biest" somehow do not differ from those from "Asgard" or "Dominator". Yes, that is right, patents remain the same, but keep in mind that song is not only a form - it's also the content and melody. And those, when it comes to dark electro, are the most important thing. Skeptics say that the whole genre beginning from Suicide Commando, and ending at Hocico, operates on similar schemes.
I'm not a skeptic - I will say more - I'm a fan of SC, Hocico, as well as other similar projects. I have even started my "adventure" with this genre from the discussed Centhron. But even that does not allow me to defend "Biest" which is good as for being just a record. But there is lack of dancing tunes like "Slutbutt" or "Cunt", not mentioning a powerful "Drekstück". Maybe there is an energy, there is that "kick" but it is not enough when nothing is catchy.
Another serious issue is … grotesque which is manifesting itself bluntly in two tracks. Those two, "Pornoqueen" and "Vatican Fuck", have their own music videos. What is the point of filming those videos? They are repulsive, exaggerated, causing laughter rather than serious emotion. I dunno, maybe that was the original intention of the authors? While "Pornoquenn" is not as bad as it looks and can be treated like a mockery of BDSM, "Vatican Fuck" is inexcusable. And it is not about some political correctness or something like that - we all know pagan Nordic inspiration of Mr. Elmar and his aversion to organized religion. Add to this the inspiration of black metal mentioned in interviews, wave of scandals in Church which were very well summed up by Ska-p in "Crimen Sollicitationis" and it shouldn't be a surprise that the work of the group penetrate anti-religious threads. I'm just asking why in the grotesque way? Come on - sententious Centhron, who few years ago recorded songs about licentious sex, now shows in the video how Vatican uses children. That doesn't sound convincing. Of course, the problem is very serious and should not be underestimated but I don't think that Centhron is a good "fighter" here. Or it's just me who do not understand this song. There are no good lyrics anywhere for "Vatican Fuck" and unfortunately I'm not able to understand everything from hearing. Nevertheless, I understand chorus and music video, and this allows me to make such an interpretation.
Maybe it is a good time after big dose of criticism to say about positives of "Biest"? Well, I counted three. These are: "Valkyria", "Nordmann" and "Berserk". It is difficult to say which one of them is the best - the most original is the one in the center, characterized by the slow pace, adding to that some heavy guitars would result in decent black metal. But those three songs are nothing when you compare them to "Asgard" which is full of hits. Moreover, those three are too weak for mentioned position.
Mr. Schmidt if you ever read this review, then please get to know that I generally respect your work, nay, I even appreciate it very highly. Unfortunately, the content of "Biest" is something that I cannot swallow. I will be waiting eagerly for the next album, which, I hope will become a new magnum opus of Centhron and will repeat the artistic success of "Roter Stern"
And as for the listeners - I do not recommend this album nor dissuade. It was nothing special for me, but from positive reviews on youtube I can tell it has own supporters. I, unfortunately can not give more than 40% .
Tracklist:
01. Feuer und Fleisch
02. War of Gods
03. Valkyria
04. Fimbulwinter
05. Heorod
06. Pornoqueen
07. Vatican Fuck
08. Nordmann
09. Fenris
10. Biest
11. Hate of the Aztec
12. Berserk
13. Reich
Other articles:
Newest comments: