Clan of Xymox - Breaking Point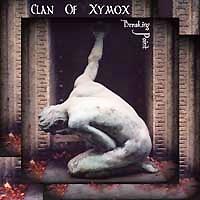 Reads: 11448 times
70%
Artist:
Galleries:
CDs catalogue:
Last topics on forum:
Clan of Xymox began its career in the 80s, hitting the jackpot with such albums as "Clan of Xymox" or "Medusa', gaining its own public, that has been growing wider and wider until today. Over the years Ronny Moorings has created a number of albums, of which every single had its peculiar, inimitable tone, even though there were somewhat weaker ones, like "Twist of Shadows" or "Notes From The Underground'.
On its new album Clan presents us a mixture of sounds that seems as if copied from "Creatures" and "Farewell'
The difference is, however, that the proportion of the bass and the electronics have been reversed. Unfortunately, for the bass is what has always created the specific vibes of Clan of Xymox's recordings.
The album begins with the single "Weak In My Knees', that welcomes the listener with the huge dose of electronics much the same as in "Cold Damp Day', so we can see the first symptoms of refreshing the good old ideas under the new cover. Although the single is really good, Ronny seems to have chosen speed of the beat, not the quality of the whole song – too much beat, too less tune. Nevertheless, it is still a good one for the dance floor.
Myself, I like "She is dangerous" the most, although it sounds much alike at least two other songs of the band.
You can also find a few milder compositions, like "Pandora's Box" or "We Never Learn'. Comparing the album's title with its content you might experience some kind of disappointment for as far as "Breaking Point" is a good album, in comparison with the whole body of work that the band has made during the years, it seems to be a set of proven ideas, so no fresh wave at all.
Ah, there is only one female name among the song titles, which is of course a marginal question, but surely will not escape the fans" attention.
'Breaking Point" is also incoherent, as much for the instrumental structure of the songs, as for its lack of consequence – a step backwards?
The album ends with two pretty good compositions: "Under The Wire" and "What Is Going On', but... again we've got a taste of "Farewell" here.
And that is the weakest side of the album.
Where is the breaking point?...
Tracklist:
01 Weak in my Knees
02 Calling you out
03 She is Dangerous
04 Eternally
05 We never learn
06 Be my Friend
07 Cynara
08 Pandora's Box
09 Under the Wire
10 What is Going on
Other articles:
Newest comments: