Clan of Xymox - Breaking Point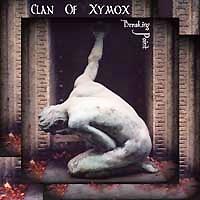 Reads: 9806 times
80%
Artist:
Galleries:
CDs catalogue:
Last topics on forum:
At breaking point? - Clan of Xymox "Breaking Point"

Plenty of stylish electronics, esoteric pathos of various keyboard and strings sounds in the background,stable, hypnotic vocal -- that's what is specific about the album of Dutch founders of gothic playing.

The 11th album in the Clan of Xymox artistic output is the result of one man's work.Ronny Moorings is the brand for "Breaking Point" also as far as production is concerned. Moorings has been present on the scene for several decades, he's getting old in style which makes many artists envious. And even if he's experiencing the mid-life crisis, you can't see the consequences in his music. Apart from the fact that the album (aside of the dark vocals) emanates with calm.

Moorings keeps grieving in his way : at times pompously, often in a gloomy tone of complain ("Cynara") or in his asking mode ("Be My Friend"). At times he sings in the style of Andrew Eldritch. At "Pandora's Box" he's accompanied by a sensual, female vocal.
The pathos of the album and the way the space is created here (vide: 4AD) bring associations also with the German band Diary of Dreams. However,the atmosphere isn't that dark as at Adrian Hates's albums. For Ronny Moorings partings constitute the dead-centres (breaking points) in people's lives. In Hates case they rather result in a situation 'drop dead'...

Moderate, calm, but'moorings-like', spiritual album. The elegant aging of the gothic band : the title remains a provocation if the listeners take just the music into consideration. Clan of Xymox might be at "breaking point" in the future, but definitely not with this publishing.
Tracklist:
1. Weak In My Knees
2. Calling You Out
3. She's Dangerous
4. Eternally
5. We Never Learn
6. Be My Friend
7. Cynara
8. Pandora's Box
9. Under The Wire
10. What's Going On?

http://www.clanofxymox.com
Other articles:
Newest comments: