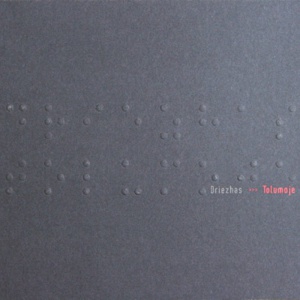 Reads: 1566 times
85%
Do you know what is techno? Yes? But not from a Polish Protector club, but the true one - Detroit techno. Such in a style of Jeff Mills and Juan Atkins. You know it? For sure? So let it be, yes! And do you know folk music? All in all it is a rhetorical question - because everyone has some experience with folk. But it is time for the third, most important question: Can you imagine how it may sound folk-techno? If you do not - described here album will give you the answer to this intriguing question.
But wait a minute - folk-techno? And what is more, Lithuanian? Does anyone here is making jokes? No, Driezhas is not a joke – but a piece of a really first-class music. The fact that in whole Poland you will not find such a project (I think) - does not prove yet that in several times smaller Lithuania such an initiative would not appear. And moreover it is not the only local project of this type - but about it I will tell you another time...
Let's focus on the music itself; on "Tolumoje" Lithuanian duo propose us a lot of solos played mostly on ethnic instruments that are woven neatly in a rather monotonous (it is not a defect!) layers based on motorics straight from aforementioned, Detroit techno. The whole is enriched by melorecitations in local language, and with various and deep motifs of synthesizers. Very important issue is that despite a fact that all the tracks are thoroughly embed in one, characteristic style, each of them still remains diverse - so they do not blend into each other. We are dealing here with different references and allusions to music and sound – properly placed in the original sound of the project. Thus, for example, "Primas Keltas" reminds folk connection of SHXCXXHCXSH with Front Line Assembly, somewhere at the level of great "Civilization". "Balsai" in turn sounds very similar to the songs contained on the infamous album "Zebstep" – of musician known as Zeb (yes I know that Driezhas were before). Tracks with numbers 8 and 10 are in ambient genre – and the eight one sounds like removed from the "Selected Ambient Works II" from Aphex Twin - and the second like... "Silence Is Sexy" of Einstürzende Neubauten - especially the track with the same title. It is worth noting also ambient-guitar "Šokis bowl" and the most electronic "Tegu Meluoja". The remaining four tracks are also worth paying attention - as they mainly constitute the quality of this album and are one of the best tracks in the project's history. My personal podium are: first place - 7, second place - 3, and the third - 2.
As you can see - "Tolumoje" is a mine of hits. As you can see once again - it is worth to listen to the east's music. And in the end - as you can see - pure gold can be found not far from us - you only need to look carefully!
Tracklist:
01. Primas Keltas
02. Tolumoje
03. Paklydusios Žemės Ramybės Naktis
04. Serbento Pasaka
05. Balsai
06. Tego Meluoja
07. Rasojančios Mintys
08. Vakaras
09. Šokis Miške
10. Arbata
Other articles:
Newest comments: