Menuo Juodaragis XVIII - In Search for New Sounds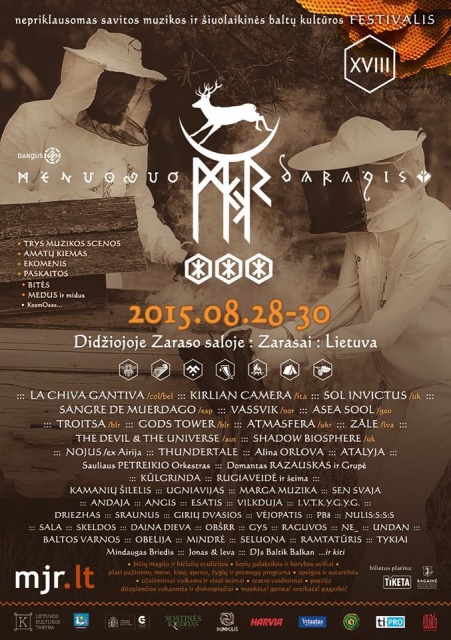 Reads: 4508 times
Artist:
Galleries:
Last topics on forum:
Far, far away, all the way by the Lithuanian-Latvian border, in a small town Zarasai, on an island adjacent to it, another edition of little known in Poland, though extremely climatic cultural festival called the Balts Menuo Juodaragis was held. The specificity of this festival is that, in addition to a wide range of genre of music that you can him hear, you have an opportunity to participate in various workshops (i.e. Blacksmithing, herbalism, pottery), as well as lectures, presentations or film shows, which thematically relate mainly to the Balts culture. It should be added that during the entire festival you can also participate in sport competitions and even see the reconstructed pagan rituals from those parts. Other festival attractions are, among others: coffee yurt, shooting, pagan village or even a wooden sauna located at the spa. Additionally, throughout the festival area there are many food stalls scattered (including vegetarian), and points of malt beverages (kvass and a few beers). The organizers wanting to make the festival more of a family event took care even to create children's playground and a disco for night owls.
What is the biggest problem with the festival from the perspective of a Pole? Everything, literally everything is done in Lithuanian. Unfortunately, it's the same reason why it's perhaps so hard to appreciate some aspects of Menuo Juodaragis, however, due to the fact that it's still a music festival, one can participate and experience its essential part - the performances of musicians - and these are certainly noteworthy. So I invite you, dear reader, to the personal stroll through the three stages of the festival to get acquainted with some of the musicians / bands / projects that built the line up this year.
We are at Pinewood Stage - an average size stage localized among trees and surrounded by wooden benches, which held the most important concerts of the festival.
Domantas Razauskas ir Grupe
For a good start, a light sung poetry containing bits of pop-rock mixed with folk. Mr. Domantas seems to be quite a well-known Lithuania musician. To him belonged the opening concert of the festival. The perfect start - the more since the performance took place quite early and it was watched by children as well. On stage we had the opportunity to observe an impressive brass section combined with drums, bass and acoustic guitar. The gentlemen did not set the audience on fire, but it was nice to listen to.
Sen Svaja
Three young ladies singing Lithuanian folk songs of their making almost acapella. Incredibly atmospheric and soulful concert. In my opinion, it took place far too early. Such music should be listened to at night! Unfortunately - the songs were quite predictable and composed rather similarly. I do recommend it anyway. Sen Švaj is definitely a good starter band for people who want to try listening to Lithuanian folk.
Andaja
Lithuanian folk black-metal band. I only saw them for a while and I must say that live they are much less aggressive than in the studio version. Given the huge flood of the type of bands, also visible in Poland, I mentioned them more as a curiosity.
Sangre De Meurdago
Spain. Three men and a woman. Two acoustic guitars, hurdy-gurdy and flute. Autumn melancholy. This incredible mix resulted in the best and at the same time the saddest performance of the whole festival. Music was definitely moving, causes the spirit to raise towards the endless skies and then, with the wind, drop gently onto the ground and knock down leaves from trees. In my opinion Sangre is one of those bands that every self-respecting fan of sung poetry and folk should know. This band deserves a lot of attention...
La Chiva Gantiva
Belgo - Colombian collective combining rock with Latin music. It's not really gothic but worth mentioning. The more since that was a concert that moved the audience the most.
Kirlian Camera
One of the biggest stars of the festival and at the same time, as it seems to me, a well know band for the readers of this portal. Good EBM with a touch of gothic metal still works great! Unfortunately, the overwhelming disadvantage of the performance was the sound system that was not really suited to the sheer volume of electronic sounds, which spoiled the listening comfort a bit. I must admit that Mrs. Elana Fossi is doing as well live as on the albums. It's a pity that the band did not consider live drums.
Vilkduja
Industrial-folk or Dark Cabaret. By far the funniest and most ironic performance of the whole festival. Three slightly tipsy men - singer, guitarist and electronics - definitely something beautiful. Ah - lyrics read from papers! This unpretentious Lithuanian climate. These psychopathic moans. Vilkduja raging. I only regret the lack of old songs...
Ugnivijas
Lithuanian folk classic - one of the most recognizable bands in those parts. During their performance, the gentlemen focused on playing (and singing) songs from their, it seems to me, best album "Karo dainos". For all fans of folk music - a must!
Asea Sool
Siblings from Georgia playing a very widely understood rock in various language versions. Some time ago they did a performance in Poland during the Cultural East festival held in Lublin. Amazing that not using a bass guitar during a performance (only electric guitar and drums) they could give such a "kick".
Alina Orlova
This lady hardly needs an introduction. The most famous Lithuanian singer graced also the biggest local festival performing there mostly songs from the last album. A class by itself! The audience was thrilled!
Vassvik
Very original project. Definitely one of the most interesting discoveries of the festival. Nordic folk ambient enriched with vocalist's guttural singing. The whole achieved through the cooperation of three cellos and an acoustic guitar. Listening to the composition by Vassvika one could fall into a trance...
Sol Invictus
Another band from those who need no introduction. Wakeford may be old, but he can still play and sing. Maybe he is doing it now just to make a living, but Sol Invictus live is still great to listen to!
Gods Tower
A metal band from Belarus quite beautifully kicking ass. Musically it doesn't go beyond the convention tamed thrash metal dripping with folk, but pleasant to listen to and even better to mosh around. Someone might be interested.
Marga Muzika
This I mention for only one reason. It was a very pleasant accent for me as a closing for the festival.
Time to move to Northern Stage - a small intimate scene hidden among the trees - far away from the center. Mostly experimental musicians performed there.
Shadow Biosphere
One of the bands that I wanted to see, but I could only see them for a moment. Looking at what they played - I regret that...
Giriu Dvasios
Second after Vassviku greatest discovery of the festival. Can you imagine a combination of folk songs with dub and trip hop? Yes? Then you have the answer! It is worth noting that the whole was adorned with a very climatic dance show with torches.
Skeldos
Metaphysical ambient enriched with noise and "guitar parts." Just space music... Perfect to sleep - a restless sleep...
The Devil & The Universe
I didn't see goats - pity, since I planned that.
Driezhas
Folk techno? Why not! And in the best possible setup. Concert that really made the audience move. The more since the Driezhas duo has the potential to compose both the romantic and the energetic compositions. Just listen to them!
The last and at the same time the shortest stop is the Great Stage - stage by far the most family oriented, primarily focused on families with children and all those who intended to eat something good with a pleasant music in the background.
Kamaniu Silelis
A duo performing folk indie. It seems worth mentioning, because of the very wide set of instruments and a very great skill using them. Personally, it reminded me of the well-known Sigur Ros.
Atmasfera
The last and most family-oriented band of all those listed here. It seems to me worthy of mentioning, because this is the perfect music to listen to while relaxing after a hard day's work or - for some - during periods of disgust with urban life.
What can I say more? We've reached the end of our trip. I didn't presented here, of course, all of the bands performing at Menuo Juodaragis, but I didn't get a chance to see everything. I hope that every person reading this coverage found in it something for themselves. After all, there's a lot of interesting music in the world - you just have to know how to look for it!
Other articles:
Newest comments: