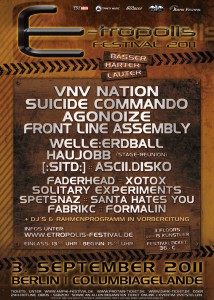 Reads: 12274 times
Artist:
Galleries:
Last topics on forum:
After a truly eventful journey, I finally reached the surroundings of Tempelhof, where the second edition of E-tropolis was about to commence at nearby Coulmbia-Halle and Columbia-Club. The weather was rather decent, which somewhat surprised me, bearing in mind the weather conditions accompanying other festivals of the sort.

Xotox along with his Cyberindustrial For Hyperactive People gave a sign to start a party. A splendid beginning of the electromarathon!



01. Intro
02. Industrial Madness
03. Ewig
04. Shwanengesang*
05. Notwehr*
06. Eisenkiller
07. I Want You

* new tracks

After Xotox, I did not have anything particular to get occupied with as the club was just about to be opened, while the second concert at Halle was to be held in next 20 minutes. Despite a small number of people at the venue, it quickly got unpleasntly muggily and stuffily, which got its toll on a performance of Solitary Experiments. One did not have to dance in an extra-energetic fashion to leave the hall soaked to the skin with sweat. Luckily, the organizers activated air conditioning and no such problems occured for the rest of the festival.

Soliatry Experiments themsleves gave rather an enjoyable show, somewhat a tradtion in their case.



01. Pale candle light
02. Immortal
03. Deja vu
04. Kirlian Camera - Edges (SE-Remix)
05. Delight
06. Still alive
07. Point of view
08. Rise and fall

After Solitary Experiments' concert the time came to visit C-Club, where Formalin was ending its performance. The club was about three times smaller than C-Hall, quite a crampy area. Still, there was one very unpleasant thing about it. The dance floor was slightly descending towards the stage with two grades appearing out of the blue: very betraying and tumble-inducing, especially when it is both dark and one is inebriated.

After having wandered around the club, I returned to the hall, where Spetsnaz, by no mean a thing for all EBM fans, was to begin their performance. Their energetic show was interrupted at some point by petty technical problems which were luckily quickly handled and the band was able to finish up their concert. A really good one, which has to be emphasized.



01. Ignorance is Bliss *
02. Between What Ifs and Might Have Beens *
03. Allegiance
04. Degenerate Ones
05. Apathy
06. Man God
07. Plaything
08. Onwards *
09. Mine *
10. Indifference
11. Faustpakt
12. True to Form *
13. Perfect Body
14. Hardcore Hooligans

* new pieces from the forthcoming album

The next in line was [:SITD:], which was filling in the gap for Rotersand. The concert started with a truly good Rot and the gents were keeping up the same high level of the show.



01. The Insanity Of Normality (intro)
02. Rot
03. Rose-Coloured Skies
04. Herbsterwachen
05. Lebensborn
06. Suffering In Solitude
07. Laughingstock
08. Richtfest
09. Snuff Machinery

Unfortunately, I could not stay there to see the whole concert of [:SITD:] because, according to the schedule, Santa Hates You was due to perform at the club. After having seen two concerts of Project Pitchfork, which happened to disappoint me, I was willing to see how Peter Spilles does in his side project. Upon my entering the club, the concert was just beginning. Peter was as usual wearing a gown, with a full-make up spread on his face.


In my humble opinion
Sanata Hates You
outdoes Project Pitchfork. The show was oozing with energy and featured a certain dose of irony and madness, so typical for the project. A friend of the band - known as Don or - as he prefers to be reffered to - psychoDonald - came onstage three times, wearing a mask of a ghastly clown, then the one of a stubby man with a clump of hair on his head, a doctor's gown embracing his body and grey-black stripped tights on his legs. Don was rumbling around the stage, teasing the musicians and poking the audience.
01. Intro
02. Pack Your Bags Honey,We're Going To Hell!
03. Sugar & Spice
04. Your Soul's Funeral
05. Raise The Devil
06. Z.O.M.B.I.E.
07. Ego Inc.
08. Rocket Heart
09. Hexenpolizei
10. U'R Fucking It Up
I stayed at the club due to
Faderhead
's performance who was providing loads of great fun along with his three bandmates. The show was permeated with energy, some of people standing in the first rows were even given the chance of having a sip of vodka with Faderhead himself.
01. Intro
02. The Way To Fuck God
03. Zig Zag Machinery
04. Burning/Dancing
05. Electrosluts Extraordinaire
06. Vanish
07. Baby Firefly
08. Dirtygrrrls/Dirtybois
09. Escape from the Machine
10. Acquire The Fire
11. Storm Sparks Structure
12. O/H Scavenger
13. Houston
14. Destroy Improve Rebuild
15. TZDV
Then
Front Line Assembly
took the festival by storm. They had prepared a diversified set, playing Circuitry, Mindphaser, Resist, Prophecy, among others, and were supported by Rhys Fulber on keys. A moshpit began during FLA's concert, lasting throughout next two shows; however, many people were dissaproving it.
A short break made it possible for the crew to prepare the stage for
Agonoize
's concert.
The crew spread a piece of cloth on the stage so that Chris, the vocalist, would not stain the floor that much. Everything was visible from the top, the spread material, platforms and... a carpet with a street-and-houses pattern. Quite similar to
that
. A blowtorch was placed on the mentioned carpet.
The whole prefomrance started with Chris being carried onto stage by some hooded figures. One of them was holding an appliance for marking with the Agonoize logo, which was subsequently used to leave the mark on the chest of Chris. Hence, commenced the first part of the concert. The audience was having a great time, once could see from the top that a certain group of people was constantly moshpiting in the middle; it turned out it was the same group who was going apes during the FLA show. In the middle of the performance a techincian appeared onstage, turned the flashlight on and announced that the concert had to come to an end. The curtains fell. Slightly confused people did not know what was actually happening, while the main theme from Pink Panther was flowing from speakers. After a while the curtains fell down once again, showing Chris himself, hanging about 2 meters above the stage, wriggling in a straitjacket, yellling to the microphone. In this way did the second part of the show start, which featured a blood show, relevant for any fo the Agonoize's concerts, including the smashing of balls, filled with fake blood, against the head, playing with knives, slitting of throats and wrists, which resulted in blood (raspberry taste) splashing all around.
The concert was put to an end by a hooded figure which additionally cut the singer's face away.
The show of Agonoize was taking place the same time as the one of Haujobb at C-Club, which was a bit painful to me, since I had been planning on seeing both shows. Haujobb, which was back onstage after a three-year break, gave a very good performance, both visually and musically. After all, one can expect only decent concerts from such men as Daniel Myer and friends.



01. Letting The Demons Sleep
02. Subsonic
03. Renegades Of Noize
04. Little World
05. Dream Aid
06. Let´s Drop Bombs
07. Eye Over You
08. Unseeing
09. Penetration
10. More Than Us
11. Dead Market
12. The Noise Institute

The show of Haujobb finished the concert day at C-Club, where subsequently a series of afterparties was to begin. I was left with nothing to do but to head for C-Hall, where Johan Van Roy had been messing around the stage for the last quarter. As usual in his case, we got a professional, refined show with perfect visuals and some space left for spontaneity. For instance, Johan jumped on the back of a security guy, who was standing nearby the stage, and screamed to his ear. The poor guy was shock stricken and rushed for the other corner of the stage. Johan approached him yet again and showed him the devil's horns. Or during an interval, he started to sing "Maria" theme of Scooter, unluckily, the audience did not get his point. Pity, it would have been even funnier.

Having another 10 minutes in store, Johan with his Suicide Commando started saying goodbye to the audience and left the stage, only to reappear on it, to perfrom an encore, See You in Hell. It was sung along with a certain lucky man, which had been chosen at random from the audience; the whole show was ended up by an acoustic version of Hellraiser.



01. Intro + severed head
02. Hate me
03. Death cures all pain
04. Dein herz, meine gier
05. God is in the rain [clubmix]
06. Cause of death: suicide [remix]
07. Time [2011 re:wind]
08. The perils of indifference
09. Love breeds suicide
10. Die motherfucker die
11. Bind, torture, kill [2010]
12. See you in Hell

One could think that Suicide Commando raised the bar of the party to the highest level. However, VNV Nation got the bar even higher, giving a performance which could by all means be regarded as 'epic'.



Everything started from the problems with screens. The picture could not be centered, which resulted in delaying the band's concert a bit. Yet, when they eventually commenced, the whole C-Hall was captured. Their set was consisting of mainly 'the best of' pieces and some tracks form the new album, Automatic, complemented the whole show.
The things that were happening throughout the concert can be perfectly described by Ronan's words - "This is not a concert anymore. This is a party!". Everyone was having fun to the well-known and liked pieces - Carry You, Standing, Tomorrow never comes, Further, Illusion (which was dedicated to Sophie Lancaster), Perpetual, Darkangel, Honour, Chrome, Beloved, as well as some new ones (Control, Nova, Space & Time), and Ronan himself was constantly encouraging people to having even more fun, and was catching a random person from the crowd every so often, to whom he was directly speaking then. Once it was a boy, how was not rejoicing the moment enough, according to the singer of course. Another time it was someone who was smoking on a balcony; the person was told off by Ronan, who said it was forbidden to smoke there. At a certain point, during the perfomance of Standing he approached the railings and took someone's mobile, then a camera, and started to record the concert from his own perspective. Unfortunately, the feat was spoiled by the lack of free space on the camera's memory card.

And for the end, Perpetual sung chorally...

There is reason why the festival is promoting itself with the words "Bässer! Härter! Lauter!". It deserves the designation by all means. Most probably, there is no such festival with a line-up that could be devided among at least three other festivals. The attendance was higher than the year before, 3800 people came to celebrate the event, which made it harder to move quickly between two areas.

We have nothing to do apart from waiting for another edition of this splendid festival. The next, third edition of E-Tropolis, is due to take place 15th September 2012. I wonder what acts will the organizers be tempting us with next time.

The setlists are provided by courtesy of the bands.

Pages:
Other articles:
Newest comments: