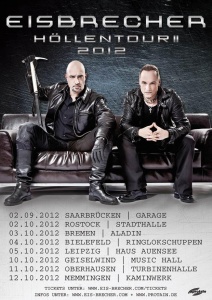 Reads: 3049 times
Artist:
Galleries:
From the moment when two good friends created some band passed almost ten years.
Alex - charismatic, impulsive, pawky, 2 meter high menace.
Noel - reasonable, disciplined, charming, cheeky music genius.
Like a real ice breaker - slowly and consequently - made their road on the music market.
Eisbrecher
, cause I'm talking about them, realesed in 2012 their fifth album "Die Hölle muss warten", that made a lot of noise on the German charts.
First part of the tour, promoting the last album, was a big success - many concerts were sold out, so it wasn't a suprise that in Autumn second part started, including more cities.
AlterNation's deputation went to lovely Rostock for the concert. To listen, watch and check if the impression will be as positive as during first part of the tour and Summer festivals.
We were wondering if the band are going to make some changes comparing to earlier shows. It was 'just' a continuation of tour, so they could easily rest on their laurels and serve the same again - on the basis of 'fans will be content'
How was it?
First glance at the stage - and we notice changes. Large amount of the silver foil decorating drummer and guitarists platforms is new. There is no ramp with lights present during tour's first part - band has more modest vehicle and because of this probably less place for the various things. Ramp is thrown away, but to wipe the tears CO2 cannons are present - we know that it will be cold:)
The beginning without any changes - dynamic 'Exzess Express' is still the opener - from zero to hundred in the few seconds. There is no power that will manage to keep the audience at their places. Alex enters the stage - confident step, killing gaze, rose between teeth. I wonder, if his statement: "before every concert I feel stage fright" has reflection in reality or is it just male coquetry? Ow, he is coquetting... no signs of the stage fright, instead of this excellent contact with the audience and clever talk are as always on their place.
Without slowing down we get another hits as "Willkommen im Nichts" or "Angst". Completely new pieces come along - "Wenn Zeit die Wunden heilt" and hit "Metall" during which ice breaker's crew transforms for the moment into wearing silver jackets and helmets steelworkers. New things please our ears, but nice surprise were old songs also - "Eisbrecher" or premier performances of songs from the album DHMW, that haven't been played earlier, like for example: moody "Rette mich".
Guys still in a great shape - smiling, willing to joke - during the show often catch each other playfully and banter. Traditionally they toast with the audience with the bottle of Jack Daniels. Nothing good last forever so this concert had to end - warmblood "Miststück" and moody "Die Hölle muss warten" were the last accords of this evening.
General impression - excellent! New things, diversification, changes in the show - fans have the right to feel pleased. The only, tiny cons - a little shorter setlist and sound in the hall.
And for the dessert, only few minuts after the end of the concert there was the chance to meet with the musicians at the back. They were still full of energy, smiled and talkative. Willing to take the photos with fans, giving autographs and hugs.
Eisbrecher
thank you and see you next time.
Es war kalt!:)
Other articles:
Newest comments: