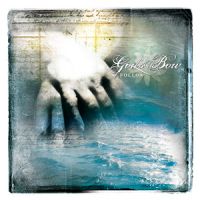 Reads: 4533 times
30%
Artist:
Galleries:
CDs catalogue:
God's Bow, a group from Szczecin, offers us 12 original compositions plus 10 remixes for variety. That's a lot of music but don't forget that it is quality, not quantity that counts. And in this case, that's just the point. It could be so beautiful...
Album is opened by "Empathy", a nice, climactic intro that puts us right in the world of oriental magic. The tranquil tones calm our senses and take us into the voyage beyond reality. The music speeds up and we jump smoothly into the next composition called "Tomorrow". But the whole enchantment seems to disappear when the female singer gives us the presentation of "more powerful" aspects of her voice. It weights down on the delicate, nearly ethereal music. The worst sounding songs, that don't suit my taste at all, are "Helpline"; "Cold" and "Under Heavy Sky". After this disappointment the shred of hope appeared. "Wave Awakes" gives us amazing sound, rhythm and the voice of a singer more applied to the mood. We can again immerse ourselves in fantasy and dream while dancing in trance. Same thing is with "Mosaic", the one of the rare examples of songs where the vocal goes with the music without "stealing the spotlight" and disturbing the listening. The whole thing ends with nice, instrumental pieces "Serenity" and the title song - "Follow".
Let's talk about the remixes. Good pieces of music by Wumpscat and Final Selection. They would be a great addition to some parties. The rest, in majority, are interesting experiments with music, adding speed to or calming down some of the compositions. Examples could be "This perfect Time" by Dark Territory or remix track no.5 - "Helpline".
The band has not interested me this much as it could do it. In many pieces the vocal just doesn't suits me, but musically the whole record is really good.
Tracklist:
1. Empathy
2. Tomorrow
3. I Know
4. Helpline
5. Wave Awakes
6. This Perfect Time
7. Hike
8. Mosaic
9. Cold
10. Under Heavy Sky
11. Serenity
12. Follow
Bonus CD Tracklist:
1. This Perfect Time remix by Controlled Collapse vs. Psyche
2. Helpline remix by Final Selection
3. Helpline remix by Wumpscut
4. This Perfect Time remix by C.H.Districkt
5. Helpline dead air mix by Weave
6. This Perfect Time remix by Fearing Christmas
7. The Perfect Time remix by The Frozen Autumn
8. Helpline remix by God's Own Medicine
Other articles:
Newest comments: