Interview with Jarboe (ex-Swans)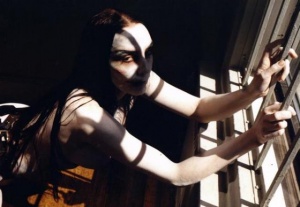 Reads: 5639 times
Galleries:
Jarboe: You live here in Ljubljana?

Savetier: Yes, I live here since three years.

Jarboe: I was here in 1986, and I have seen a change. I think, it is just beautiful now. I love all the artwork and the bridges, the modern things, all the contemporary spirit...

Savetier: When I think that you have toured a lot with Swans, and you still remember Ljubljana...

Jarboe: I remember everything, vividly, when I was here for the very first time, how we came here, where we slept, where we played and what the audience was like.

Savetier: Where did you play this time?

Jarboe: We found a place that was outside. It was a large area, somewhat of a large outdoor festival area. And I remember a dorm, I looked like a dorm, where artists and travelers gathered.

Savetier: Was this the first time you have been to Europe?

Jarboe: No. My first trip to Europe was, when I was still a teenager.

Savetier: Aha, you went on a Europtrip.

Jarboe: Yeah. My favorite part of Europe is Eastern Europe.

Savetier: Which parts exactly?

Jarboe: Well, I love Hungary, I love Poland, I love Serbia, Croatia, I like Romania. I like to go to extreme corners. You get away from the main Western major market. I am not interested in that. I am interested in the non-commercial, non-amercanized. I find the audience more open-minded, informed. For Eastern Europe it has been always that way. Everybody is always good fun.

I was on a tour in 2004 in Latvia, Lithuania, Romania, and there were huge audiences. They were interested in what we do and made a much better atmosphere than in the westernized, mainstreamed Western Europe.

Savetier: Have you been also to Poland on this tour?

Jarboe: Yes, we have been to Wrocław. There was an incredible venue. I played there five times, I think, now.

Savetier: How long do you usually stay in one city?

Jarboe: That depends... this is for example our second day here. You know, you are coming to a place, get the experience... It takes some time to get the atmosphere of a city. I wanted to get here already yesterday.

On this tour I will go the second time to Moscow. I love going there, there we are extremely accepted.


Savetier: Do they know you?

Jarboe: I have been there in 2005. They were so excited and enthusiastic, and warm. They were pure energy.

Savetier: I went about one year ago to a Swans concert here in Ljubljana...

Jarboe: Oh, good. Where did they play?

Savetier: At Kino Šiška. It was once a cinema, but it has been reformed to a concert venue. Well, and there it felt, like there was something missing... I think I know all your records, when you were still with Swans. And now it feels like the whole thing, I saw Swans and Jarboe.
The question, you get maybe mostly asked: Why didn't you take part in the reunion of Swans?

Jarboe: Because he [Michael Gira] didn't ask me to!

Savetier: He didn't ask you to?

Jarboe: No! He was not even telling me he was doing that. And I was sad. I was traumatized. And, you know, when you play with people for so long, it feels like a family, you feel like that's your home. So your home shut the door on you, you feel left out and cold. You feel hurt. And the hurting absolutely surrounds you. And I think I felt that more than anyone else. The other people we were working with didn't have the connection I had with Swans. You know, I was working on the arrangements, on the melodies...

Savetier: But in the new album Seer by Swans you sing background...

Jarboe: After the reunion of Swans without me, I didn't get upset, I tried to be strong and then we talked for the first time. I don't really know the reasoning. But I was eager to sing what he wanted me to. But we have done a lot more. I'm never gonna say 'no', because I gave up my entire life to be part of it.


Savetier: But you ARE part of Swans! I can't imagine you without Swans. The new albums by Swans are different.
How is your contact with Michael Gira now?

Jarboe: We have e-mail conversation from time to time. He has a lot to do now, with the album and touring.

Savetier: How did you then happen to sing the background vocals on the Seer album?

Jarboe: He asked me if I would do it. And to create multi-track vocals. I had to record three tracks in a row.

Savetier: But live you are not performing with Swans anymore?

Jarboe: He didn't ask me to. And if he will ask, we will have a conversation about it.

Savetier: Is there already a tour for the Seer album?

Jarboe: They are on tour already. One week after I am gonna play in Moscow they will come to Europe. He asked me to sing a capella in a show, but the night this show takes place we will be performing in London. So, if he would ask me, in the middle of nowhere, to sing a capella, I would have done that.

Savetier: This is something a lot of people want to see. One short question at the end: Why did you decide to disintegrate Swans in 1997?

Jarboe: I think he was just going to a lot of changes in his life. His manager told him to perform under a different name, because there was a stigma attached to it because we were such a trouble-making band for so many years and I think he was trying to look forward, looking for a way to do that. Although, the last three tours were the best we have ever had. He should have said: Wow, it just could have gotten better, maybe take a break for a year, not to throw it. But he didn't feel well at that time. His father died, a lot of things happened in his life. I never turned my back on them. When somebody asks: Why did you quit? I never quit! I never quit! I would never have. It was my life.

Savetier: One song I missed tonight: "She Crys (For Spider)". This is one of the most amazing songs I have ever heard. Actually, it is the song I connect the most to Swans.

Jarboe: Oh cool! That's really awesome! Yeah, we really could have worked that song out acoustically. I think we should do it!

Savetier: But you already made an acoustic version of it, didn't you?

Jarboe: Yeah, we could have done it for the show. Thank you!

Savetier: Thank you for the interview and the fantastic show!

Pages:
Other articles:
Newest comments: