Jesus On Extasy - Beloved Enemy + Bonus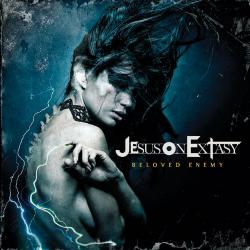 Reads: 3563 times
55%
Artist:
Galleries:
CDs catalogue:
We always hurt the ones we love,
that's a fact
which we can't deny.
We never talk instead we shoot,
that's how we learned it from TV.
We're drifting apart.


With these words begins the 2nd, re-released album of a German band
Jesus On Extasy,
entitled Beloved Enemy, featuring three mixed bonus songs. The strength of
Jesus on Extasy
's
music come from heavy industrial rhythms which in combination with guitar and drums hit the listener with strong energy. For me the main minus of the album is the voice of lead singer, who doesn't have as strong a voice as he should have. Especially in slower parts of the songs, personally I call it "
the lack of transmissive power
"- He has the potential, but I haven't noticed it while listening to Beloved Enemy. The whole album (apart from mixes) is maintained in a similar tone and, unfortunately, when you listen to it for too long it starts to bore you. Also, a bad thing is that, when you have already listened to some songs, you can guess how will another one be like, and your premonition will most probably turn out right. On the whole album, only a song "
Church Of Extasy '
was that track I was waiting for from the beginning. The entire composition is based on strong riffs and drums, industrial background, with the nice vocals and interesting lyrics. Interesting enough is the fact that the track reminds me of Rammstein's world-famous "
Du Hast
".
And at the end: Mixes, which were featured on the re-released album and which were made by Autoaggresion and ASP. Two mixes of the title song "
Beloved Enemy"
and the 3rd mix of the track "
Dead Presidents"
created by Chai Devereaux Mix of "
Beloved Enemy
" made by ASP and "
Dead Presidents
" made by Chai, for me are the best ones, ideal for some electro party. The record may be fine for less demanding industrial/rock fans. Having listened to that record I did feel a bit of potential, that this five-year-old band still has, the potential that could be heard for instance in "
Assasinate Me
" from their previous album, but still, I haven't heard it on this release, and that is not too good I think....
Tracklist:
01.Beloved Enemy
02 Change The World
03 Direct Injection
04 Stay With Me
05 Stuck
06 Break You Apart
07 Lies
08 The Last Day Of My Life
09 You Don't Know Anything
10 Dead Presidents
11 Falling
12 Church Of Extasy
13 Sometimes
Bonus tracks:
14 Beloved Enemy (Chai Vs. Autoaggression Club Mix)
15 Beloved Enemy (Bebop Enemy Mix Arranged By ASP)
16 Dead Presidents (Remix by Chai Deveraux)
Other articles:
Newest comments: