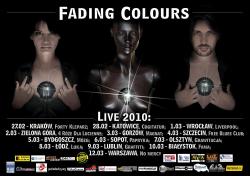 Reads: 3500 times
Artist:
Galleries:
Last topics on forum:
I was really curious about this concert. Fading Colours is a band, that I was musically associated with for years, almost since the beginning of their existence. Inseparably conjoined with the Castle Party Festival, yet while image of the festival itself Has strongly changed in the space of years, than the music of the band despite intertwining trance-electronic sounds has kept its primary romantic note of heart.
The album 'Come', which is being promoted on tour, doesn't bring any great changes in the character of music, though it's not bad at all in my view. So on the basis of it I expected the old good Fading Colours' performance bringing to mind sentimental pictures of the past, and I could say, it appeared to be exactly like this. Decent, sorrowful Kasia with her look lost afar off and hypnotized Daniel steering all the soundmaking devices, hopping in trance with half-closed eyes imitating characteristic moves of Leszek Rakowski. My surprise was pretty big, Since I didn't know, that they're currently performing live as a duo. They played almost whole material from 'Come', there was also no lack of the well-known and liked songs, as Black Horse, Clean or Lorelei. I faintly hoped on Time, but unfortunately, not this time. The cell of modernity during the whole concert was definitely visualizations, displayed on three screens; polished up, well composing with sound, nevertheless I wasn't concentrated on them, because I stood close enough to be able to read much more authenticity in DeCoy's eyes than in flashing pictures. There was no encore. Pity… in the end we came there just for them. Music from the speakers resounded too soon.
By no means can we overpass the uniqueness of the venue, Forty Kleparz, supermodernly furnished, renovated old-time fortifications. The place could be visited with pleasure glancing into numerous nooks and crannies. The afterparty was fine, In the atmosphere of lively electro, Bagiennik and the rest seemed to have full dancefloor after the second song. Magic of the venue and proper sound surely had fair influence on impression of the whole evening.
If anyone is thinking about any further concert of the tour, it's certainly worth going to.

FADING COLOURS TOUR – Kraków, Forty Kleparz, 27.02.2010.
Other articles:
Newest comments: